Featured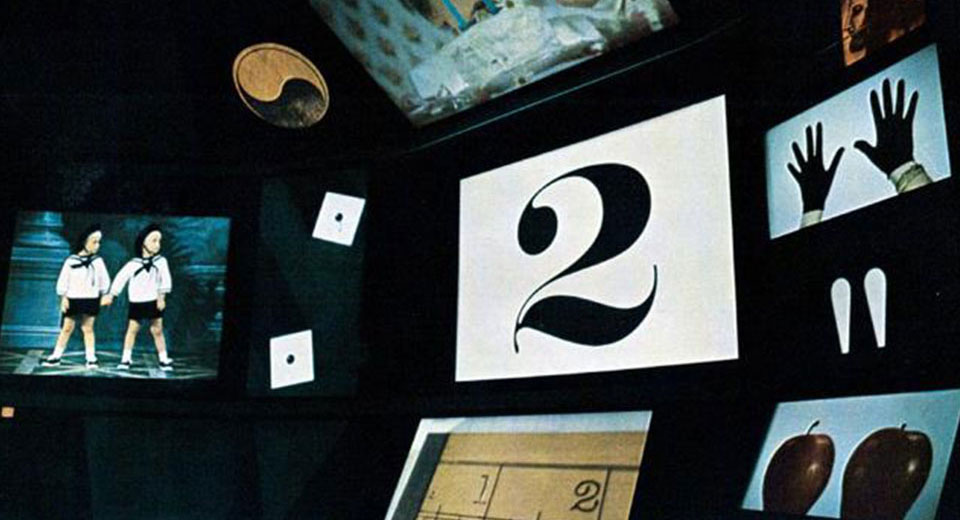 May 5th 2019
Cinema has had a seat at the banquet of world's fairs since nearly the medium's inception. At the 1900 Paris Universal Exposition, Lumière's Giant Cinématographe projected onto a 70'x53' screen alongside Raoul Grimoin-Sanson's Cinéorama, which consisted of ten synced 70mm projectors creating a 360° panorama inside a hot air balloon. (The latter was cancelled prematurely due to safety concerns.) And in 1904, Westinghouse commissioned films from American Mutoscope and Biograph for the Louisana Purchase Exhibition. Amid the massive crowds and spectacles of technology, advertising, and innovation, cinema is both a natural participant and an ideal vehicle for capturing the heady rush of utopian possibility. And now Films for the Fair, a new series at Anthology Film Archives co-programmed by Screen Slate's own Caroline Golum, considers the legacy of these ever-mutable, pop-up metropolises with a breathtakingly expansive range of feature, documentary, experimental, and sponsored films by, about, and of the fairs — a can't miss proposition for architecture buffs, design enthusiasts, and retrofuturists.
Tonight's 6:45 pm program of sponsored films by Saul & Elaine Bass, Charles & Ray Eames, and Lewis Jacobs applies a dizzying, graphic approach to technology, rendered most vividly in Eames's collaborations with IBM. The show also includes recently digitized color video footage of RCA's 1964 "See Yourself on Television" pavilion — a then-rare and intensely novel proposition in an age in which consumers didn't yet have access to any method of immediate, live moving image reproduction. The later program also includes the first of two films co-directed by Alexander Hammid, Maya Deren's partner on "Meshes of the Afternoon," whose multi-screen epic with Francis Thompson "To Be Alive!" was celebrated by both underground journal Film Culture and the Academy Awards, which gave it an Oscar for best documentary short.
The link between the avant-garde and sponsored film is more common than one might think — consider that Oskar Fischinger, Len Lye, Hans Richter, and even Peter Kubelka all made films on corporate commission. Brussels's Expo 58 was effectively a coming-out party for experimental film, putting artists like Walerian Borowczyk, Agnès Varda, Hilary Harris, Hy Hirsh, and Jonas Mekas on the world's stage in a pavilion curated by the Knokke Experimental Film Festival. These films are shown in a four-part series of programs running May 13 & 14. (The third, which includes commissioned collaborations between Shirley Clarke & D.A. Pennebaker and Edgard Varèse, Le Corbusier & Iannis Xenakis repeats May 18.)
Golum stans take note: the lady herself will appear to introduce tonight's 9:00 pm program Visiting the Fair and Friday's feature films Meet Me in St. Louis and Norman Taurog's It Happened at the World's Fair. Films for the Fair runs through May 19.