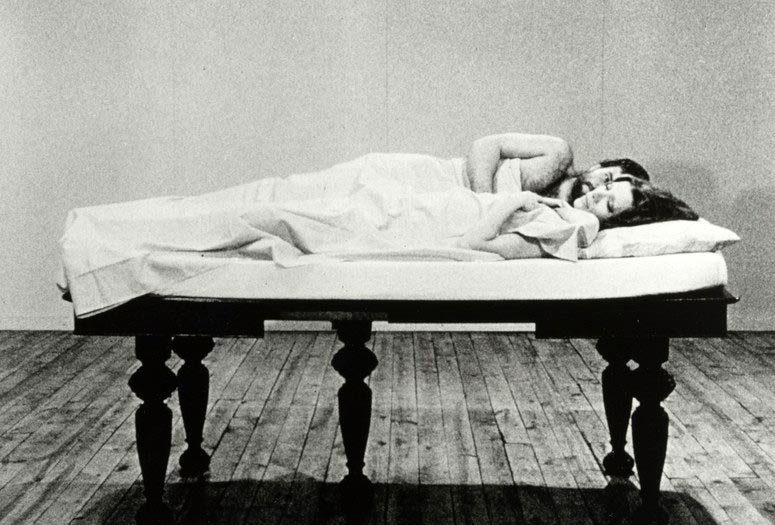 February 17th 2023
In the 1980s and '90s, private investigator Dempster Leech was one of the foremost experts on luxury counterfeiting in New York. His clients included top luxury brands Ralph Lauren, Tommy Hilfiger, Guess?, Timberland, Gucci, Louis Vuitton, Chanel, and Fendi. These corporations relied on Leech and his associates to track counterfeiters and lead raids—often on New York City's infamous Canal Street. Leech arrived at his occupation in an unexpected manner. In a former life, he had been a classically trained actor, active in the downtown theater scene. In 1974, he starred in choreographer-filmmaker Yvonne Rainer's Film About a Woman Who…, which may have unwittingly prompted his pivot into the anti-fake industry.
Film About a Woman Who… is Rainer's meditation on artifice. The storylines of ambivalent lovers clash and converge like a soap opera, while cinematic tropes are repeatedly introduced only to be thwarted. Inner monologues appear projected onto surfaces or as text burnished into the film (in one case, the narration is printed out and stuck onto Rainer's own face). Images beamed onto interior architectures reveal the mechanics of the frame itself, and the many long takes refuse the emotional manipulation and easy resolution of Hollywood editing. These meta-theatrics were, for Rainer, a Brechtian attempt to both relish in and undo the spectacle of make-believe. The result is to deny the viewer the experience of losing oneself fully in the screen, instead making them continually aware of the film as a plastic medium.
In one scene, Leech's character and his female companion sit side by side eating breakfast with tedium. Despite their nonchalance, Rainer has emphasized that "every gesture was choreographed down to the blink of an eye." When, years later, Leech decided he "didn't want to be involved in make-believe anymore" and quit the biz to found his private investigation service, Harper Associates, he described the job of rooting out fakes as a version of reality that "came closer to pleasing than the versions of reality I was dealing with as an actor." Casting and directing investigations that often involved training agents to go undercover was, for Leech, akin to choreographing a performance—but with "real" results.
These days, Leech, retired and residing in Bellows Falls, Vermont, has once again taken to the stage, most recently in a local production of Hamlet in the part of Polonius—the counselor who, attempting to spy on the melancholic prince, is killed in a case of mistaken identity. It seems for Leech that witnessing the harsh consequences of his own spy work—which often led to the arrest and punishment of those who make a living by peddling bootlegs—necessitated his return to the world of make-believe. Perhaps embracing the "fake" is the only way to expose the true fiction: authenticity itself.
Film About a Woman Who… screens tonight, February 17, at Metrograph. Director Yvonne Rainer will introduce the film.