Featured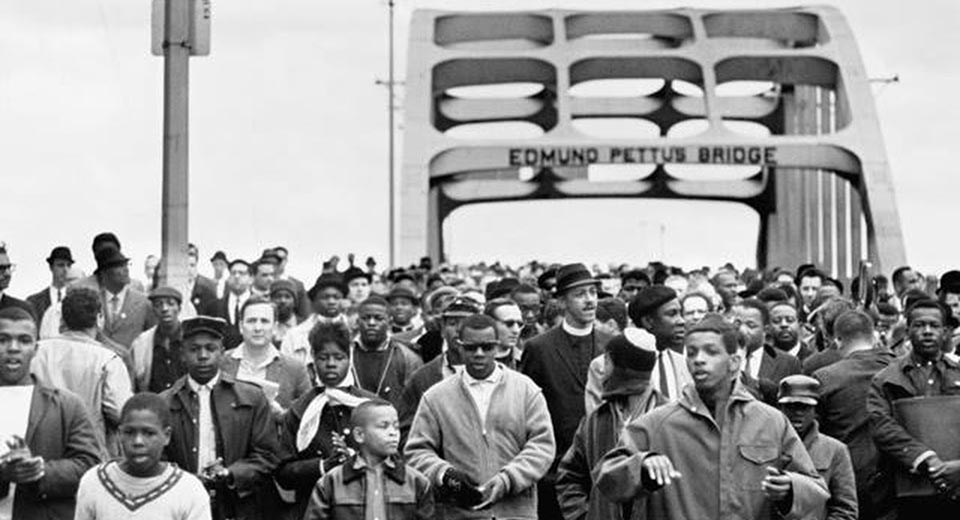 January 7th 2019
Tonight the Museum of the Moving Image hosts a screening and panel discussion on Eyes on the Prize (1987), the landmark six-part Civil Rights Movement documentary due to receive the Legacy Award at this year's 12th Annual Cinema Eye Honors. Originally airing on PBS and produced by Henry Hampton's Blackside, Eyes is considered to be the definitive film chronicle of the movement. It's an extraordinary assemblage of primary audiovisual sources such as news reports and contemporary documentary footage, along with more than 100 original interviews with civil rights figures, politicians, citizens, and more, conducted with seemingly unfettered access to heroes and villains alike.
This evening's presentation features the final segment, "Bridge to Freedom: 1965," which mostly focuses on the fight for voting rights and the march from Selma to Montgomery, Alabama. In the events precipitating the march, Dr. Martin Luther King, Jr. arrives in Selma to support a voter registration drive. Meanwhile, we hear from Nicholas Katzenbach, U.S. Attorney General in the Johnson administration, about the political strategy around the Voting Rights Act of 1965. In February of that year, the police killing of 26-year-old Jimmie Lee Jackson in Marion, Alabama inspires the march, which is led by John Lewis despite both the determination of Governor George Wallace to prevent it, and disagreements within Lewis's own organization, the Student Nonviolent Coordinating Committee, as to whether it should take place. The documentary dramatizes the clash that ensues – dubbed by the media as "Bloody Sunday" – and later Johnson's "we shall overcome" speech to urge congress to sign the voting rights bill.
Tonight's screening is accompanied by a panel of participating filmmakers including Orlando Bagwell, Callie Crossley, Sam Pollard, Jon Else, and Judith Vecchione moderated by Yance Ford (Strong Island). It's also worth noting that all of the interviews conducted for Eyes on the Prize and its eight-part follow-up – hundreds in all – were recently digitized, transcribed, and released online by Washington University in St. Louis – an extraordinary resource. Readers with a New York Public Library card can also catch all fourteen parts of both series on Kanopy.