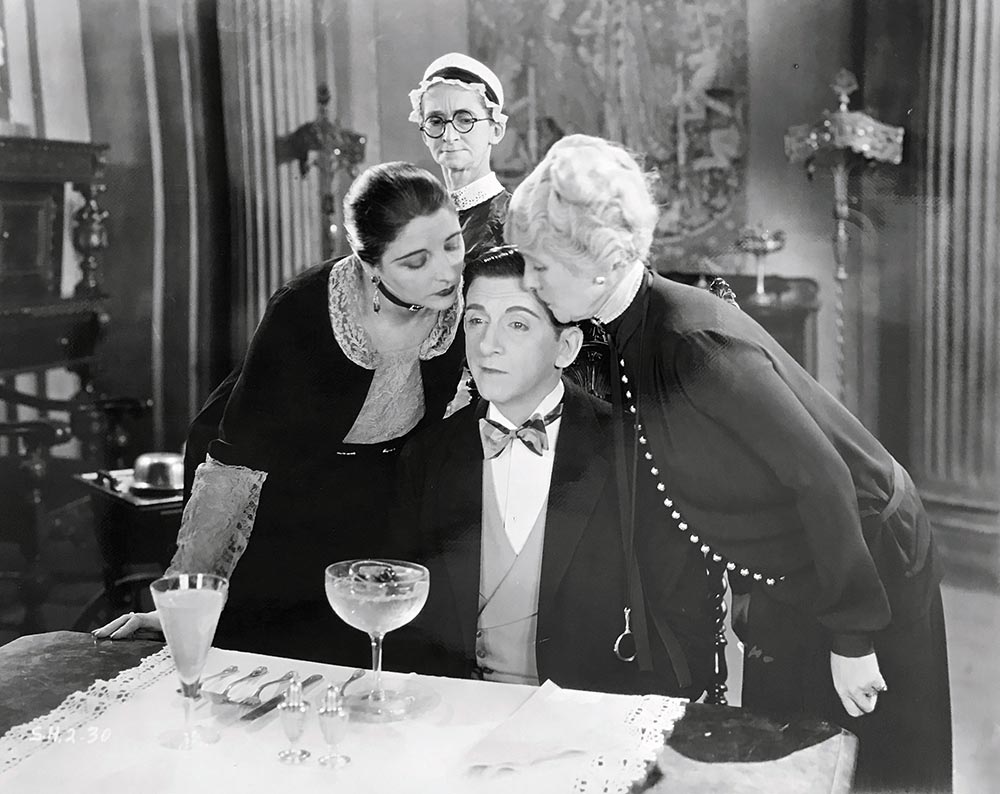 January 30th 2022
You might know Edward Everett Horton by his endless double takes directed at Herbert Marshall during a cocktail party in Trouble in Paradise (1932), or else by his unamused guffaws at Cary Grant in Arsenic and Old Lace (1943), when he realizes that the whole house is full of crazies. Like all great character actors, there are untold depths behind these brief, unforgettable performances. Great supporting players like Horton can communicate a full breadth of life in just a few choice moments. Yet while we may get glimpses of fully drawn characters in these scenes, we're almost never afforded a chance to witness the range and ability of actors like Horton at length. Luckily for Classical Hollywood fans, today's screening of four silent comedy shorts in which Horton stars rectifies that situation, giving a sustained look at the legendary actor and allowing audiences to assess his abilities in full.
The best short of the program, Dad's Choice (1927), is also an excellent demonstration of one of Horton's finest gifts as an actor, his face. While he could never rival the likes of Harold Lloyd or Buster Keaton for their meticulous, full-bodied slapstick choreography, few of the silent clowns could deliver the nuances of facial comedy of which Horton is capable, with his big eyes and long, hang-dog chin. In an extended dress shop sequence early in the film Horton shows his mastery of the double take, selling confusion and surprise with hilarious aplomb. While waiting to meet his girlfriend and then waiting for her to pick out a dress, Horton repeatedly finds himself making unintentional advances toward an outlandishly dressed older woman. With each inadvertent come-on—first it's a wink because he has something in his eye, later he's grabbing her ankle looking for his hat—Horton's face shifts from eyebrow-arching befuddlement to wide-eyed embarrassment to an uneasy, mollifying smirk and, several times, back to the beginning to repeat the whole cycle over again.
Famous for playing bumbling professionals and doltish older suitors as a supporting actor, as a star Horton developed a persona markedly different and more dynamic. Working under the guidance of Lloyd, his producer, Horton captures something of the same dorkish everyman routine Lloyd perfected. Three of the four shorts in the program have Horton portraying upper-class wimps getting in over their heads while trying to court potential lovers. In Horse Shy (1928) he's a spoiled equinophobe forced to ride the wildest horse on the ranch to impress the girl of his dreams. Find the King (1927) casts him as a pampered heir whose sole occupation in life is perfecting card tricks until he's forced to prove his mettle in a Wild West saloon. Balancing a childish fear of physical danger with unexpected acrobatic derring-do, Horton makes for a lovable and hilariously fallible comedic hero to rival the top performers of the era.
"Edward Everett Horton, Silent Comedian" screens this afternoon, January 30, at the Museum of Modern Art as part of "To Save and Project: The 18th MoMA International Festival of Film Preservation."