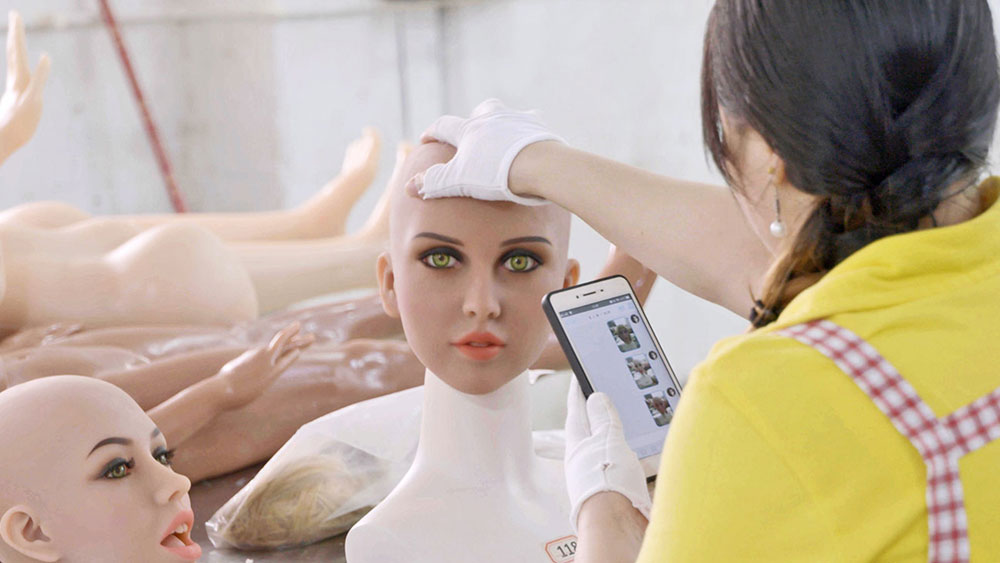 November 10th 2021
The country's largest nonfiction film festival, DOC NYC, opens tonight, extending audiences a monthlong invitation to reckon with 21st century humanity across dozens of features and nearly as many shorts. Dive into this wealth of social portraiture and fashion for yourself a personalized, though fairly coherent, image of life in 2021. (Even the roster of historically-themed work only affirms our present engagements with justice, nostalgia, and iconography.) No matter your itch, there's a lovingly conceived nonfiction film to scratch it. Exhaust your empathy generator! Shame yourself into becoming a better global citizen! Shudder at the coming horror! Wince at your own ignorance! Glory in the winnings of grassroots activism! Even at their most banal, these films project a genuine curiosity about recognizably human subjects, a quality that's become transient in contemporary fiction film. At their best, these are sublime accounts of a teetering world's struggle to value human dignity.
The lineup you curate for yourself will likely reflect your ideological preoccupations, or perhaps your work schedule if you plan on attending IRL screenings at IFC Center, SVA Theatre, and Cinépolis Chelsea. After bingeing as much as I could before this piece's deadline, I'm now met with a mirror image of my own anxieties and interests collaboratively reflected by several films charting the triumph of private capital and the resolve of its beleaguered enemies. Of course climate crises and their antecedents loom over many of the festival's best entries.
Valerie Blankenbyl's The Bubble (2021) is the devastating and often hilarious investigation of a retirement community metastasizing across central Florida. Part company town and part parrothead Elysium, the unincorporated community is a private, family-run concern that boasts a population of 150,000 and an acreage soon to be quadruple the size of Manhattan. Here, freed from cold weather and grandparent duties, residents aged fifty-five and over can enjoy access to three thousand social clubs, fifty-four golf courses, seventy swimming pools, four town squares, countless framed photos of Dwight Eisenhower, and daily landscaping services. You may recall the community briefly making headlines after a golf cart caravan for Trump nearly got out of hand during the 2020 election. Full of rich white boomers, The Villages has become a required stop for campaigning Republicans.
Having started as a trailer park in the 1960s, the business has been drinking up its neighbors' milkshakes through relentless land grabs since the 1980s. They expand, they develop, and then they throw up push-button gates on public roads in order to keep locals out of spaces maintained by their own tax dollars. Resistance is spearheaded by local retirees unwilling to sell out, and by local journalists whose efforts inspired The Villages to publish its own propaganda paper. (For another look at the perils of local journalism, see fellow festival entry Storm Lake [2021], by Jerry Risius and Beth Levison.) A small African American community has had their cemetery encircled by The Villages, but the majority of those fighting the good fight are fellow white boomers who resent the intrusion on their own Florida retirement properties. There's probably no wrong reason to object to this social and ecological nightmare, but the perversion of white retirees colonizing each other's spaces represents near rock bottom for our crumbling gerontocracy.
According to the residents, this is their just reward for lives spent in thankless sacrifice to families and the economy. With no young people around, they feel ageless within their "good bubble," where ambulances silence their sirens upon entry. This is the fentanyl of boomer entitlement, a concoction almost too potent to endure. They express disappointment with families who see them only as on-call free childcare and resent the filmmaker for bringing up environmental collapse because now they "have to think about it." Theirs is an American Dream predicated on a wet-eyed celebration of consumption, oblivious to its consequences. Blankenbyl and cinematographer Joe Berger offer gallery-ready images in couplets that reveal the ugliness beneath the manicured lawns. An exquisite shot of a thriving oak tree cuts wider and reveals the watering truck required to maintain it.
The centenarians of Heddy Honigmann's 100UP (2020) are infinitely less detestable than The Villages' MAGA numbskulls, but both 65+ cohorts share a similar blindness to their own privilege. The urban bourgeoisie (doctors, professors, therapists, musicians, lawyers) are disproportionately represented here, though the correlation of wealth and longevity goes unaddressed by the film. In contrast to the Villagers, this group is educated enough to fear the future they'll miss, and most are either still working or engaged in some sort of dedicated activity beyond golf and wine. The film ultimately rouses more curiosity about those presumably greeting the century mark in nursing homes and ghettos, or even suburbs, than about its own exceedingly comfortable subjects.
Jessica Kingdon's Ascension (2021, pictured at top) is a wry triptych of economic life in contemporary China, where the past, present, and future of globalized economies have been accordion-folded into the span of a single lifetime. She begins and ends with a poem from her great grandfather Zheng Ze, which reads in part, "I ascend and gaze afar with a clear heart / Only to find that everywhere is already razed." Kingdon's survey of the environmental and social costs of an ascendent China recalls the best work of Jia Zhangke.
On her way up the ladder, from factory workers assembling spray bottles to the driving ranges of the budding leisure class, Kingdon captures rich details that mirror precisely the American gospel of success. Factories recruiting labor with enticements like seated assembly-line work and free dorm meals also tout slogans like "Work hard and all wishes come true." Later, the owner of a cosmetics company delivers Reaganite bromides about a "fair society" where wealth reflects intelligence and skill. The martial tone of training sessions for factory workers, seen chanting in fatigues prior to a "graduation" ceremony emceed by an HR rep, no doubt tickles American Sinophobia, but trust falls and immersive corporate campuses that eradicate the distinction between work and life are no less oppressive. Throughout, Kingdon identifies the enormity of this juggernaut without sacrificing an ear for details—a debate, for instance, over the proper color for sex doll nipples.
A small army managed by algorithms for unprofitable companies undergirds many of the new luxuries enjoyed by Chinese and American consumers. This dispiriting "disruption" of work is the subject of Shannon Walsh's The Gig Is Up (2021), which states plainly the case against the depressingly long list of companies worldwide whose algorithms deploy "independent contractors" to deliver food, carry passengers, and take surveys. The companies only begrudgingly employ humans at all, spending indecent sums developing robotic couriers and drivers that may soon send the hundreds of millions of gig workers even further down the economic ladder. For now, these companies, backed by venture capital, are stuck hiring people, but legal reclassification and worker desperation have conspired to strip would-be employees of even the most basic security. Walsh checks in with French UberEats cyclists who "like to stay active" and aspire to pull in the equivalent of $11.50/hr on a good day, as well as American drivers looking to spend more time with their kids than an office job permits. The heartbreaking bait and switch the companies offer are designed, like multi-level marketing schemes, to induce the euphoria of entrepreneurial freedom with catchphrases like "make your own hours" and "be your own boss," while the actual ceiling for earnings is too low to support oneself, let alone a family. And, as in MLM doctrine, the gig worker's failures are their own.
Walsh, Kingdon, and Blankenbyl circle the same conviction that the ceaseless fulfillment of our desires comes at an unconscionable cost to the planet and our fellow humans. Their films contain enough humor to lift viewers out of the void. Walsh and Blankenbyl lessen the blow by introducing valiant protest movements into their narratives, even if the future of such efforts are uncertain at best. These films present ideas tethered to the way we live now, offering comfort to anyone feeling lonely in their conclusion that our world is as ridiculous as it is needlessly barbaric.