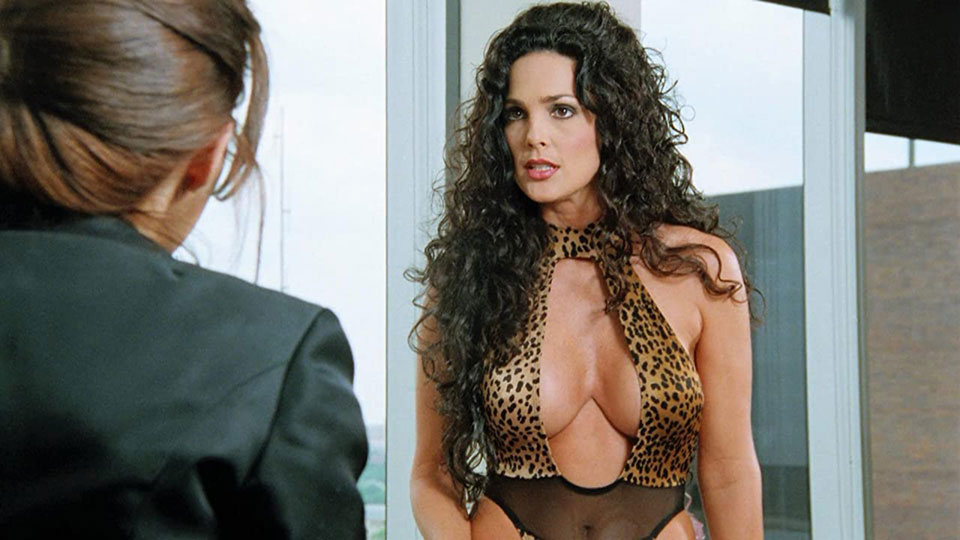 January 25th 2021
Nobody ever accused Andy Sidaris of subtlety. A former TV sports director and creator of the "honey shot" — which offered a respite in the game to ogle cheerleaders — Sidaris left the world of sports in the mid-70s for a career making films, all of which featured scantily clad women, big guns and explosions; a body of work affectionately referred to as BBB: Bullets, Bombs and Babes.
One of these "babes" was the notorious Penthouse Pet Julie Strain, who first worked with Sidaris in 1993 on Fit to Kill, the same year she was crowned Pet of the Year. In that film, as well as Andy's son Drew's films Enemy Gold and The Dallas Connection, she played hardened villain roles with names like Blu Steele, Jewel Panther and Black Widow. But the highlight of her tenure in the Sidaris cinematic universe is her heroic turn as Willow Black in Day of the Warrior.
Day of the Warrior marked Andy's return to the director's chair after handing the reins over to his son for two films in the mid-90s, and it's quite the comeback; the audience is treated to such sights as a missile-firing cane, an owl puppet taken out by a shotgun, an Asian Elvis impersonator, a villain named Supreme Warrior who is very obviously a rip-off of wrestler The Ultimate Warrior, and, of course, Julie Strain, who gets to hit a man in the head with her boobs.
Strain is giving a star turn here, where she gets to head up the L.E.T.H.A.L. team. (There's a backstory here, and if you want to know it, you can watch all of the preceding films on Tubi.) The organization has been compromised by a hacker who is into pirating porn and casual slave trading in 1996. Naturally, being the head of the agency doesn't keep Strain from wearing a thong-adorned, leopard print bodysuit in the office or getting in the ring for a wrestling match in the film's climax.
Day of the Warrior is neither subtle nor PC, but it does feature characters named Cobra, Tiger, Shark and Scorpion. Despite his genre of choice, it's also obvious that Andy Sidaris deeply cared about cinema and supported film school. Just look at this bit of dialogue from the film:
"Can you operate a camcorder?"
"We're totally celluloid literate. Cyberspace film school, two day intensive."
This post is dedicated to Julie Strain 1962 - 2021
Day of the Warrior and other Strain/Sidaris are available to stream for free on Tubi