Featured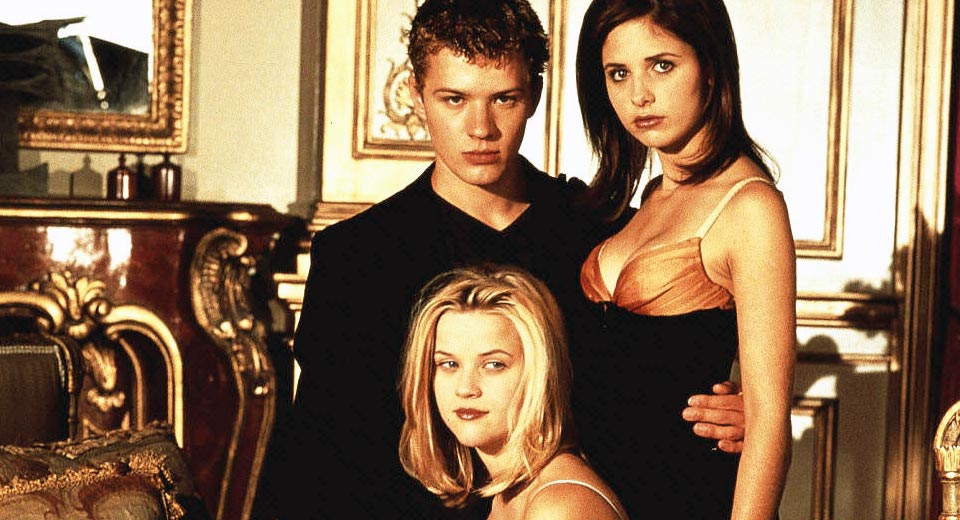 October 8th 2016
Consistent with late '90s zeitgeist, Roger Kumble's Cruel Intentions revels in the exposing of every American value as façade – the football star is closeted, the psychotherapist is peddling her self-help book, and Sarah Michelle Gellar hides her coke stash in her rosary. Written by Kumble during the heat of the Lewinsky scandal and adapted from Laclos' Les Liaisons Dangereuses, the film finds prep school step-siblings Valmont (Ryan Phillipe) and Kathryn Merteuil (Gellar) wagering on the virginity of Annette Hargrove (Reese Witherspoon), with the fate of a 1956 Jaguar roadster and psuedo-incestuous intercourse on the line. The result is teen sex comedy meets the pop nihilism of Todd Solondz or Neil LaBute.
Like Laclos, Kumble's attitudes towards libertinism are ambivalent. On one hand, the characters' eventual downfalls could be read as critique. But Kumble's world is so hopeless it seems to justify amusement by any means necessary. Gellar, the de facto villain, is turned tragic in a monologue on the punishing constraints of her femininity. "God forbid I exude confidence and enjoy sex," she says. "I'm the Marcia fucking Brady of the Upper East Side and sometimes I want to kill myself." And there is no salvation in aging – the few adults in the movie are either petty (Christine Baranski), oblivious (Louise Fletcher), or senile (actress and activist Herta Ware).
The film's great strength is in its performances, with Phillipe and Gellar nailing and quietly subverting their respective "charming sociopath" and "high-strung teen bitch" stock characters. The show is stolen by break-out star Selma Blair as the guileless and obnoxious Cecile Caldwell – her MTV Movie Awards Best Kiss-winning scene with Gellar is one of the reasons this film sits comfortably in Metrograph's Queer '90s series. The movie's inclusion is doubly appropriate if you consider it in the Brechtian tradition of Sirk, Fassbinder, late Waters, Haynes, cynical high melodrama and forebearer to Gen X ironism. All this is amplified by a soundtrack of appropriately bland Y2K kitsch, with choice selections from Placebo, Counting Crows, and Aimee Mann (Kumble couldn't secure the rights to The Smashing Pumpkins' "To Sheila").
Cruel Intentions is streaming on HBO Max (as of February 2021)