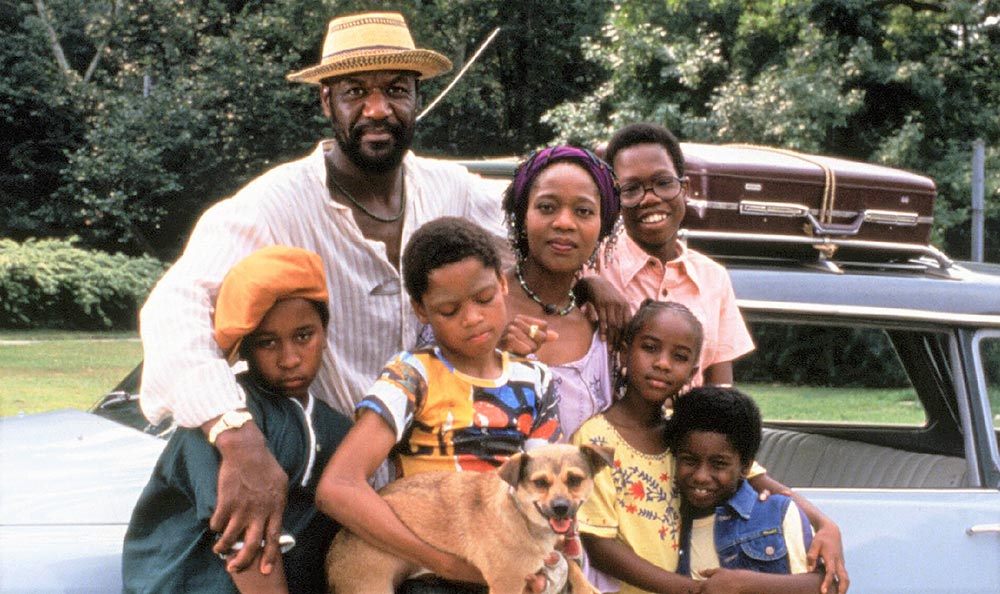 February 26th 2023
The sweltering anima behind Spike Lee's early work—literal and poetic heat, congested locales, double-dutch chants, and bodega reprieves—is most pronounced in Crooklyn (1994), an elegiac Bed-Stuy fairy tale penned by siblings Joie, Clinqué, and Spike Lee. Previously titled Hot Peas and Butter (after the street game in which children whip each other with a cached belt), Crooklyn conceives a puckish vignette of childhood in the Lee household, which curls into melodrama as their mother passes from cancer.
The film foregrounds nine-year-old tomboy Troy Carmichael (Zelda Harris) and her troupe of rowdy brothers, hopscotching and playing gentle havoc with neighboring war vets and glue sniffers (one of whom is played by Lee). Meanwhile, their parents, Woody (Delroy Lindo), an impassioned and underpaid jazz pianist, and Carolyn (Alfre Woodard), a schoolteacher, squabble over money and feed their children on sugar-steeped lemonade and calcium-rich black-eyed peas.
This airier, more muted Lee joint, coming after Do the Right Thing (1989) and Malcolm X (1992), hones in on certain domestic pressures of Black girlhood. Troy is unwittingly plopped into an affluent Virginia suburb, where her whitewashed cousin and hypercritical Aunt Song (Frances Foster) deride her natural hair and informal way of speaking. Upon her return, she becomes the maternal undercurrent within her fractured family of boys; her nickname, "Troy the Boy," and recurring jabs at her flat chest further alienate her from youth and femininity.
The cinematographer Arthur Jafa's naturalistic account of a Brooklyn in full swing lends the film what bell hooks considers "an unbridled imagination that creates splendor in a world of lack." hooks goes on to critique Jafa's cinematographic economy, finding that "the ethnographic day-in-a-life style of presentation demands that the viewer see nothing wrong with this picture." The tonal authenticity of Lee's family can make Crooklyn appear watertight, or too personal to fairly assess, but the film smartly invites us to share in Troy's dread: puberty, bedwetting, familial disillusionment, and an acute fear of drug use.
Troy's Virginia stay is filmed purposefully with a squeezed, anamorphic lens to forecast the significant shift from Brooklyn's free-handed slant to a helicopter-parented, well-manicured suburbia. It's something of a Southern, off-kilter City of Oz, complete with a wicked witch and slaughtered pup, and a triumphant homecoming. The fact that audiences and critics responded coldly to these pinched images is perhaps the greatest avowal of Crooklyn's fixed agitations.
Crooklyn screens this evening, February 26, and on March 4, at the Museum of the Moving Image on 35mm as part of the series "Snubbed: Great Movies, No Nominations."