Featured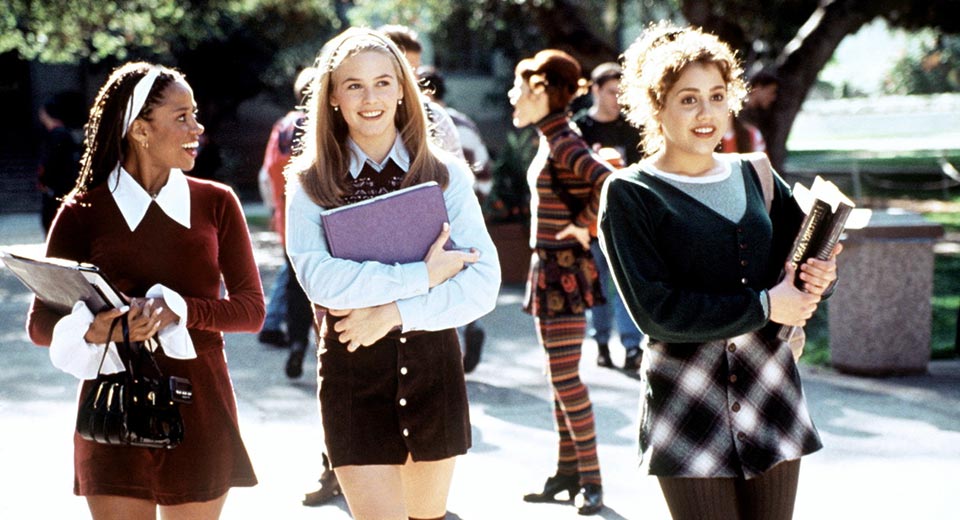 November 19th 2017
If you're like me and somehow never once saw it in your adolescence, Clueless (1995) may surprise you with its self-awareness.
Cher (Alicia Silverstone) and Dionne (Stacey Dash) are Beverly Hills high school students "named after great singers of the past," "the past" here referring to a time when Sonny & Cher's better half and Dionne Warwick were releasing Top 40 singles. The movie's own soundtrack is punishingly contemporary, featuring the likes of No Doubt, The Cranberries, Nine Inch Nails, Coolio, Radiohead, and Supergrass. What makes it such a treasure trove of pop-archaeology is its abundance of covers, like The Muffs' "Kids in America" and World Party's "All the Young Dudes." And Cher's crush Christian (Justin Walker), that "Disco-dancing, Oscar Wilde-reading friend of Dorothy," is a layer cake of nostalgic allusions, obsessed with Tony Curtis and Billie Holiday and reading William Burroughs in class. Cher's father (Dan Hedaya) quips, "Sammy Davis's death didn't leave an opening in the Rat Pack," but Christian's style is more 90s "contempo-casual" than early-60s (although the former is obviously an amalgam of the latter).
Part of the postmodern mood of Clueless comes from its ruthless attack on popular political orientations, especially feminism and environmentalism. Dionne's boyfriend Murray (Donald Faison) defends his "street slang" ("Woman," "bitches") by arguing that it contains "mocking but not necessarily misogynistic undertones." A running joke is Cher's social studies presentations on subjects ranging from United States refugee policy to the so-called "Pismo Beach disaster" in a picturesque coastal community north of LA. Her step-brother Josh (Paul Rudd), a college freshman stuck in his "post-adolescent idealistic phase," is an easy target with his interest in environmental law and his Amnesty International T-shirts.
Although its tentacles reach into the 50s, the 30s, and even the 1800s (being an adaptation of Jane Austen's Emma), Clueless is as 90s as it gets. Flannels tied around waists, pagers, Beavis and Butthead, and teenage girls swooning over (gasp!) Mel Gibson. And what is it about a group of friends posing in front of a fountain for a group Polaroid that somehow manages to summarize the entire decade?