Featured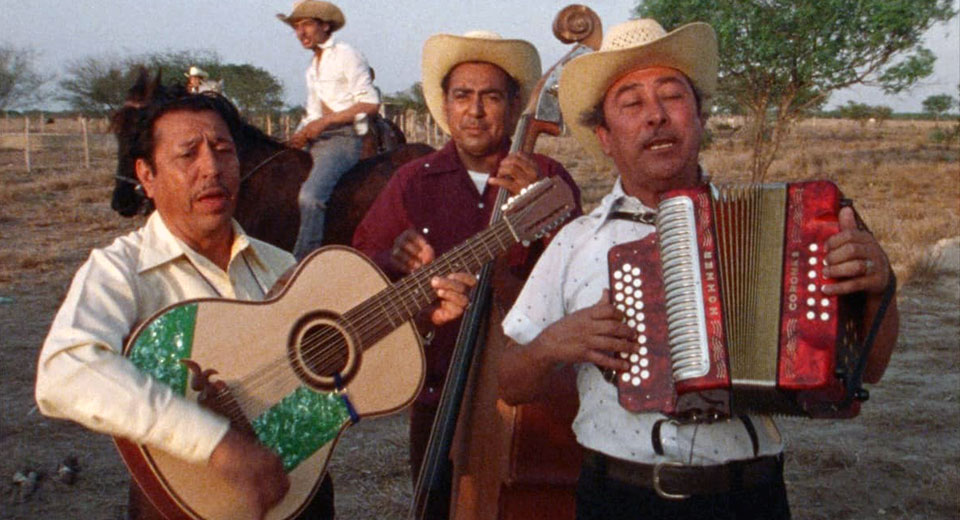 June 28th 2019
In the mid-1970s, Les Blank, Maureen Gosling, and Chris Strachwitz set out to document the cultures of norteña and tejano music as they then existed along the US-Mexico border. The resulting films, Chulas Fronteras and Del Mero Corazón, capture a neglected golden period in American popular music while simultaneously arguing for the vitality of marginalized working-class life and art.
Both movies do their share of historicizing; laid back interviews on porches and at kitchen tables sketch the trajectory of musical styles that mixed European polkas with Mexican balladeering to become the de facto sound of the border. But most of their running times are occupied with what was then the living iteration of the tradition; gigs happen in local dives and dance halls or at backyard barbecues, records are cut in cramped garage-studios and distributed by nonprofessionals at their own expense, while the musicians — regardless of their notoriety — seem to make only a modest living, or work a day job to make up the difference. In Fronteras, we get to see Flaco Jiménez on stage in his prime, along with rare footage of his father Santiago; Lydia Mendoza cooks tamales for her kids and sings her hit Mal Hombre to a packed bar; and Narciso Martínez — nicknamed "El Huracán del Valle"—plays to a few drunks in a cantina, then heads to his day job feeding the elephants at the Gladys Porter Zoo in Brownsville, TX. Made out of off-cuts from Fronteras, Corazón does the job of extending its themes — there's more cooking, more singing, more dancing — but with an added layer of melancholy provided by fragments of Mexican poetry, spoken over shots of empty fields and Chicano-pride murals.
Together, these films are priceless records of life on the border, but like most of the documentaries that Blank had a hand in, they aren't intended to be unbiased ethnographic records. Wherever the camera looks it sees a vigorous and resilient culture that expresses itself in an art form that relates directly to its audience. It seems clear that the filmmakers wouldn't say the same about mainstream American life; though Chulas Fronteras and Del Mero Corazón don't preach, they can't help but point out that a culture created in its shadow is ideal by comparison.