Featured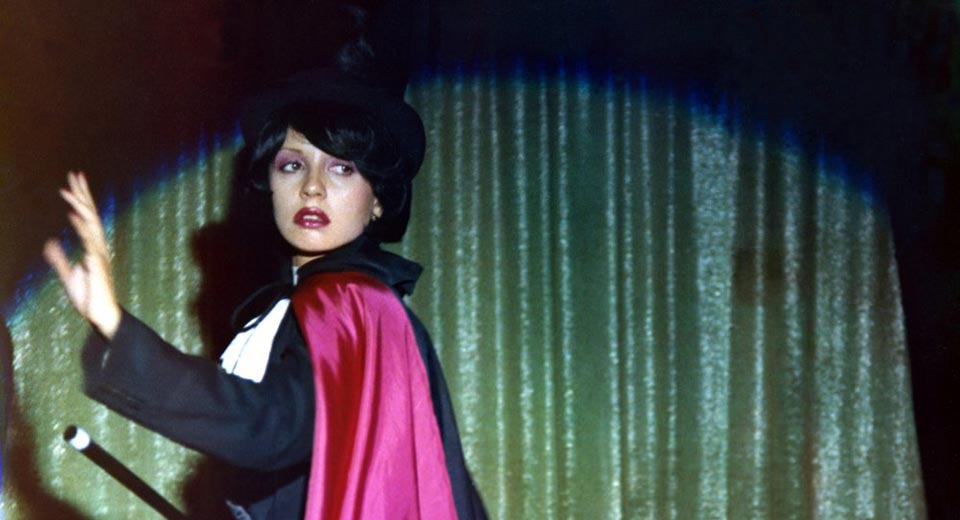 January 7th 2019
The future is behind us and the past ahead in the upside-down world of Jacques Rivette's Celine and Julie Go Boating, screening tonight at Quad Cinema for the venue's comprehensive series, "Pictures of Polite Society: Henry James at the Movies." Based rather loosely on Henry James' Gothic short story "The Romance of Certain Old Clothes," along with familiar tidbits from Marcel Proust and Lewis Carroll, Rivette's reimagination runs light on politesse, but quelle societé! The sensational details of James' campy proto-potboiler provide a perfect foundation for this fantastical yarn that never once, despite its near four-hour run time, feels tiresome or trite.
A chance encounter on a Montmartre park bench leads straight-laced librarian Julie (Dominique Labourier) down the rabbit hole in pursuit of bohemian magician Celine (Juliet Berto), and the resulting friendship sets our heroines on an adventure that freewheels back and forth between the realms of fantasy and reality. Celine and Julie's everyday lives never lack for excitement – on any given day you could catch the garrulous duo tearing across the Rive Gauche, taking long lunches with bohemian stage personalities, or swapping identities and pranking unsuspecting Parisian males – but the real meat of this sauntering story, however, is the decidedly Jamesian subplot.
While visiting an old friend, the witchy pair accidentally stumble upon "7 bis, rue du Nadir-aux-Pommes," an ominous mansion on the outskirts of Paris. Each takes her turn sneaking in and out of the foreboding abode, but the conclusion of every trip leaves the lucky adventuress sucking on hard candy and suffering from temporary amnesia. Bit by bit, those misty memories reappear, revealing sinister goings on at 7 bis: behind the ivy-covered walls, a Victorian murder mystery is afoot, as wraith-like residents Camille (Bulle Olgier) and Sophie (Marie-France Pisier) compete for the love of house patriarch Olivier (Barbet Schroeder) by using his bedridden daughter as a bargaining chip.
Determined to rescue the sickly little girl from these overdressed weirdos, Celine and Julie return again and again to the scene of the would-be crime. When their harmless platonic love story takes a sharp left into horror territory, the pair's gruesome end seems a foregone conclusion. But by harnessing their mutually-assured fearlessness and shared passion for the occult, the unlikely duo penetrate the veil of reality and cross into the unknown, protected from their supernatural foes with a shield of confidence and joie de vivre. The shadowy contours shift into focus as our heroines venture deeper into this ghastly tale, building to an airy climax that wipes away the cobwebs of deceit with a pastoral breath of spring.