Featured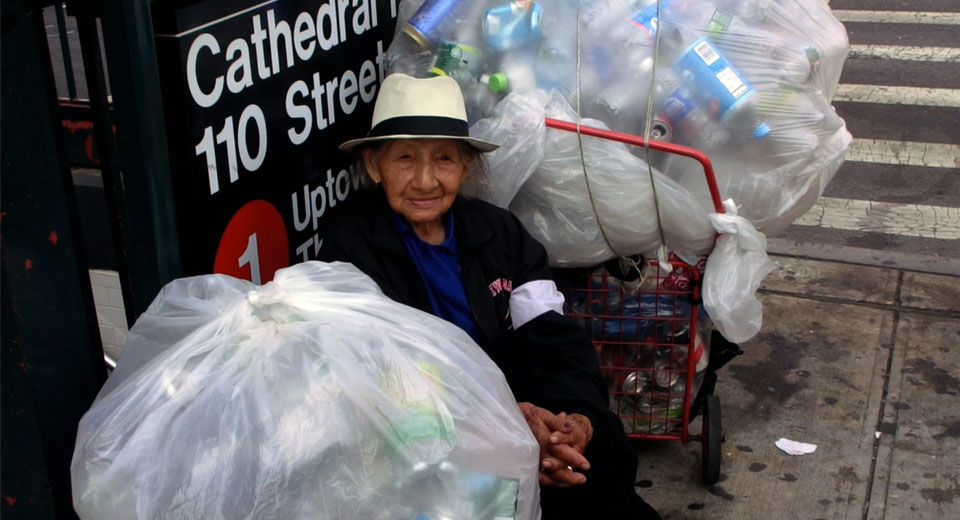 February 27th 2017
Of the dozen or so "canners" that Manfred Kirchheimer interviewed for his new documentary, the majority get the dubious honor of having their speech subtitled. This choice is justified in some cases, like in that of Samuel Peralta, an immigrant whose (Cuban?) accent often makes his speech nigh-unintelligible. But most of these foragers of aluminum and glass have no accents at all, and the impression of a patronizing attitude—both towards the subjects and the audience—is difficult to escape. Nathaniel Beeton, for example, is a native New Yorker, but his diction was apparently deemed too "street" to let it stand without a translation.
Aside from some B-roll of bridges and elevated trains with breezy vibraphone accompaniment, Kirchhimer's camera stays exclusively on the titular toilers. We meet, among others, Luiz Santiago (age 70), Diane Parker (age 67), Eddie Ward (age 60), and Maria Berrio (age 73). They describe their pasts (Peanut Nelson was a case manager for people with HIV/AIDS, David Jones lost everything in Hurricane Katrina), their side-projects (David Durrah plays piano in a jazz trio and sometimes works on cruise liners, Luis Hernandez grows pumpkins and mint in a sidewalk tree planter), and their goals (Peralta is saving up for a Vespa and a ticket to Miami, Ward is getting a certificate in counseling from Stratford Career institute).
Far from being exclusively concerned with their personal travails and backgrounds, they offer broad reflections on ethics and society. "Some people don't consider this a proper job, but it's hard work," says Nelson. Ricky Remouchette (age 50) observes that the city's rich are accustomed to such abundance that they won't think twice about discarding something they ordered online because it's the wrong color. Beeton notes that America acknowledges its wars in the Middle East but ignores the class war happening within its own borders: "This is the war right here, the war is the United States! The war is hunger, starving, homeless—too much!" This sounds a lot like an oligarchy as described by Socrates in Plato's Republic: "Such a city [is not] one but of necessity two, the city of the poor and the city of the rich, dwelling together in the same place, ever plotting against each other." In Socrates' account, the rich grow richer and the poor poorer, the rich more fearful of the poor and the poor more resentful of the rich, until the polity is transformed through violence. It doesn't take a classical thinker to recognize that dynamic in a city like New York, where extreme wealth and poverty often concentrate in the same places. Kirchheimer catches jawless, suit-clad investor-types waiting for their Ubers in front of the Bank of New York Mellon office at 80 Broadway, which is diagonally across the street from Trinity Church, the site of consistent homeless encampments. Maybe the most concise image of this disparity is offered by the $50 million New Museum building next door to the Bowery Mission at 227 Bowery, the historic refuge of the city's destitute since 1909. The bread line of the Mission and the line of invited guests to the museum's gala openings are often to be seen side by side, the latter shivering more in their Little Black Dresses than the former in Every Garment They Own.
A sunset-illuminated West Side Highway billboard announces, "Manhattan: All you need is a million dollars and a dream." In this city, as redemption center maintenance worker Alberto Colon tells us, "If you're not making X amount of dollars, you're not part of society really." It's a full-blown oligarchy, and it's getting ripe for the harvest.