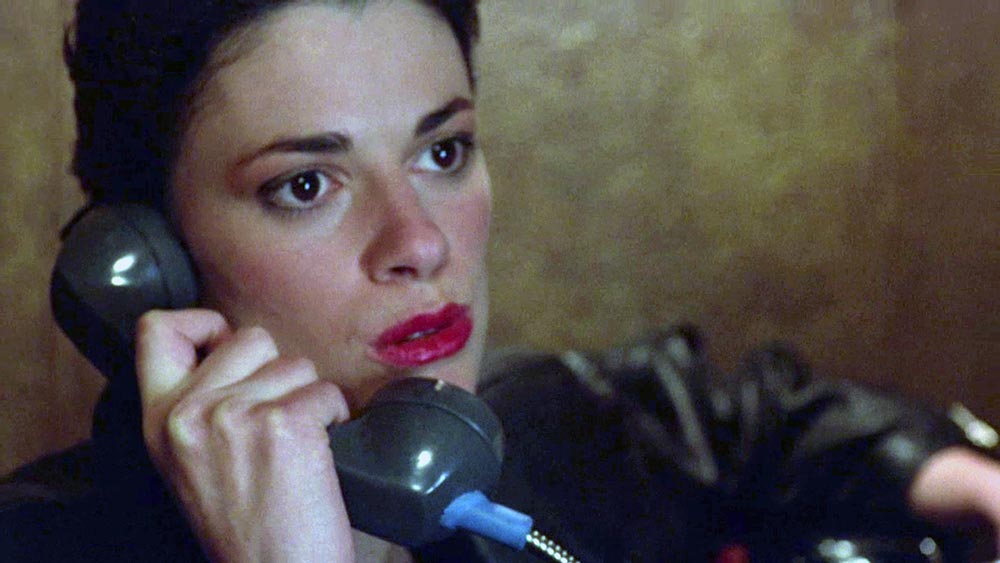 February 13th 2021
As the 1980s wound down, and the erotic thriller craze — set in motion by De Palma's Dressed to Kill in 1980 and reaching its apex with Fatal Attraction in 1987 — went with it, 1988 saw three very similar genre entries with thrillers involving phones: William Webb's serial killer film Party Line, Ruggero Deodato's foray into supernatural landline erotica Dial: Help and Sollace Mitchell's NYC-set obscene phone call sleaze-fest Call Me.
Playing like a neon-drenched amalgam of The Telephone Book and Looking for Mr. Goodbar, Call Me's plot basically comprises a single journalist (Patricia Charbonneau of Desert Hearts) receiving obscene phone calls, ultimately deciding to meet the pervert on the other end, and bearing witness to a murder in the process. So, typical New York shit in the late 80s. And as good as Mitchell's film is at being a horned-up erotic thriller, it's even better at being a New York movie — there's as much great footage of the city as any Amos Poe or Abel Ferrara film of the period, showcasing all of the grime, squalor, and lost landmarks that New Yorkers are nostalgic for. And, yes, even Steve Buscemi shows up as a character named Switchblade (for a good reason), so this isn't debatable.
What sets Call Me apart from most erotic thrillers of its time, is that there's really not much sex in it. Sure, the poster has a pair of legs with a telephone cord wrapped around them, and on the floor is a seemingly innocuous orange with a slice removed. The legs aren't the important thing here, the orange is. At about an hour into Call Me, Charbonneau is talking to her obscene caller while slowly eating (more like sucking) an orange and begins the exchange:
"Anna, do you still have that orange?"
"Maybe…"
"I want you to squeeze it on your thighs…"
And she does it. So, if you ever wanted to see Charbonneau masturbate with an orange in a small NYC apartment while some creep says gross things to her, here you go. And, yes, she tells him to fuck an orange too after instructing him to bit a hole in it. Luca Guadagnino's peach has nothing on this.
Beyond the fruit fucking, Call Me is an interesting genre exercise because it tries to be a handful of things at once and mostly succeeds: it's a murder mystery, a stalker thriller, a sexual experimentation drama, and maybe a documentary about lower Manhattan in the late 80s. Unfortunately released to middling returns by Vestron in 1988 and yet to receive a disc release from Lionsgate since acquiring it, Call Me can currently be streamed for free on Tubi where, thankfully, no commercial breaks interrupt the orange scene.