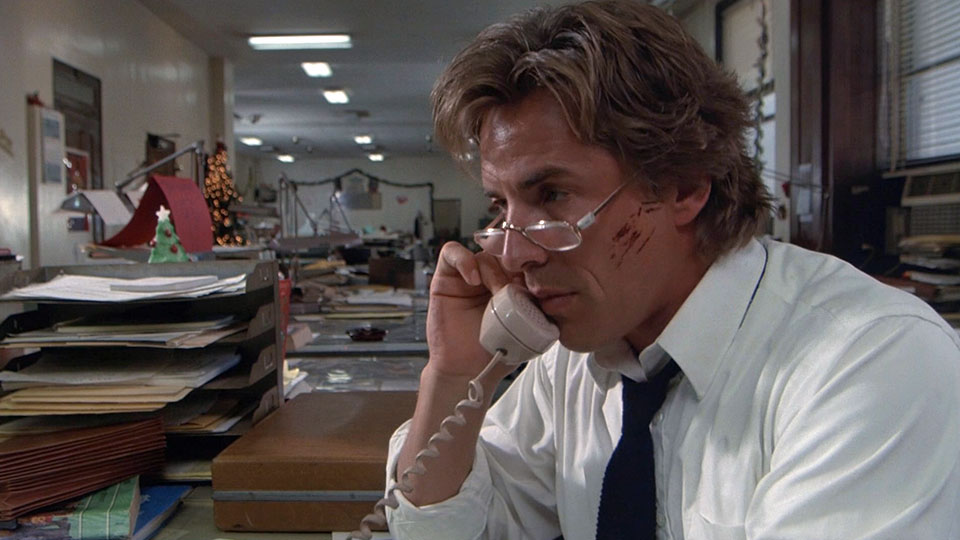 December 7th 2020
Shane Black may be, by default, the Patron Saint of Christmas Crime based on the seasonal ubiquity of Lethal Weapon (1987), The Long Kiss Goodnight (1996), and Kiss Kiss Bang Bang (2005). But, for my money, the holiday season's true champion of yuletide thrills is longtime genre stalwart John Frankenheimer, whose late career output includes Ronin (1998) and Reindeer Games (2000) — both of which should be in the conversation as career bests and holiday canon — preceded by 1989's Christmastime, city hopping, renegade policier Dead Bang.
Dead Bang stars Don Johnson as a Scrooge-like, Christmas-hating, alcoholic, womanizing LAPD homicide detective tasked with solving the Christmas Eve slaying of a convenience store worker and fellow cop. Without spoiling its many wild twists, this journey eventually takes him on a holiday season trip through Arizona and Oklahoma, into the dimly lit dens (and literal caves) of America's white supremacists. Nothing quite spreads holiday cheer like Don Johnson laying waste to Neo-Nazis. (Except maybe Don Johnson puking on a suspect after an exhausting foot chase which, yes, does happen in this movie.)
Frankenheimer wants the audience to know that it's Christmas. This truly may be the most Christmas-y of the genre films set around the holiday season. It opens with a blimp hovering over Los Angeles that says "Merry Christmas" on it; nearly every location is completely decked out in holiday garb, including Don Johnson's poinsettia and Santa statue laden desk; and an extended chase scene culminates in a shootout surrounded by lit up Christmas trees and exploding decorations. Frankenheimer's film may on the surface be about a war between an overzealous cop and Nazi conspirators, but the holiday itself is fully in his crosshairs too — even the killer in the film's opening says "Merry Christmas" to the cop before pulling the trigger.
Dead Bang has never received its due on home video. Warner Bros. unceremoniously dumped it onto a full-frame DVD in 2004, before at least correcting its aspect ratio in 2017 via their Warner Archive line. Most commonly, it has appeared in various WB "action" themed multi-packs that pair it with films like Assassins (1995) and Fair Game (1995) — films far below its league. Make no mistake, this may read like cartoonish, Reagan-era 80s action, but it's unequivocally the product of John Frankenheimer, a filmmaker who made a name for himself with 60s political cinema like The Manchurian Candidate (1962) and Seven Days in May (1964) before embracing the 80s excess of 52 Pick-Up (1986) and The Challenge (1982). With Dead Bang, he does the unexpected and near impossible, in bridging that gap and doing it well. He just manages to take down America's favorite holiday while doing so.
Dead Bang is available to rent on many services.