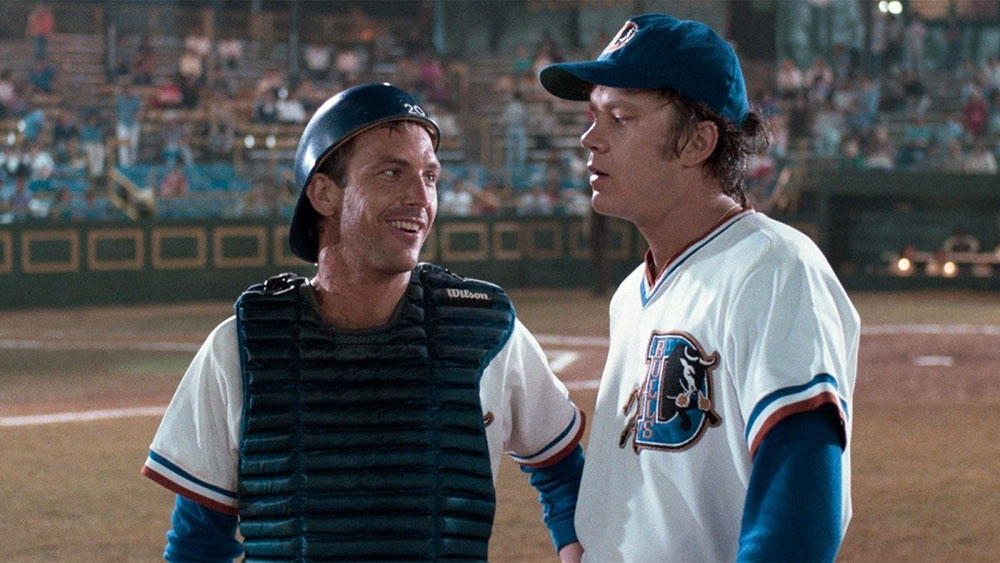 July 28th 2022
In the minor leagues, the "big game" is the majors. That's why in Ron Shelton's Bull Durham (1988), a film that follows the Carolina League's Durham Bulls, there is no end-of-season championship showdown. There's no hoisting of the hero onto teammates' shoulders; no teary-eyed speech thanking the fans for always believing.
Instead, Ebby Calvin "Nuke" Laloosh (Tim Robbins), a radically immature, rocket-launcher-armed pitcher, gets called up from the Bulls to "the show" mid-season, effectuating what would be another film's winning moment. Meanwhile, Crash Davis (Kevin Costner), the veteran catcher who the ballclub hired to wrangle Nuke, gets dumped by the organization the minute after the pitcher cleans out his locker.
Crash, a font of brass-tacks baseball wisdom who's quietly approaching the minor league home run record, made it to the majors for twenty-one days once, and everyone knows he won't be going back. But hey, they're looking for an assistant manager in Visalia, aren't they?
Like Crash, Annie Savoy (Susan Sarandon) is something of a mentor to the Bulls' MLB hopefuls, as well. Every season, she picks the strongest prospect on the team and coaches him to success through a mix of sex, 19th-century poetry, and Mayan breathwork (of dubious authenticity). As Annie proudly claims, "There's never been a player slept with me who didn't have the best year of his career."
Annie chooses Nuke, a willing pupil. But it's Crash, the player she has nothing to teach, in whom she's really interested. After a prolonged will-they/won't-they, rife with astro turf–thick sexual tension and a combative matching of wits, Crash and Annie finally do get together. Annie's magic works on Crash too, and he breaks the home run record with a team in Asheville. But he doesn't tell anyone—it's just the minors. "Full many a flower is born to blush unseen / And waste its sweetness on the desert air," says Annie, quoting Thomas Grey.
Shelton, who played in the minor leagues for five years, never made it to the show on the baseball diamond, but he certainly did in Hollywood: after Bull Durham he went on to write and direct hits like White Men Can't Jump (1992) and Tin Cup (1996). It's perhaps his experience as half a loser and half a winner that gives the movie its nuance and sense of self-effacing profundity. The minors may be small potatoes to some, but baseball is something spiritual to others, and Shelton's ability to mix crass comedy and honest emotional detail imbues the subject matter with just the right balance of the ridiculous and the heartfelt.
Bull Durham screens tonight, July 28, at Film Forum. Director Ron Shelton will be in attendance for a Q&A.