Featured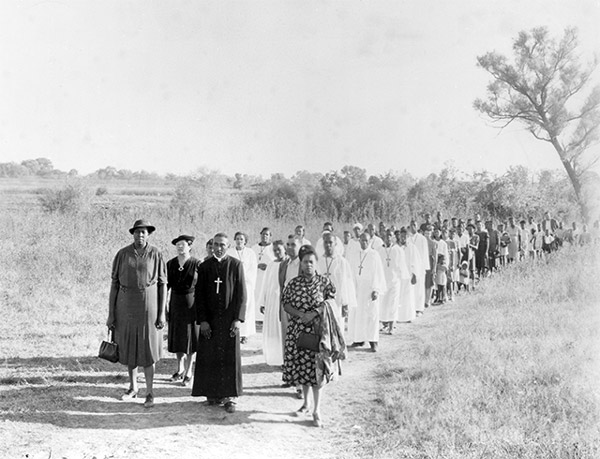 June 3rd 2015
Spencer Williams' The Blood of Jesus is a complex parable for the modern times of 1941. The film bemoans the passing of "days when religion was practiced with unfalse solemnity and honest sincerity" at a time when six million African Americans were leaving rural Southern life behind for Northern cities. It was an extremely popular and financially successful entry into the category of "race films", a term used (for better or for worse) to describe a pioneering and influential independent film movement that catered to Black audiences and featured Black casts for the first time. Williams is a hero of this movement on par with Oscar Micheaux, and as the director of at least thirteen innovative and artistically daring films, he's tragically under-appreciated as an American auteur. An actor in many race films, including most of his own, he later became famous for playing Andy in the television version of Amos 'n Andy. Like many of the brilliant comedic actors from the long-suppressed and deeply controversial series (which preceded I Love Lucy and The Honeymooners, and is unquestionably their equal), he's largely unknown to audiences today. 
In The Blood of Jesus, Sister Martha Ann Jackson (Cathryn Caviness) is baptized only to be accidentally shot by her husband Razz (Williams) later that same day. Despite a shoestring budget of $5,000, Williams employed double exposures and other formal effects in a rousing, expressionistic sequence depicting Jackson's ascension and her journey hand-in-hand with an angel to the crossroads. Williams' crossroads present a stark and topical choice between The City in one direction and Zion in the other. Jackson is quick to disregard her angel's advice to "sell not your soul for the raiment of a peacock", accepting a beautiful dress from a handsome man named Judas Green and following him to a nightclub in the city. They take in a show, and though the "acrobatic dance" and singing hardly seem profane, these secular arts are lethal distractions from a life of pious worship. Mr. Green and his unscrupulous partner Mr. Brown dispatch Jackson to a seedy juke joint where she's expected to dance with men to jazz and blues. She must find the strength to resist this amazing music, impressive dancing talents and various other earthly temptations, including the devil himself in the driver's seat of a flat-bed truck with a full jazz ensemble perched on the back (one could fantasize about a 15-year-old Chuck Berry seeing The Blood of Jesus and later writing "Down Bound Train"). 
The Blood of Jesus is a rich catalogue of gospel music and lyrical preaching, especially by Juanita Riley in the role of Sister Jenkins, interspersed with jazz and blues numbers as enjoyably sacrilegious counterpoint. By depicting Jackson's time in limbo in literal terms as a choice between the continuation of religious rural life on one hand and an exciting new urban era on the other, the film is a relevant and masterful meditation on Black American life in flux at the height of the Great Migration.