Featured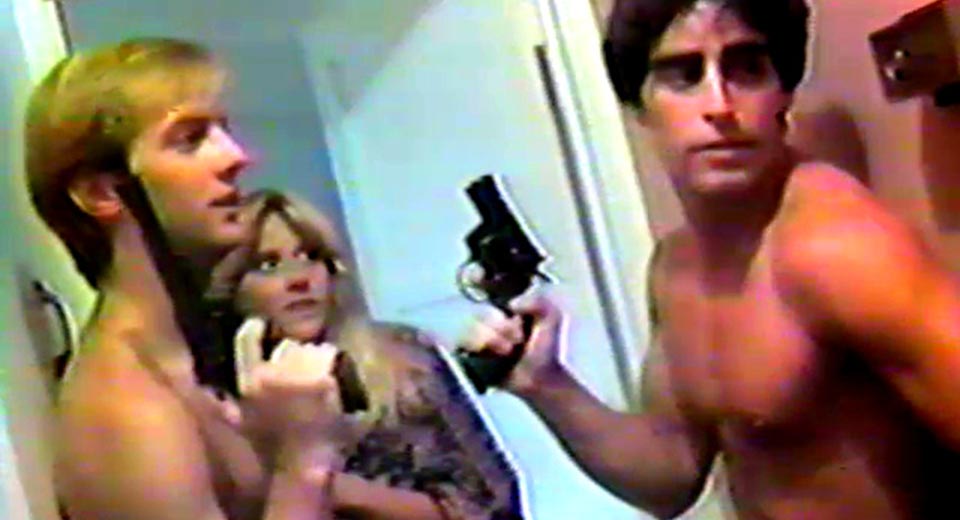 November 5th 2018
If an angry gay anarchist reimagined Badlands for the 80s, what might we expect of its impressionable yet steely loyal protagonist? Would her family move to Orange County to start a Christian ministry? Could her relationship with her bad-to-the-bone boytoy be complicated by the release of his prison bunkmate? Might the musical refrain of Carl Orff's "Gassenhauer" be replaced by The Angry Samoans' "My Old Man's a Fatso"? And what if the whole thing was shot on video for $2,000?
These questions find an answer in Blonde Death (1984), which deserves a place alongside Bill Gunn's Personal Problems as a recently revived SOV feature worthy of serious consideration within the cinematic canon. Its auteur, James Robert Baker – credited here as "James Dillinger" – is best known for his transgressive gay fiction like Boy Wonder (1985) and Tim and Pete (1993), the latter featuring former lovers living with AIDS who plot to assassinate the American New Right. At the time of Blonde Death's production, Baker was an award-winning yet unproduced UCLA screenwriting grad, and this, his only feature, was realized under the auspices of Hollywood-based media arts center and videotheque EZTV.
The result is a tightly structured, character-driven satire buoyed by incivie casting of unknown actors, including Sara Lee Wade as Tammy, a "teenage timebomb," who narrates in an earnest voiceover with a singsong southern drawl. Tammy's parents espouse Christian values, but her potentially closeted father has a spanking fetish, and her stepmother, we learn, is scheming to murder him with poison Tang to inherit money to open a new church with her lover. When both are out of town, Tammy is aggressively courted by a one-eyed lesbian, but she instead falls into the thralls of a hunky home invader, with whom she plots to rob Disneyland to start a new life. (The eventual heist is indeed shot guerrilla style within the Magic Kingdom.) But their plans receive a mixed blessing with the arrival of Tammy's new squeeze's prison lover, who is embraced as a third partner – but may be a homicidal maniac.
Blonde Death is rich with cultural clutter – doomsday churches, singing televangelists, pill-popping, Mickey Mouse, and knotty sexual confusion – but Baker is singly talented at tying satire back to his characters, weaving a consistently engaging tapestry of transgressive societal commentary. And as much as there are clear affinities with cinematic works like John Waters's oeuvre, Mudhoney, and Baby Doll, Blonde Death feels equally of a piece with the Abject Art of fellow Angelenos Paul McCarthy and Mike Kelley, or Bruce & Norman Yonemoto's videographic deconstructions of Hollywood mythmaking and melodrama. The result resists easy placement within the continuum of independent 80s cinema or video art; and while it seems like a tragic and unfair twist of fate that Baker's feature filmmaking career never took flight, such a defiant position seems to befit this perverse, uncompromising, and brilliant work.