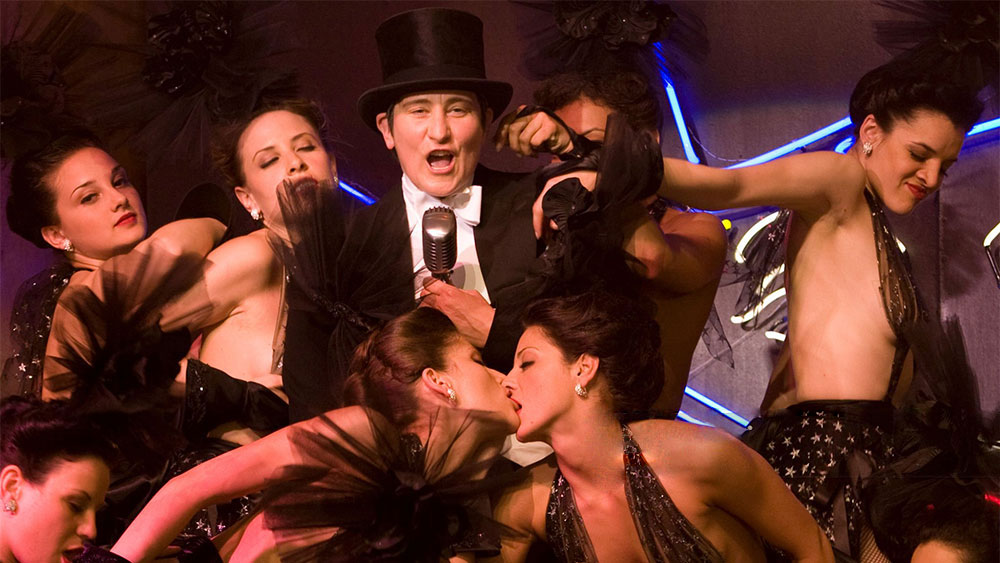 June 21st 2022
Though it does not clear the bar set by Curtis Hanson's L.A. Confidential (1997), Brian De Palma's James Ellroy adaptation The Black Dahlia (2006) delights the viewer who has a soft spot for doppelgängers, polar opposites, and the two-faced. Lee Blanchard (Aaron Eckhart) and Bucky Bleichert's (Josh Hartnett) gritty lives collide in this neo-noir, set in post-war Tinsel Town.
The powers that be at the LAPD tap the two pugilists, former boxers turned cops, to beat one another to a pulp at a benefit match. Lee is billed as Mr. Fire; Bucky, Mr. Ice. Ultimately, Bucky—the more childlike and idealistic of the two—lives up to his given name, his two front teeth flying from the ring as Lee lands his final blow before a crowd that includes the victor's lady-friend, Kay Lake (Scarlett Johannson). Bucky takes the public beating like a champ. He receives a fat check for his troubles, fake teeth, and—in Lee—a competent partner in fighting LA's criminal scourge. Their bromance swells into a throuple, the platonic domestic partners both accompanying Bucky out on the town when they're off duty.
The late Vilmos Zsigmond brilliantly lenses the fateful day on which the LAPD discovers the butchered body of Elizabeth Short (Mia Kirshner), the twenty-two-year-old aspiring starlet now recalled as "the Black Dahlia." An aerial camera pans from a field in which a hapless woman finds Short's corpse to a nearby alleyway where Lee and Bucky, unaware, are working a different stake-out. This is a tale of two Cities of Angels, both bleak.
Bucky, Lee, and Kay's easy, proto-polycule soon buckles under the weight of the Short murder, a crime with which an increasingly benzo-addled Lee grows obsessed. At its best when treating the case as a backdrop to this fraught and unlikely love triangle, The Black Dahlia is overambitious, frequently neglecting its central trio for the colorful characters who had been acquainted with the victim. As a result, a deluge of key subplots are wrapped up in the two-hour film's final minutes. No matter. The legendary crime is a cipher, translating what makes Mr. Fire so competent—and what makes Los Angeles so irresistibly vile. After all, "Hollywood will fuck you when no one else will," as Bucky's Sarge (Victor McGuire) tells him while skimming the sleazy tabloid coverage of Short's death.
The Black Dahlia brims with wholesome adoration for the genre to which it pays homage, from its smart-mouthed, rhythmic dialogue to its score's lonely jazz solo refrain. This reverence is not given through frame-by-frame emulation, but by making hyper-imaginative exploit of LA noir's tropes: slummy flop houses, greasy spoons, and sinister little flats beneath the Hollywoodland sign. As Bucky investigates Short's murder under the cloak of dark, he charts explicit new territory: the lesbian bar.
This curious extended scene is singularly responsible for The Black Dahlia's return to New York's silver screen this summer, part of Melissa Anderson's series "Muff Dives: The Dyke Bar in Cinema." Bucky unsteadily bobs through the waves of tough-as-nails butches and femmes who've filled the Frolic Room, hoping to encounter someone who has known the Dahlia, biblically or otherwise. Should one dare to experience reservations at this spectacle—All of these girls, smoking and fondling in front of Josh Hartnett!—k.d. lang is there to assuage, or perhaps troll, fears of political incorrectness. Appearing live and in cameo at Frolic, lang is flanked by leggy showgirls as she performs a cover of Cole Porter's "Love for Sale": a pitch-perfect jazz standard for a room where every gay girl has paid the price of admission, within a film where the secrets of life and death are found by following the money.
The Black Dahlia screens this week on 35mm at Metrograph as part of the series "Muff Dives: The Dyke Bar in Cinema."