Featured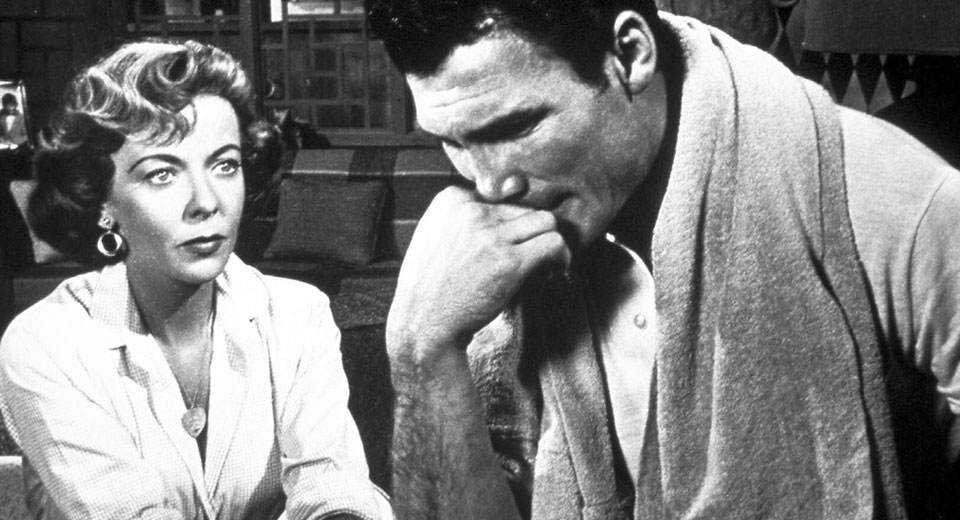 August 30th 2019
The Big Knife (1955) is not the first Robert Aldrich film set in Los Angeles, but it's the director's earliest stab at the Hollywood psychodrama he continued to perfect in bleak, mordant satires like What Ever Happened to Baby Jane? and The Killing of Sister George. Jack Palace plays Charles Castle, an actor whose career and marriage are on the brink. On one side, there's his recently separated wife Marion (Ida Lupino), who's weighing a proposal from Castle's writer friend Hank, but holds out for reconciliation if Castle refuses to sign another studio contract. On the other: studio boss Stanley Shriner Hoff (Rod Steiger, modeled after Columbia's Harry Cohn), who's effectively blackmailing Castle to ink his name on the dotted line or risk exposure of a fatal hit-and-run for which Castle's friend took the wrap and served time. As Castle pugilistically fumes around his chic Bel Air pad, a carousel of assistants, attachés, hangers-on, and friends revolve in and out to level with him, press his thinking, and offer new revelations while boxing him into an increasingly untenable position.
The opening narration describes Castle as "a man who sold out his dreams but can't forget them," words that likely carried a tinge of self-recognition for their author Clifford Odets, whose 1949 stage play is altered little by James Poe's screen adaptation. Bronx-raised Odets, hailed in the 1930s as Eugene O'Neill's rightful successor, is one of several writers of cultural esteem who felt the westward pull of Hollywood fortune in the mid-20th century, and The Big Knife is his poison pen letter to the industry. It was written even before Odets's half-hearted testimony before HUAC as a former Communist Party member, which placed him at odds with both the Hollywood community and the committee. As his biographer Dr. Margaret Brenman-Gibson told the New York Times, "He both gave in and didn't. It was part of the chronic juggle that went on all his life." "He was no longer the hero-rebel, the fearless prophet of a new world," said his friend and collaborator Elia Kazan, whose testimony was much better received by Senator McCarthy, and who went on to receive an honorary Oscar for lifetime achievement in 1999. (While many in Hollywood refused to applaud, an anti-communist demonstration organized by the Ayn Rand Institute cheered on Kazan from the sidewalk.)
As Hank advises Castle in earnest: "Half-idealism is the peritonitis of the soul." In context, he's telling his friend to recognize that he's staked out his bed with Hoff, and to lie in it or be damned. It's a prescient line that reverberates through Odets's post-HUAC moral struggles. As for Aldrich, it's relatively only the start of a career unpacking the perversity of clashes within showbusiness and other amoral power structures.