Featured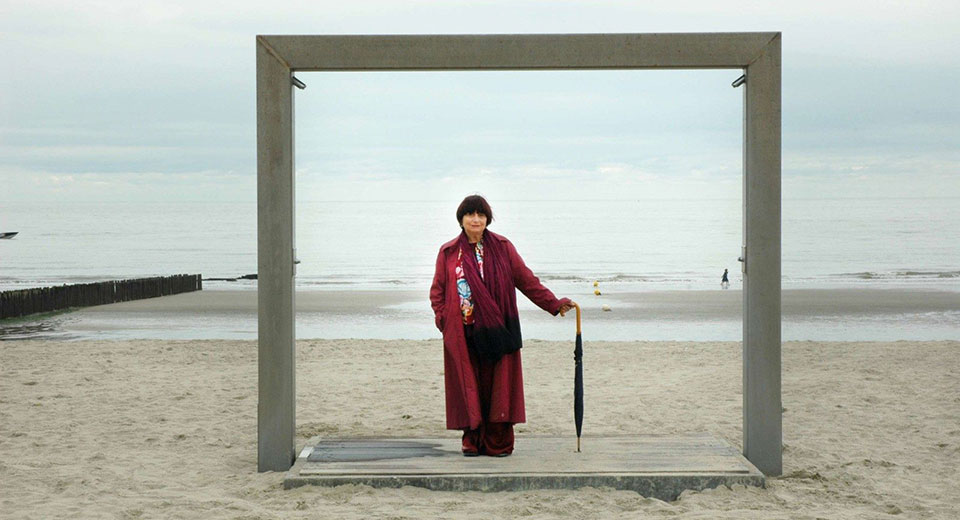 December 29th 2019
"I have lived my life in cinema," says an 80-year-old Agnès Varda, standing in a shed she built out of film strips, as the afternoon sunlight shines on them both. She says so modestly, as if it wasn't a choice. In a way, it wasn't. For Varda, cinema was always more than an artform or occupation, it was the medium she chose to process her life. Nowhere is this more evident than in her 2008 cinematic autobiography The Beaches of Agnès. Now showing as part of Varda: A Retrospective at the Lincoln Center, the film is a goldmine for both newfound fans looking for a proper introduction, and longtime admirers still seeking closure after the legend's passing this spring.
The film begins on the shore with Varda and her assistants hanging up mirrors that she requests to be constantly moving in the wind. The effect is both surreal and signature Varda, as gorgeous portraits are captured in flux, while Varda laughs at herself, "a little old lady, pleasantly plump," trying to tell the story of her life while the wind continues to blow her scarf in her face. It's as striking as it is playful and embodies the sort of juxtaposition that seems to come natural to the director, whose work serves as a constant reminder that art can be infused with childlike enthusiasm and still preserve its poignancy.
From there, we venture to other important beaches of Agnès' life, both literal and figurative, from the fishing village where her debut feature La Pointe-Courte was shot in 1954, to the riverbanks of the Seine in Paris, where she studied art and worked as a photographer, all the way to Venice Beach, where she prolifically made both short and feature films while her husband, director Jacques Demy, fulfilled his studio contract. Along the way, there are many characters that pop in and out, from Chris Marker masked as a cartoon cat with a robotic voice, to Varda's children and current collaborators. It's a birthday party of sorts, where famous artists and friends such as Jean-Luc Godard, Alain Resnais, and Nathalie Sarraute are given the same loving introductions as the married bakers who used to live next door to her.
Like most of Varda's pictures, the structure is delightfully unpredictable, and replicates the zig-zag path of memory, filled with deviations and willful omissions; more than showing us her cinematic life, Varda shows us how her mind works. Utilizing a collagist and essayistic approach, she not only revisits her past, but manages to recreate it, using actors and sets, as well as photographs and film clips, simultaneously yanking the past into the present with one hand, and pushing it back with the other, until her personal and cinematic life are blended into one. It's an illuminating ride, one that only Varda with her characteristic charm could orchestrate, where memories are transformed into tangible objects, and tangible objects are recast as ephemeral portals of beauty.