Featured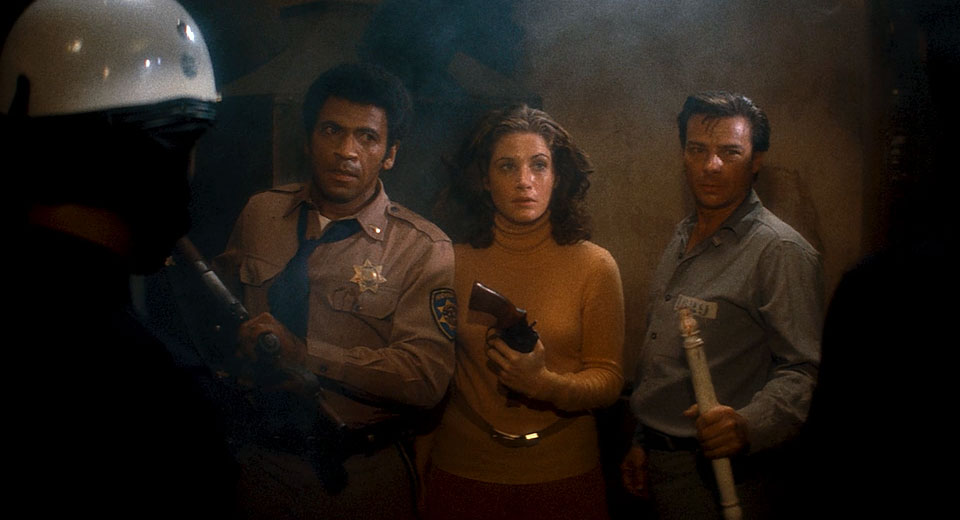 September 5th 2019
"We killed the Disney girl!" John Carpenter giddily exclaimed after filming the scene that would declare the dividing line between what came before and his generation of genre filmmakers. The Street Thunder gang, on a rampage after their ranks are massacred by the cops, murder a little girl (Escape to Witch Mountain star and current Real Housewife Kim Richards) in cold blood, shown graphically on camera. Carpenter isn't a career provocateur, but this was a clear statement of purpose. The rules had changed.
At 28-years-old, Carpenter wrote, directed, edited, and scored Assault on Precinct 13. Everything is here: reticent characters, wide anamorphic frames that dwarf characters in vast surroundings, an unsentimental approach to violence, geographic isolation, and the loping heartbeat of his score. Sexual, racial, and class divides still exist when confronted with an outside threat, in this case the ghostly, endless wave of gang members swarming the abandoned police station in which our heroes find themselves.
Often discussed as an exploitation remake of Howard Hawks's Rio Bravo, Carpenter takes the final gunfight of that movie and explodes it into a Straw Dogs siege. An encompassing paranoia and a need to overcome it to be safe among other people is at the heart of Carpenter's work. Its singularity of voice is helped by how many duties Carpenter tackled for budgetary reasons. Everything stylistic is to provoke an effect from the audience. Here the pacing is all menace and tension until the initial explosive first shootout. Carpenter has already developed a rich visual language — wilting palm trees, dead grass and tiny buildings, the gang's car gliding frictionless through the city, atmospheric lighting, frames within frames, claustrophobic holding cells and finally the powerful image of cop and criminal firing down a hallway behind a metal sign that reads "Support Your Local Police." An ironic and inspired touch, especially for a film that makes sure we know there's no difference between faceless cops and faceless criminal in its first scene. All that matters is who lives.