Featured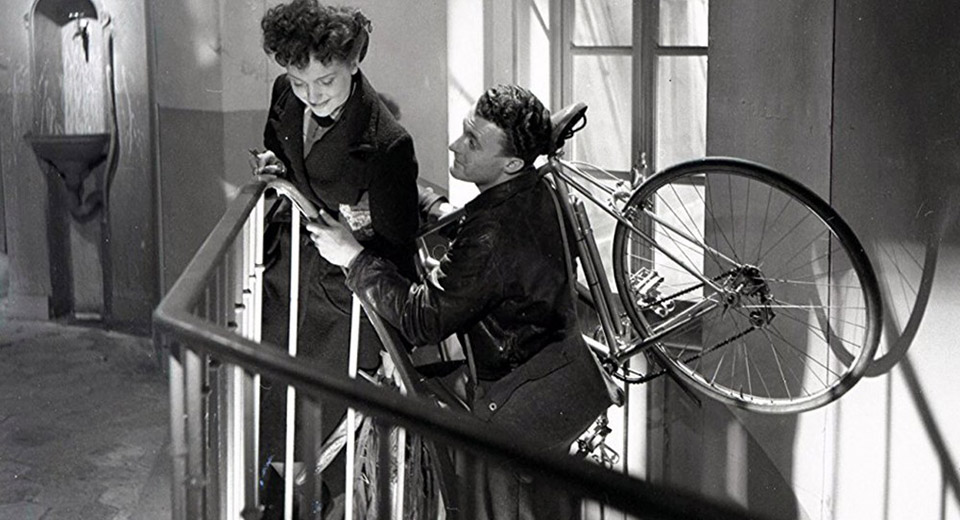 April 22nd 2019
In the opening moments of Jacques Becker's Antoine and Antoinette, a tilt down from the Eiffel Tower towards a cramped printing press and a pan from the Arc du' Triomphe into the back corners of a department store lets us know that this is not the Paris of postcards. The setting is the 18th arrondissement in the scrappy early days of the post-war years, where our lovers spend their days getting scolded by bosses and their evenings dreaming of motorbikes and washbasins for their cramped attic apartment.
Becker excels in the ordinary actions and labors of his characters like few other filmmakers. He gives a detailed look at the tedious rhythms of printing press machinery and the furtive exchange of books among bored department store girls before even revealing Antoine or Antoinette in the crowd. When Antoine and Antoinette do make it home, all the cyclical teasing, bickering, and love-making that fills their Friday afternoon becomes a new ritual for us to delight in. Through all this Becker is austere, keeping everything in mediums and wides. So when the first true close-up appears ⅓ of the way in — when Antoine asks Antoinette "could you have met another guy and loved him like you loved me" during an idyllic sunday boat ride in the park — the tenderness swimming in Antoinette's eyes can be delivered for full romantic depth and effect.
It's a solid 40 minutes into the 90 minute film before we're granted even a whiff of plot - a winning lottery ticket that gets lost, found, and lost again. Less a vehicle of drama, suspense, or any sort of moral reckoning - the plot is a means of finding more characters and adding more life to the bustling streets of paris. Becker, a disciple of Jean Renoir with credits on La Grande Illusion and The Lower Depths, always treats his characters as much more than the sum of their plots. Supporting players stroll through the narrative caught in the midst of their everyday lives such as the mousy groom loudly complaining about cigars while his Bride is playing the piano and interrupting his own wedding to inquire after a missing wallet, or the dashing boxer sneaking out of his parent's apartment and dashing across the window sill to hit on Antoinette before resigning himself to bedding the wife of a policeman next door upon Antoinette's rejection.
The two other films in Jacques Becker's Paris Youth Trilogy showing today in Film Forum's series on great cinematic triptychs are no less indispensable. Merrily swimming across the Seine in their amphibious car, the young lovers of Rendezvous in July (1949) act lives as if the occupation was just some forgotten fever dream. Grant applications, jealousies, and some killer jazz dancing (with Rex Stewart playing no less) fill their long summer days as they never much change and never really grow older. In Edouard and Caroline a sartorial argument - are short evening dresses really stylish? - leads a young couple to the brink of divorce. Rich in detailed characterization, Becker manages the remarkable achievement of mocking the feigned enthusiasm and rampant infidelities of the rich while never dehumanizing them.