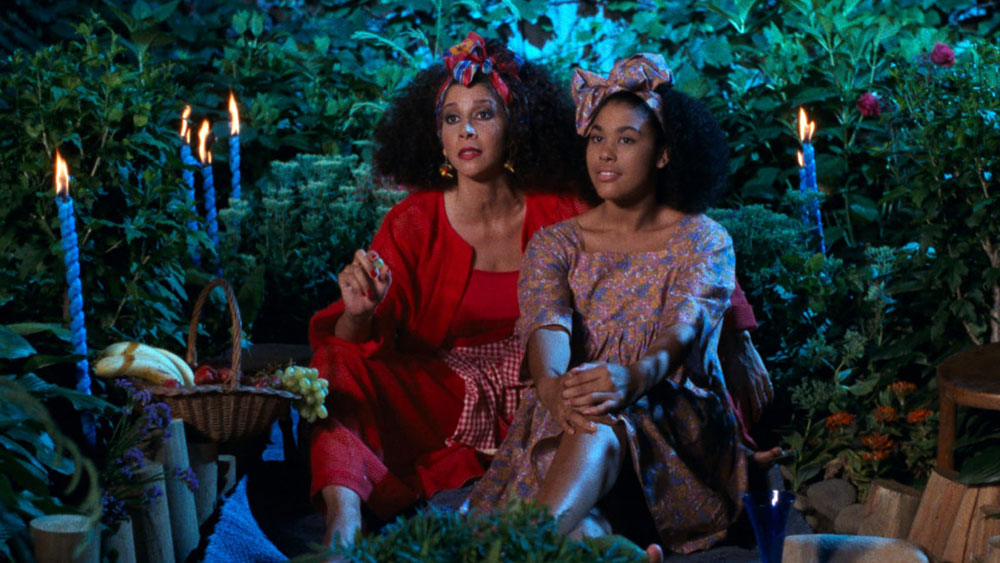 July 30th 2022
Though it counted Julie Dash and the late Ruby Dee among its passionate advocates, Ayoka Chenzira's Alma's Rainbow (1994) was critically underseen upon its minimal original theatrical release. But thanks in part to the typically heroic efforts of Milestone Films, Chenzira's sole feature has received a shimmering 4K restoration, and it remains a work ripe for discovery and engagement.
At its center are three Black women with spiky and singular personalities. There's Alma (Kim Weston-Moran), a single mother who runs an in-house salon in the back of her spacious, well-appointed brownstone while clinging to her middle class mores. Alma's chief concern is Rainbow (Victoria Gabrielle Platt), her willful, tomboyish teenaged daughter, who is prone to playing hooky and spending her days dancing with friends in Prospect Park. (A nun at Rainbow's school, played by Chenzira, memorably describes her as a "feisty little devil.") Mother and daughter seem destined to endure a mutual animosity until Alma's sister Ruby (Mizan Nunes), a soignée, self-styled chanteuse in the vein of Josephine Baker, swans into their home after a ten-year absence and shakes up their strained routined, turning her niece into her enamored and uncritical pupil in the process.
From this scenario, one may fairly expect a tug-of-war between extrovert and introvert, impulse and propriety, for the devotion of an impressionable adolescent—and Chenzira's film certainly delivers on this front. But the women of Alma's Rainbow cannot be tied nor typed so neatly. Chenzira's multifaceted screenplay and her actresses' poised, exuberant performances, which remain emotionally involving even when pitched to their highest register, ensure that these roles are afforded infinite nuance. (Nunes is particularly captivating, imbuing a role originally intended for jazz great Cassandra Wilson with declamatory diva hauteur.) The story here is driven and defined by the inner lives and rich histories of its characters: Alma, for instance, is never simply a pearl-clutching fuddy-duddy but a flawed and desiring woman pushing her daughter away from the same uncooperative behavior that she ran towards at that age.
Explaining the indifference that greeted her film from prospective male distributors, Chenzira has said, "There was no Black pathology; there was no movie point of reference for three Black women driving a story." Save for a handsome handyman (Lee Dobson) with whom Alma begins a loaded flirtation, men rightfully reside on the margins of Chenzira's film, glimpsed briefly as sources of pleasure, protection, and potential partnership.
The static camera and scant coverage of Alma's Rainbow may betray its status as a film shot in three weeks on a $350,000 budget, but Chenzira's images—including cutaways to black-and-white home movies—impart a delicate, tactile poignancy. Cinematographer Ronald K. Gray lends the Brooklyn sidewalks and domiciles an uncommon warmth and flickering luminosity. Gray also links Alma's Rainbow to another recently revived work about a Black woman's fluctuating identity, Kathleen Collins's landmark Losing Ground (1982), which Gray shot and edited.
"Always claim your space," Ruby firmly instructs Rainbow at one point, and this maxim informs Chenzira's artistry as much as it did Collins's and the many filmmakers who have come since, forming an unofficial matrilineage. Turning a keen and always compassionate eye on the rocky, reviving, deeply formative, and never-settled bonds between kin, Chenzira likewise envisions family not as a straitjacket but a roadmap. Alma's and Ruby's life choices are valid and viable for their descendants, forming the manifold paths that Rainbow will follow and veer from as she pleases.
Alma's Rainbow runs through August 5 at BAM in a new digital restoration, preceded by the short Hair Piece: A Film for Nappyheaded People (1984).