Featured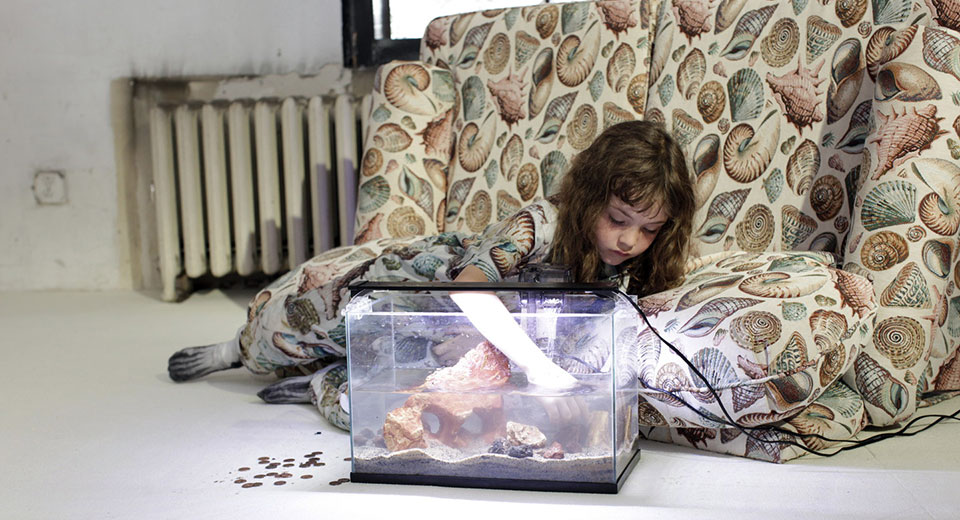 February 20th 2017
Dancers, headlamps, bicycle shorts. Children, loveseats, garbage, cake. Interdisciplinary artist A.K. Burns ' playful and pensive Shabby but Thriving is a two-channel video installation that explores "the subjugation and agency of various bodies" within the domain of the New Museum 's 231 Bowery space—the historic, decrepit, prewar building next-door to the museum proper which houses its artist residency and incubator studios. The video component (titled Living Room ) conjures memories of a past in which everything was underground; it's no wonder the program opens and closes with an image of an upside-down cockroach.
Anyone who remembers what it was like to DIY in the pre-digital days of the early aughts will recognize these images as strangely comforting and familiar; they defy the self-conscious polish and precision of pictures made for social media. Instead, Burns offers us a rawness rarely seen in museum-commissioned works, weaving together an eclectic sequence that combines elements of science fiction, music (by Geo Wyeth), philosophy, and dance (by NIC Kay) into a kind of sensual-cerebral mess that leaves a welcome stain on the brain—particularly for those of us who encounter clean lines and linear narratives more often than not.
If there's anything to glean from Shabby but Thriving, it's that history is performative—that is, it requires audience participation in order to exist. Meaning, in this case, is gained as a result of personal reflection on the associations made between image and context; as relatively little is offered in the way of context, it is left to the viewer to discern according to their perspective how and why the images relate. Viewers are strongly encouraged to BYOC—bring your own context. The rest is up to your imagination, which isn't a bad thing.