Featured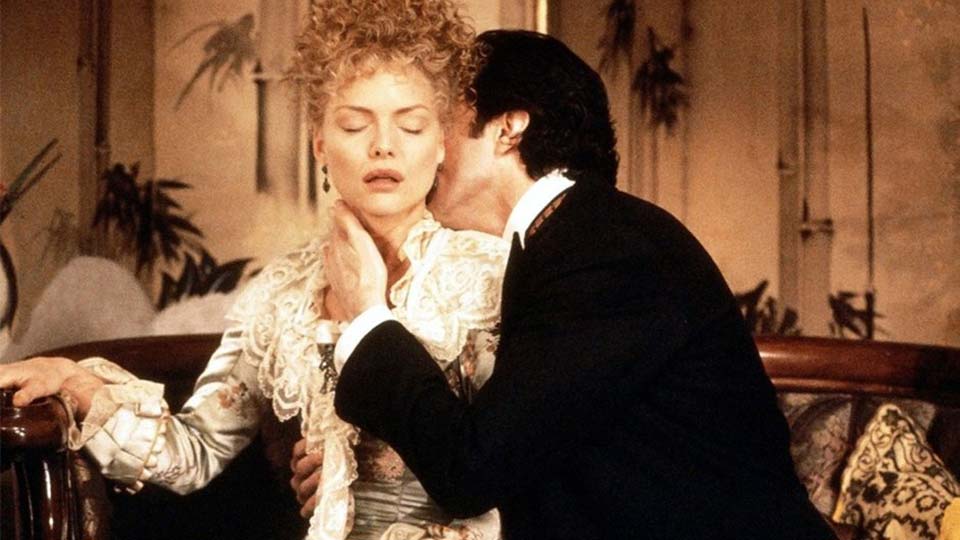 December 17th 2017
Among the Scorsese movies I've neglected are a couple nineties gems: Bringing out the Dead (1999) teams up Nicolas Cage and John Goodman as overworked EMTs in a hellish Hell's Kitchen hospital and The Age of Innocence  (1993) entangles Daniel Day-Lewis, Michelle Pfeiffer, and Winona Ryderin the web of rumor and mutual suspicion of Gilded Age New York's high society.
Countess Olenska (Pfeiffer) is an Old World aristocrat trying to flee from the scandal of her unsuccessful marriage and start over ("New York meant freedom to me"), but she soon discovers that the malicious rumormongering that ruled the old country's society circles is just as pervasive here. Newland Archer (Day-Lewis) calls it a "hieroglyphic world," in which the real meaning of every comment and gesture is hidden.
R.W. Fassbinder's favorite cinematographer, Michael Ballhaus, adds an acrobatic touch to the swift orbiting shots and intricate tracking shots that take us through the world of 1870s New York's superrich. From the dozen drawing rooms of the Beauforts' opera ball to the van der Luydens' fifteen-course dinner party, the excess of their way of life is exhibited either lovingly or mockingly or both. (I'm tempted to call the rapidly cross-dissolved sequences of elegant dishes "plating porn"; the credits even include a "Chef 19th Century Meals.")
Innocence has a lot in common with The Gangs of New York (2002): both are adaptations (Edith Wharton and John Asbury), both star Day-Lewis, and both are set in 19th century New York. For Innocence, a dozen consultants scoured the New York Historical Society and the Library of Congress for its dress and decor. An exterior for the opera scene was shot in Philadelphia, with the streets covered in dirt and the trees stripped of leaves. A shot of the Beauforts' mansion at 57th and Fifth also reveals dirt roads crossing in both directions. Only Olenska's "fashionable" Fifth Avenue brownstone seems to be among other buildings, somewhere in the vicinity of Washington Square Park. Central Park is still called "The Central Park" and is abutted by a vast glass-ceilinged art museum reminiscent of Paris's Grand Palais.
Innocence is about the compelling force of tradition. Archer, while holding "modern" views in private, discovers that it's "less trouble to conform to tradition." Scorsese himself followed this adage with his music choices, accompanying all the intrigue with Strauss, Beethoven, and Mendelssohn. The title sequence is late Saul and Elaine Bass.