Featured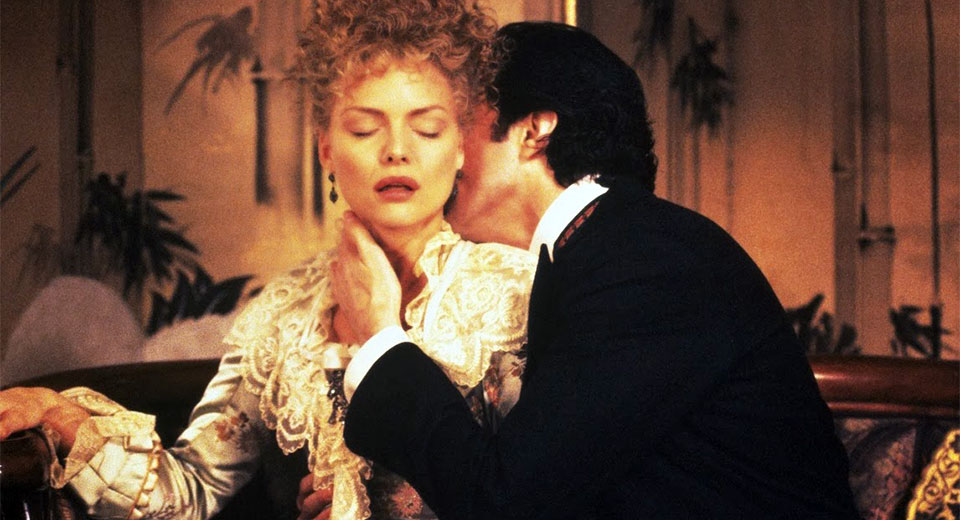 March 11th 2017
Concerning the lives—and loves—of Gilded Age New York's most prominent families, Edith Wharton's Pulitzer Prize-winning magnum opus, The Age of Innocence, has long occupied a slot on the crowded shelf of "unfilmable" novels. Flitting seamlessly between the sumptuous, albeit overwrought interiors of her characters' brownstones and psyches, Wharton's prose is especially difficult to render. Where plaintive narration and a few furrowed brows might satisfy a lesser auteur, illustrating generations of rigid propriety and lingering scandal requires a more dextrous touch.
In Martin Scorsese's 1993 adaptation, the director and his collaborators—editor Thelma Schoonmaker and screenwriter Jay Cocks, to name a couple—successfully juggle an extended bourgeois family tree and letters-as-plot devices with an inventive, sometimes mischievous cinematic grammar. In front of, and behind the camera, fidelity is set aside in favor of more sensuous choices. The central love triangle, between a wealthy young lawyer (Daniel Day-Lewis), his worldly divorced cousin (Michelle Pfieffer), and his doe-eyed fiancée (Winona Ryder), burns with an urgency that rivals Wharton's longing prose. And production designer Dante Ferretti's faithful interiors, chockablock with Chesterfield sofas and Boston ferns, provide a complementary excess to their occupants' suffocating restraint.
Who better than Scorsese to depict these, the meanest streets of all? Only a native New Yorker could so artfully portray the stultifying proximity of illicit city romance. In the gossip-filled parlors of the van der Luydens or Archers, the slightest faux pas could have a disastrous effect on one's reputation. Cross the boss, south of Houston, and the shame is the same (if not a hair bloodier). Fifth Avenue, it seems, is not so far from Mulberry Street.
The Age of Innocence shows at Museum of the Moving Image on 35mm August 14 at 2:30p and 15 at 1:00p