Featured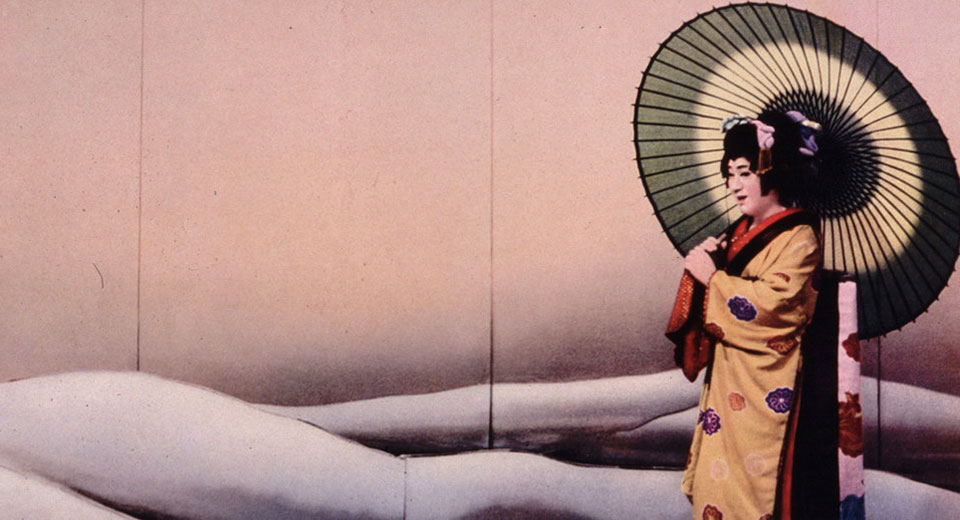 June 11th 2017
Kon Ichikawa's 1963 film An Actor's Revenge —a remake of the 1935 film of the same name—begins and ends with a stage performance of a Kabuki play starring Yukitaro, who is hailed as Japan's greatest female impersonator. In Edo with his theater troupe, Yukitaro is determined to have his revenge on the three men who ruined his family twenty years ago, and at the middle of his plot is Namiji, the daughter of one of his enemies, who he plans to seduce and ruin. As with many revenge plots, however, Yukitaro's plan becomes more complicated and heartbreaking, leading to death, destruction and loneliness.
As an onnagata—a man who plays female roles onstage—Yukitaro adopts his female persona offstage as well. The scenes between Yukitaro and Namiji, who has an undetermined illness and is desperately in love with Yukitaro, are fascinating and sharply realized, as both declare their love for one another in feminized, subserviant language and body language. The thief Ohatsu, also in love with Yukitaro, describes his piercing eyes that look right into you; her companions are impressed that even a "man-hater" like Ohatsu would become infatuated with Yukitaro. Through his performance as female, Yukitaro is able to make women (and men) fall under his spell, as well as infiltrate the traditionally women's spaces, as when he sneaks into Namiji's bedroom late at night. Yukitaro even has to deal with mansplaining; he cuts off a long-winded man with compliments like, "Your words have made me extremely happy—I am highly honored by your interest in me."
An Actor's Revenge is a fascinating take on a revenge film—a genderfluid melodrama with stylistic flourishes and a lonely ending. The film's palace intrigue seems like an influence Chan-wook Park's The Handmaiden, which deals similarly with a complex revenge plot (although Ichikawa's film only hints at the sexual desires of his characters). Visually, An Actor's Revenge brings to mind the films of Seijun Suzuki, Ichikawa's contemporary, with its stage-like lighting, overlaid images and brightly colored flourishes. There is a stunning fight scene in a foggy forest, where Namiji must defend herself with a timidly brandished knife, bloodless but devastating. And the Kabuki performances that bookend the film are gorgeous testiments to Yukitaro's power as a female impersonator. His most powerful performance, though, is as the ghost of his mother, who haunts those who ruined her family as certainly as she does Yukitaro himself.