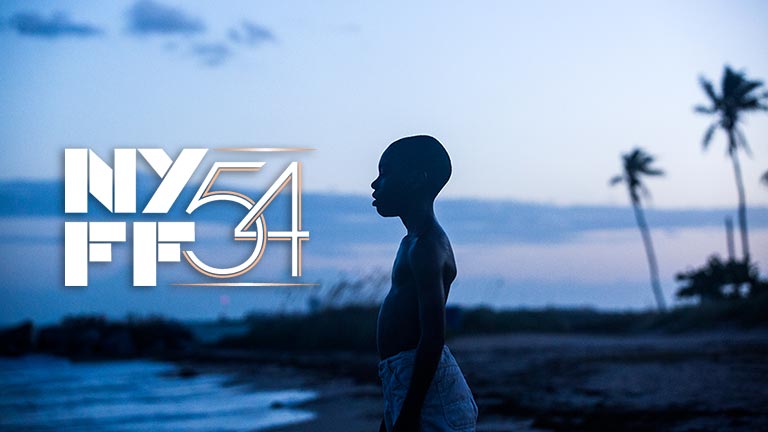 September 28th 2016
This is the sixth New York Film Festival Screen Slate has covered, and I'd like to think that for readers who have stuck with us that long, it's become something of an annual tradition to anticipate our tempered coverage of the city's most central, if somewhat predictable, film event.
Although the tickets may be restrictively priced for some, and at any rate already sold out (see below for information on ticketing, standby, and encore screenings), we think it's important for Screen Slate to maintain a toehold in the discourse surrounding contemporary film, and covering the New York Film Festival is a great way to supplement the year-round coverage we do of new releases.
What follows is an alphabetically arranged compendium of capsules for everything we're able to see (excluding revivals). It's composed will be updated throughout the festival, to be noted in our daily email and on social media. We've also included distributor information when available so you're aware of which films that will soon be arriving in cinemas. —Jon Dieringer
Capsules by Jon Auman (JA), Jon Dieringer (JD), and Jeva Lange (JL)
Update 9/30: We've added a short explainer on how to purchase tickets, including summary information about standby ticketing.
Update 10/3: We've added capsules for Kékszakállú, Mimosas, Sieranevada, and Son of Joseph.
Update 10/4: We've added capsules for Certain Women and Toni Erdmann
Update 10/7: We've added a capsule for 20th Century Women
Update 10/1: We've added capsules for Aquarius and The Death of Louis XIV.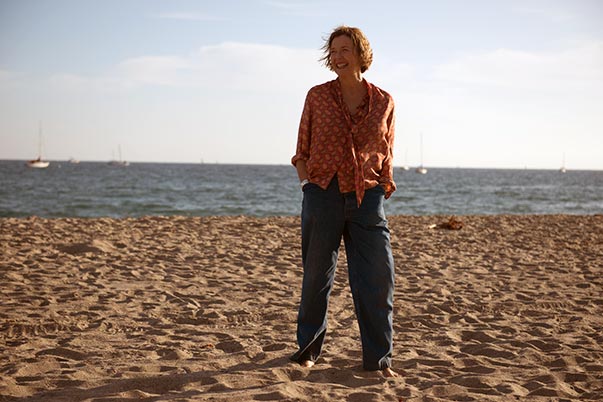 Photo by Merrick Morton, Courtesy of A24
20TH CENTURY WOMEN
Dir. Mike Mills. Released by A24. Main Slate Centerpiece.
10/8 - 6:00, 6:15, 9:00, 9:15 & 9:45 pm
The sensibility of Mike Mill's 20th Century Women is thoroughly rooted at the turn of the millennium: the mix of arch humor, frank platitudes, and preciousness in the face of middle-class dysfunction formed their own particular kind of genre in the late nineties and early aughts, and it's one I hadn't realized I'm so grateful to have largely missed during the intervening decade. It's Santa Barbara, 1979, and Dorothea Fields (Annette Bening) is a progressive single mother (she wears Birkenstocks and smokes Salems "because they're healthier") who runs a sort of boarding house shared by 24-year-old feminist post-punk Abbie (Greta Gerwig), 17-year-old bad girl Julie (Elle Fanning), and her own son, 15-year-old wire-thin earnest, curly haired, indie movie kid (and presumably director surrogate) Jamie (Lucas Jade Zumann). Although the film is patently an Oscar showcase for Bening, and has "women" in the title and stuff, Jamie is the center of the film's orbit, as the women resolve themselves to offer him life guidance while naturally reckoning with themselves in the process. Over a bed of carefully curated punk tracks and pitched against the waning days of the Carter years, Abbie teaches Jamie how to pogo and find the clitoris; Julie friendzones him; Dorothea tries to "get it" by gyrating to a Black Flag record; and in the film's emotional climax someone says, "I don't want you to end up in the same place as me." Everyone in line for the men's restroom afterwards seemed to love it, so maybe you're better off consulting the Tomatometer's opinion on this one. (JD)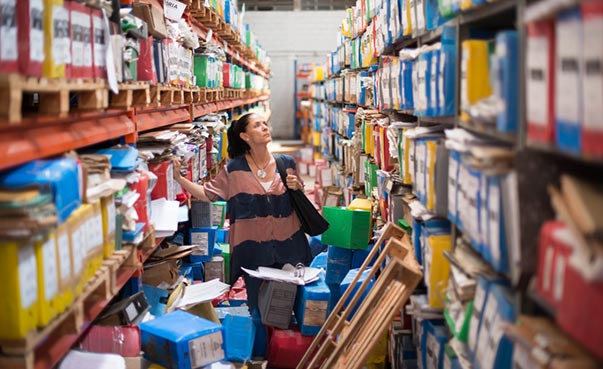 Photo by Victor Jucá, Courtesy of CinemaScópio
AQUARIUS
Dir. Kleber Mendonça Filho. Released by Vitagraph. Main Slate.
10/9 8:30 pm, 10/11 6:30 pm
Since its politicized opening night at Cannes, praise has rained down on Aquarius and its star Sônia Braga. The story of a vivacious former music critic, who is locked in a bitter fight with a property developer who wants her out of her apartment, the film has been hailed as a timely, humanist invective—the kind that celebrates the beauty and complexity of life while highlighting the bitterly unfair conditions that underpin global capitalism. The truth is that Aquarius is closer to a populist soap opera, cramming asides about illness, sex, family, and the spectre of bourgeois racial exploitation into the space of the critic's small apartment, then threatening to tear it down. Soap opera might have been preferable to the alternative of straight-faced sentimentality, but the film is still nostalgic to a fault. Which is disappointing because there are moments, like the giddily cathartic last scene, that hint at a far stranger and less cliche-ridden movie.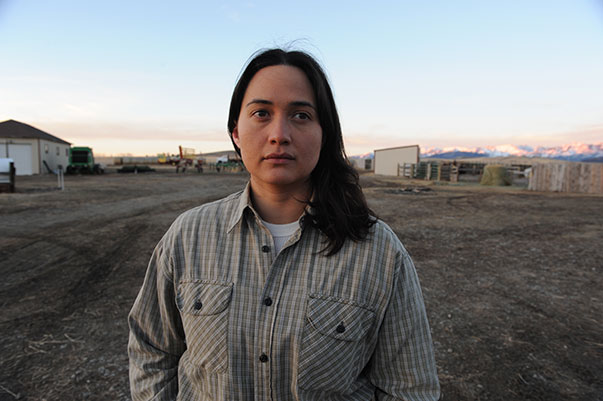 Photo by Jojo Whilden, Courtesy of IFC Films
CERTAIN WOMEN
Dir. Kelly Reichardt. Released by IFC Films. Main Slate.
10/4 - 6:00 pm, 10/6 - 9:15 pm
The certain women in Kelly Reichardt's latest feature are generally a pensive lot, but they also have in common a certain acuity and strong constitution that guide them through the film's beautiful and weary world. Certain Women is a narrative triptych adapted from the stories of Maile Meloy and shot in and around Livingston, Montana. Laura Dern is a lawyer with a tragic yet stubborn client who accepted a poor settlement after a workplace injury; Michelle Williams is a professional moving to rural Montana to build her rustic dream home with her somewhat shiftless husband and daughter; and screen newcomer Lily Gladstone is a ranch hand who forms a unique bond with a self-absorbed and not particularly apt law student (Kristen Stewart). Reichardt remains uniquely adept at assimilating recognizable performers into her distinctive vision of everyday America, and she trusts her actors do a great deal of lifting. Much of the conflict in Certain Women is never directly manifest: we know, for instance, that one of the characters' husband is cheating on her, but there is no scene of confrontation; rather, we read the guilt and suspicion in their quiet moments. Likewise, the exact nature of the laconic yet doting Gladstone and loquacious Stewart's bond is ambiguous, but its complexity is largely realized through Gladstone's phenomenal performance, described by the filmmaker in the press conference as "a gift from the movie gods." (It doesn't hurt that she's also an experienced rancher.) Her quiet virtuosity is hardly the film's only merit; all of it speaks volumes. (JD)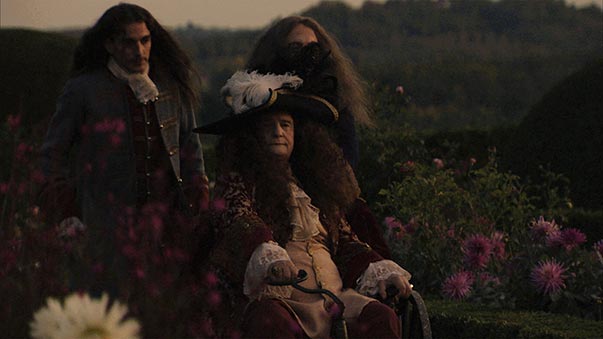 Courtesy of Cinema Guild
THE DEATH OF LOUIS XIV
Dir. Albert Serra. Released by Cinema Guild. Explorations.
10/6 6:00 pm, 10/7 6:00pm
This is Jean-Pierre Léaud's film. That this is the story of the physically excruciating last days of Louis XIV is a pretext for Léaud to methodically act out a man's slow movement toward death. There is no tension from plot. There is only what we see, hear, and imagine that we smell—all putrid, luscious, and claustrophobic. Detail is everywhere, but the primary object that the film observes is time recorded by the slow, internal breakdown of the human body. At the press conference for the film Léaud quoted Jean Cocteau to the effect that cinema is the only medium that can show death as a process that exists in time. But if Serra's film is proof of that fact, then it is also proof that a cinematic death is always a poetic one, regardless of its duration. There is no doubting the film's poetry, but what it says about the realities of death is far less clear.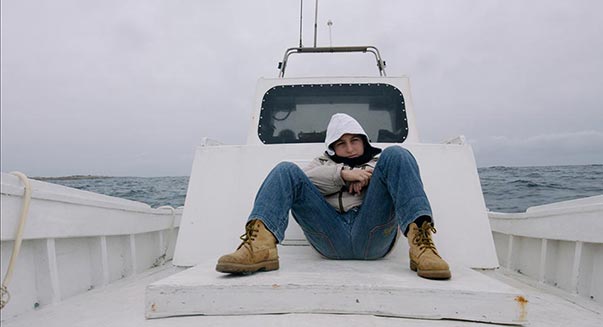 Courtesy of Kino Lorber
FIRE AT SEA
Dir. Gianfranco Rosi. Released by Kino Lorber. Main Slate.
10/7 - 8:45 pm, 10/8 - 3:15 pm, 10/16 - 3:45 pm
Begin with the facts: 400,000 migrants, 15,000 dead bodies, with no end in sight. After a brief series of title cards explaining the tragedy that is the recent history of the small Italian island of Lampedusa, Gianfranco Rosi leaves written facts behind and allows the images and sounds of the island, its local townspeople, and the thousands of African and Arab migrants that arrive daily on makeshift rafts to speak for themselves. There is an obvious desire for balance. We spend as much time with the daily routines of a fisherman's young son as we do with the hazmat-suited rescue crews or with the living and dead migrants that they hoist into their boats. But these accumulations of often beautiful, and sometimes brutally shocking, impressions suggest that such a balance is impossible. If Rosi's ambition was to document the accidental front line of a humanitarian tragedy, what he has returned with is something far more enigmatic: a portrait of abstract borders and their utterly real consequences. (Jon Auman)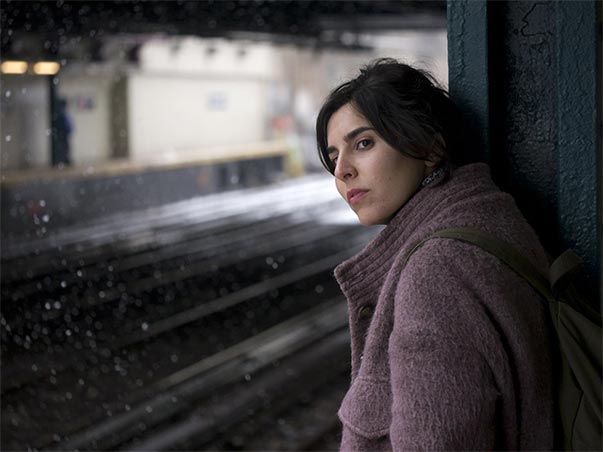 Courtesy of Fernando Lockett
HERMIA AND HELENA
Dir. Matías Piñeiro. Main Slate.
10/11 - 6:00 pm, 10/12 - 9:00 pm, 10/16 - 6:00 pm
Matías Piñeiro's follow-up to 2014's The Princess of France finds him once again contemplating a text by Shakespeare through the eyes of a woman. This time the play is A Midsummer Night's Dream, which the woman (played by Piñeiro regular Agustina Muñoz) is translating into spanish while on a fellowship in New York City. Jump back a few months to scenes among friends, family, and a boyfriend in Argentina. Jump forward again to the arrival of a stranger, a meeting with an absent father, and flitting back and forth between romances. There are moments when the play's text is literally written across the screen, but its relationship to the film—and the character's relationships to each other—are made intentionally opaque in a way that is frustratingly restrained . There are scenes when certain compositions and glances hint at a more ambitious film. But its self-awareness, and too many awkward performances make it something less than the sum of its parts. (JA)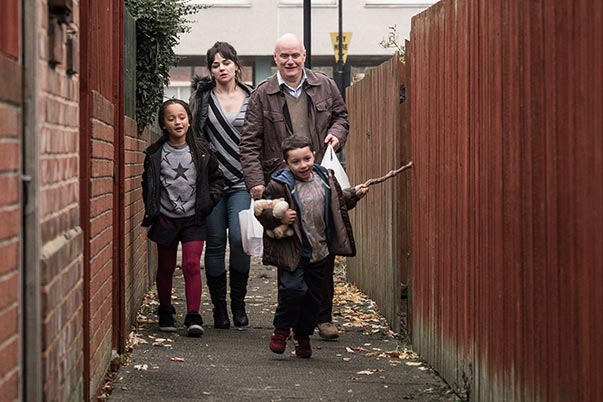 Courtesy of Sundance Selects
I, DANIEL BLAKE
Dir. Ken Loach. U.S. Premiere. Released by Sundance Selects. Main Slate.
10/1 - 3:00 pm, 10/2 - 12:30 pm, 10/16 - 5:00 pm
Ken Loach's latest, Palme d'Or-winning feature is about an adorably salty, 59-year-old carpenter (Dave Johns) with a heart condition who finds himself out-of-step with the 21st century while attempting to navigate the bureaucracy of the state's health and unemployment services. It's hard to imagine a movie hewing more closely to any reasonable person's preconceptions, for better or worse, depending on your tolerance for the kind of movie that you rightly suspect this one is. Although it's natural to sympathize with the characters—at the very least, Daniel's experience of the London unemployment office stirred pangs of transnational recognition and solidarity in this viewer—I, Daniel Blake couldn't possibly be more didactic and heavy handed. The movie's own stubborn, ceaseless ennobling of Blake's pervasive Luddite tendencies would be almost avant-garde if the whole thing weren't so manipulative and predictable. If you haven't already guessed that the movie concludes with barefaced political moralizing at a funeral, you might be reading the wrong movie website. (Jon Dieringer)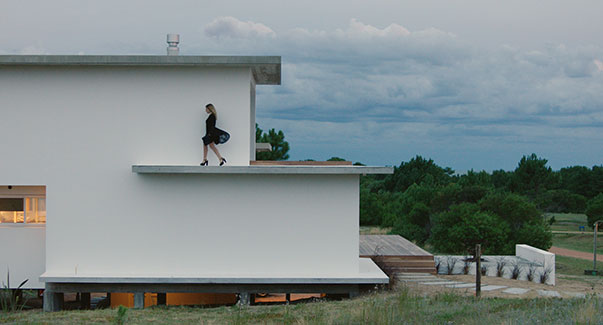 Photo by Laila Maltz
KÉKSZAKÁLLÚ
Dir. Gastón Solnicki. Explorations.
10/4 - 8:45 pm, 10/5 - 9:00 pm
Although Kékszakállú and its director, Gastón Solnicki, are Argentinean, the film borrows its title, score, and ostensibly its story from the Hungarian opera Bluebeard's Castle. Anyone familiar with Béla Bartók's one act folktale, though, will surely have to do some puzzling in order to find the connection between the source material and the inspired result. Kékszakállú is populated by obsessively composed landscapes of diving boards, factories, and the juts and angles of modern architecture, in which the various protagonists—if they can even be elevated to such a level—meander through their languorous and privileged lives. What Kékszakállú lacks in plot and character, though, it makes up in the fullest realization of its simmering and vaguely volatile atmosphere. If the inaugural Explorations sidebar is intended to take audiences on a journey of the geography of the mind as well as the physical world, this feature fully fits the bill. (Jeva Lange)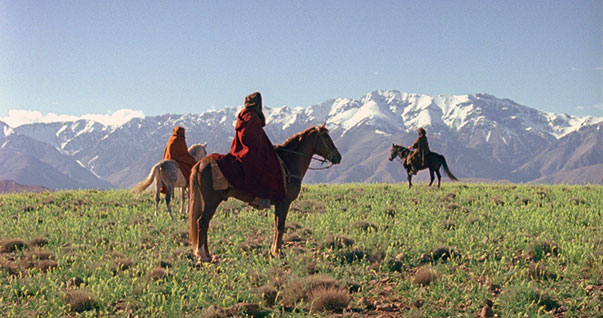 Photo courtesy of Oliver Laxe
MIMOSAS
Dir. Oliver Laxe. Explorations.
10/5 - 9:00 pm, 10/6 - 6:45 pm
It doesn't take a whole lot of work to make the deserts and Atlas Mountains of Morocco look breathtaking (being shot on 16mm admittedly helps). But Mimosas is far more than its jaw-dropping exterior, and Oliver Laxe is the tremendous force at its helm. Structured by the three positions of Islamic prayer, Mimosas follows the journey of a caravan escorting the corpse of a sheikh to the medieval city of Sijilmasa, as led by the mechanic-turned-spiritual guide Shakib (Shakib Ben Omar). But what at first seems linear slowly devolves into a more metaphysical journey, perhaps even one that takes place out of time, or in a dream—something outside of this reality, anyway, and recalling the strategies of Lisandro Alonso's similarly indirect and perplexing Jauja. Mimosas, though, is an even more magnificently mystifying film, and one that greatly rewards patience and, of course, faith. As the decal on a hoodless car reminds both the travelers on screen and off: "Don't forget God." (JL)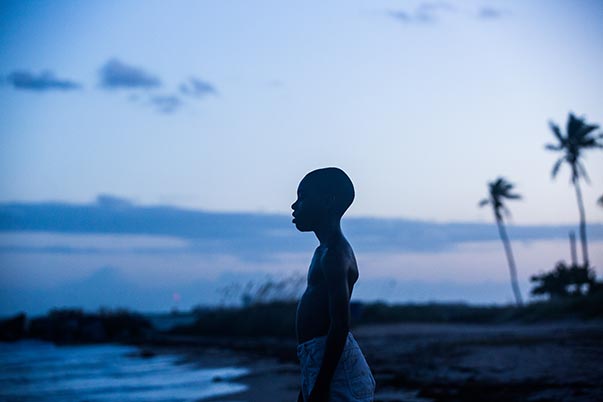 Photo by David Bornfriend, Courtesy of A24
MOONLIGHT
Dir. Barry Jenkins. Released by A24. Main Slate.
10/2 - 6:15 pm, 10/3 - 9:00 pm
Even amid the luminous afternoons of Miami's Liberty City a nocturne spirit casts an intoxicating shadow over Barry Jenkins' queer black Bildungsroman Moonlight, adapted from a short work by playwright Tarell Alvin McCraney. Structured around three chapters in its reticent protagonist's childhood, adolescence, and early adult life, the film begins with young Chiron (Miami local Alex R. Hibbert) whiling his afterschool hours away from a crack-addicted mother (Naomi Harris) as a kind of surrogate child to her morally conflicted, paternal dealer (Mahershala Ali) and his girlfriend (Janelle Monáe). At age 16, Chiron (now played by Ashton Sanders) begins to experience his sexual awakening before landing in an encounter that alters the trajectory of his development, culminating in a third act that is virtually an extended scene of personal and romantic reckoning. It's a structural gambit that didn't entirely pay off for me—in part because Trevante Rhodes's adult incarnation of Chiron doesn't quite reach the bar set by the miraculous performances of Hibbert and Sanders—but the deeply felt and deftly rendered impression of Moonlight lingers. (JD)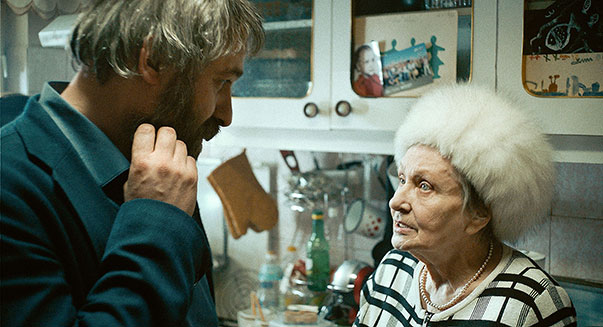 Photo courtesy of Elle Driver
SIERANEVADA
Dir. Cristi Puiu. Main slate.
10/9 - 2:00 pm, 10/14 - 5:30 pm

Sieranevada, the third film in Cristi Puiu's proposed series 'Six Stories From the Outskirts of Bucharest', follows a doctor and his wife into the small apartment where his extended family have gathered to mourn their deceased patriarch. Once inside, the camera moves fluidly between the hallway, kitchen, dining room, bedrooms and bathrooms, simply observing. What the camera captures, as different configurations of characters pass through its gaze, is a cross-section of the moods and psychological repercussions of the 20th and 21st centuries. Fear, paranoia, apathy, and cynicism are compressed beneath the surface of every conversation. But there is also, equally, a sense of humor that is warm, crude and absurd. Part of this naturalness and complexity can be attributed to Puiu's direction, but the film is as much his ensemble cast's as it is his. Their collective performance is truly perfect. And the combination proves that Puiu is still one of Europe's most ambitious filmmakers. (JA)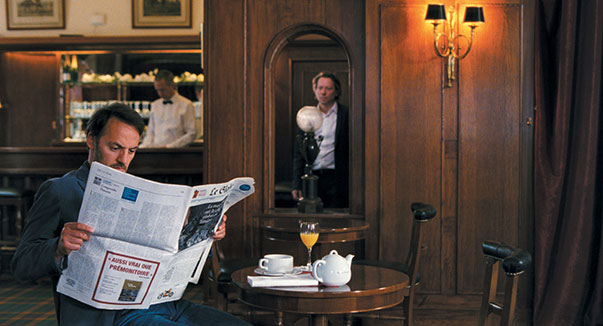 Photo courtesy of Kino Lorber
SON OF JOSEPH
Dir. Eugène Green. Released by Kino Lorber. Main Slate.
10/9 - 8:00 pm, 10/10 - 6:00 pm
Eugène Green is unique. An expert and practitioner of Baroque theater, an essayist, a novelist, a filmmaker. His latest film Son of Joseph bears the marks of all of these things, but its abundance of ideas (on love, on paternity, on art, on God, on the French publishing industry) are contained within a completely original form. The story of a teenage boy searching for his father (with elements pulled from the biblical nativity)—each scene unfolds methodically, moving from glance to landscape to conversation. One senses a complete control over the composition of the image, the movement of the camera, down to the intonations of the actor's voices. But there is also, as if by magic, a complete vulnerability in everything that we see and hear. We are moved, and not in spite of the film's aesthetic peculiarities. Which marks this as a masterpiece that deserves wider attention. (JA)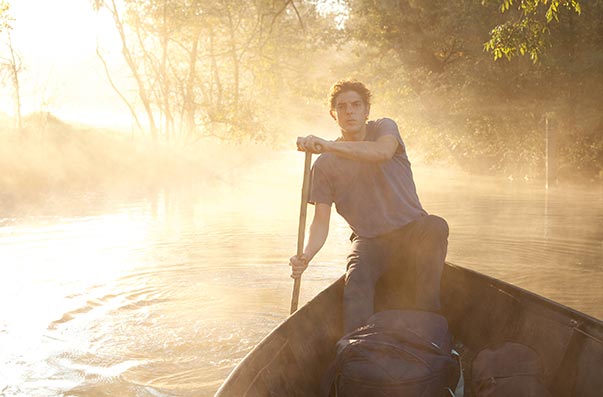 Photo by Emanuelle-Jacobson-Roques
STAYING VERTICAL
Dir. Alain Guiraudie. Released by Strand Releasing. Main Slate.
10/11 - 9:00 pm, 10/12 - 6:00 pm
There was no applause when the credits rolled at the end of director Alain Guiraudie's Staying Vertical. The last image that the audience was left with was that of two men and a lamb surrounded by a silent pack of wolves. Which one can imagine as a dream-image of the director surrounded by his critics. Though the film as a whole is uneven, its complete lack of shame, the enthusiasm with which it throws its characters between rural French farm life, hut-dwelling oracles, a few flesh-and-blood re-creations of Courbet's L'Origine du monde, and the strange cocktail of sodomy and euthanasia, is admirable for its complete lack of inhibition. This sense of freedom does not in itself make the film great. There are jokes that fall flat, and cuts that seem inexplicably sloppy. But, ultimately, Guiraudie deserves credit for creating a film that feels as innocently spiritual as it is intentionally and shockingly vulgar. (JA)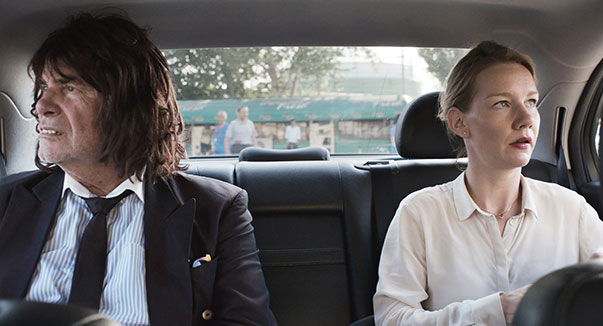 TONI ERDMANN
Dir. Maren Ade. Released by Sony Pictures Classics. Main Slate.
10/4 - 8:45 pm, 10/16 - 1:15 pm
In Toni Erdmann, Maren Ade juggles an incisive dramatic potrayal of high-strung international business culture with sustained conceptual dad jokes. Ines Conradi (Sandra Hüller) is a successful German economic development consultant working in Romania who is unexpectedly visited by her free-spirited estranged father (Peter Simonischek, in a career-defining role). Dad is a compulsive practical joker and quickly jeopardizes Ines's business courtship with an American official. He momentarily seems to go packing, only to re-enter in the character of "Toni Erdmann," sort of cross between Tony Clifton, Tommy Wiseau, and Quasimodo, who attaches himself to his daughter's indistinguishable business and social circles by claiming to be a professional coach and diplomat. Toni Erdmann is often hilarious, yet also brilliantly attuned to the language, strategy, and rituals of power within Ines's professional realm. But as it progresses, the film skirts disappointingly close to the kind of outright sentimentality it has theretofore eschewed, and around the time Ines belts an impromptu rendition of Whitney Houston's "Greatest Love of All"—a bravura audience-pleasing moment in itself—Toni Erdmann arguably loses its own pitch. But asking a movie to live up to the impossibly high expectations set by early reviews sounds like bad dad behavior. (JD)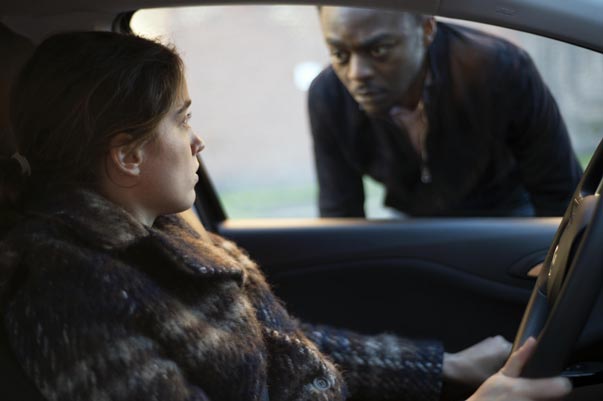 Courtesy of Sundance Selects
THE UNKNOWN GIRL
Dir. Jean-Pierre and Luc Dardenne. Released by Sundance Selects. Main Slate.
10/12 - 6:00 pm, 10/13 - 9:00 pm
The story of a young doctor who, after refusing to buzz a woman into her office after hours, begins her own investigation when the woman is found dead—this is another of the Dardenne Brothers' moral experiments set in the milieu of working-class, industrial Belgium. The film is at its best when bursts of sudden physical and emotional violence push it into the territory of a perverse thriller—where a sense of real risk and danger are involved. But these moments are fleeting, and are never allowed to stand on their own as a vision of something truly dark. Eventually every genuine glimpse of brutality is counterbalanced with a scene of unambivalent human goodness. Though, to be disappointed with this is probably to misunderstand the Dardennes from the start. They are fabulists, not realists, even if their strict aesthetic suggests otherwise. The Unknown Girl is not their best film, but its cracks—and Adèle Haenel—make this one more interesting than many of their better executed fables. (JA)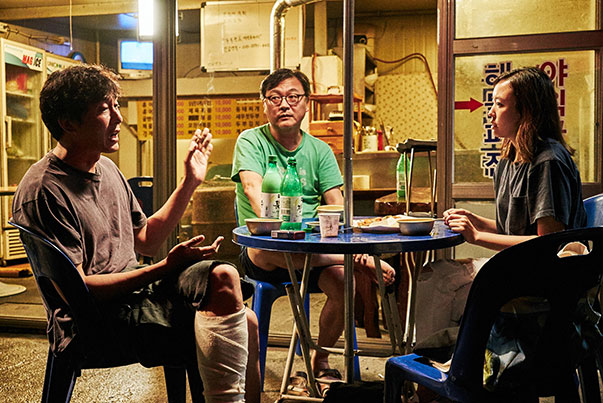 Courtesy of Kim Jinyoung
YOURSELF AND YOURS
Dir. Hong Sang-soo.
10/7 - 9:00 pm, 10/10 - 9:00 pm, 10/14 - 9:45 pm
Hong Sang-soo's 18th feature is another variation on his favorite subjects: infidelity, friendship, and small cafes in the quieter neighborhoods of Seoul. In the opening scenes we are introduced to a painter (Kim Joo-hyuk) and the woman he thinks he loves (played by Lee You-young). They are having problems, everyone they know is gossiping. And then the mystery starts. As the painter and the woman circle around each other's suspicions, settings and situations repeat, chronology becomes confused, and suddenly a character may or may not be who we think they are from one scene to the next. The effect is inexplicable. And yet, like all works of surrealism (Hong is not a modernist—whatever that means today), what is apparently incongruous in what we see is simultaneously felt to be full of meaning. With Hill of Freedom and Right Now, Wrong Then it seemed that Hong had pushed his experiments with structure to their freest and furthest point. Yourself and Yours suggests that his methods are inexhaustible, and we should only expect more. (JA)
---
Getting Tickets to NYFF
If you are shrewd, it is indeed possible to attend New York Film Festival screenings without a pass or presales.
Ticket information is available on FSLC's website, and the festival also maintains an updated page of added encore screenings (we will do our best to keep this updated on Screen Slate) and standby tickets.
Tickets to most Main Slate & Special Event programs are $25 General/$20 Member & Student at Alice Tully Hall (ATH) and $20 General/$15 Member & Student at all other venues. This does not include Opening Night ($100/$75 ATH, $25/$20 others); Centerpiece & Closing ($75/$50 ATH, $25/20 others); and the Billy Lynn's Long Halftime Walk ($45/$35) screenings.
All other programs are $20 General/$15 Member & Student at ATH and $15 General/$10 Member & Student at others.
As of 9/30, roughly 1/3 of the festival's screenings are standby only. For standby screenings, additional tickets are released two days before each screening. The line for standby tickets (standard admission) forms at the box office one hour before showtime. Select screenings (tba) also have discounted rush tickets, which are $15 at Alice Tully Hall and $7 at other venues.