Featured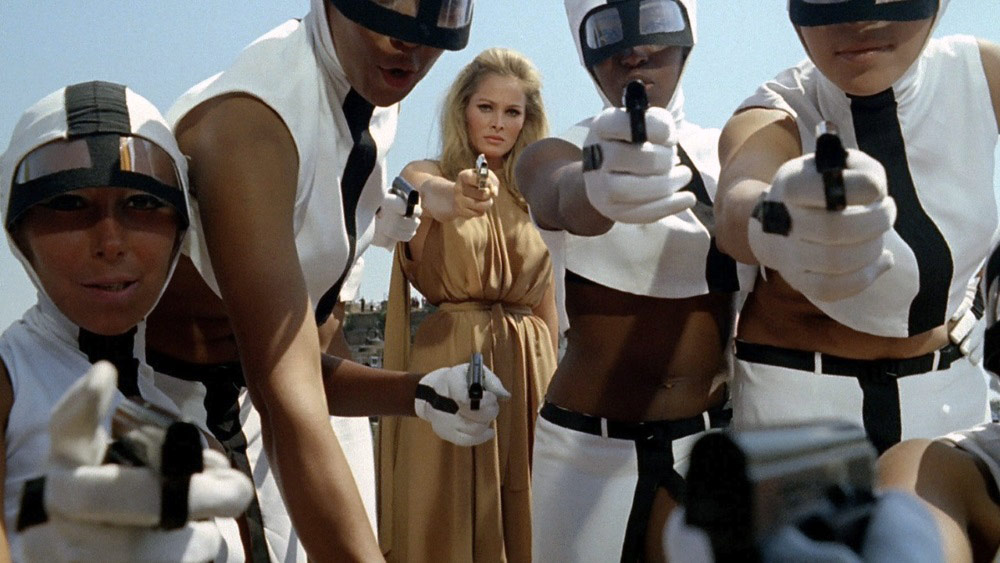 April 13th 2018
In Elio Petri's The 10th Victim, viewers are drawn to "The Big Hunt," a reality television program that pits hunter against victim in a globe trotting battle royale. The American star player Caroline Meredith (Ursula Andress) is heading into her tenth and final round after a string of nine pitch-perfect murders. Her latest victim? The dashing Italian Marcello Poletti (Marcello Mastroianni), just wrapping up his sixth round as hunter. Yet the two seem made for each other — will Caroline let her desires overthrow her chance to win a million dollars? The audience is encouraged to tune in to find out.
In The 10th Victim, violence has become the pillar of world peace, eradicating all wars in exchange for for a television game show legalizing murder. All those with a thirst for destruction and greed are encouraged to apply. However, this is not all primetime entertainment. As the masses glue their eyes to the tournaments, authorities are rounding up and exterminating the elderly population. But with superstar contestants like Andress and Mastroianni, who is anyone to notice?
Rather than paint a bleak dystopian landscape, director Petri and frequent Antonioni screenwriter Tonino Guerra opt for the opposite. This is a future that could only be envisioned through the swinging mod and pop-art movements of the 60s—a full color comic strip come to life thanks to the geometric production design of Piero Poletto and space age costumes by Giulio Coltellacci. Machine gun bikinis, explosive riding boots and pool party crocodiles are these contestants' weapons of choice. Murders are broadcast live with a chorus line of product placement go-go dancers. It's no surprise that in this futuristic society, the likes of Batman and Superman have become the only great works of literature. All of this amounts to a psychedelic spectacle of distraction that masks a brutal totalitarianism lurking underneath it. In our own 21st century of digital disinformation, The 10th Victim is a wickedly fun reminder of the dangers of turning on the television and dropping out of reality.