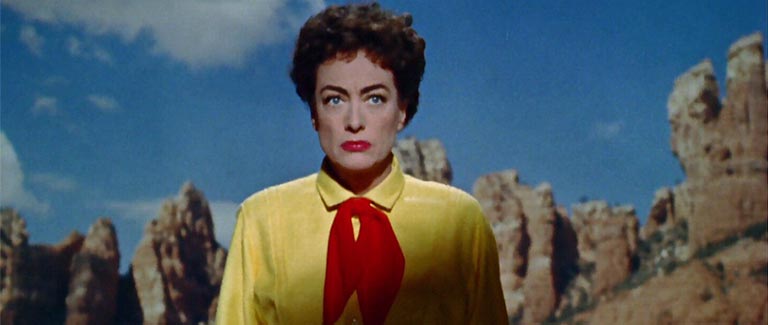 August 30th 2018
Having just returned from a rodeo in Payson, Arizona, where the bombastic male announcer had to let the crowd know that one barrel-racer who had zipped her horse around with terrifying speed was a "wife, a mother, and a pretty little lady to boot" – I'm primed for Women of the West, a series opening today at Anthology Film Archives that challenges the stark gender binaries of the Western genre. Programmed by AFA's Hannah Greenberg, the series is a fantastically eclectic and well-considered array that features films with strong female protagonists alongside women-produced and/or scripted Westerns, opening the genre up to significances beyond the well-trod tale of male white-settler fortitude.
The rugged territories stretching west of the Mississippi that drew pioneers across dry prairies and salt flats under an eviscerating sun was shown to be unfavorable to so-called civilized pretenses – John Ford was good at depicting the foolishness of importing a European lifestyle of silverware and lace to the desert. These pretenses were usually female-characterized, the domestic implements of the fairer sex scripted to wear make-up and corsets even in the searing heat.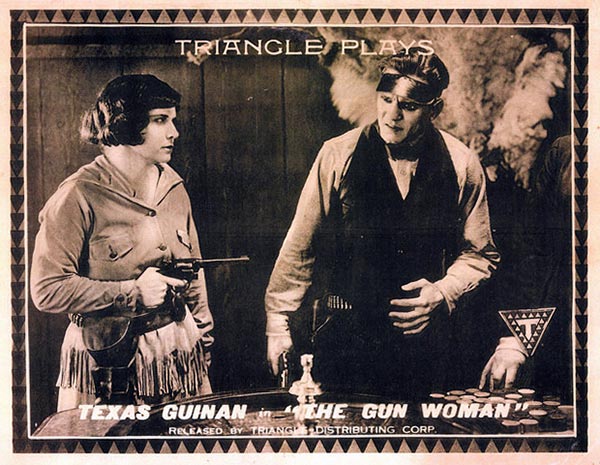 The Gun Woman (Frank Borzage, 1918)
The counter-representations started earlier than most people think. As described in the Women Film Pioneers Project, the silent-era gunslinger Texas Guinan (aka Mary Louise Cecelia Guinan) was an especially prominent figure in a larger culture of women-inflected Westerns, including other popular "cowboy girls" (as the trade press referred to them) such as Marie Walcamp and Louise Lester, themselves descendants of pre-cinema representations in staged melodramas, dime novels, or live Wild West shows (Annie Oakley, the sharp shooter!). Guinan starred in over thirty silent Westerns before becoming a Prohibition-era nightclub fixture in New York City. Two of her shorts will be given rare screenings in the series, including Frank Borzage's The Gun Woman (1918) from an archival film print.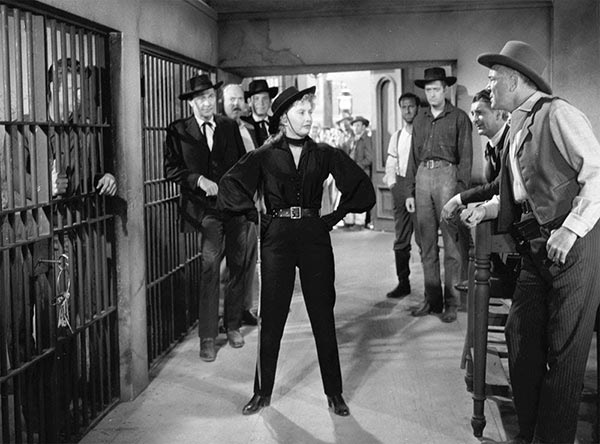 Forty Guns (Samuel Fuller, 1957)
Between these early films and more recent female-centered Westerns lies the Motion Picture Production Code, enforced by Hollywood from the later 1930s through the 50s. A "wholesome" role was cultivated for women as wives, mothers, and demure pretty little ladies, but the legacy of the tough cowboy girl is alive and kicking in Joan Crawford's saloon owner in Nicholas Ray's Johnny Guitar (1954), or Barbara Stanwyck's ruthless rancher in Samuel Fuller's Forty Guns (1957). Both films have an amped-up stylization and flagrance that flew in the face of America's coded puritanism, notably in a certain dinner scene containing one of the best double entendres in all of cinema in Forty Guns. Along with William Wellman and Anthony Mann, Ray and Fuller exploited the studio-system's B-picture liberties to work in unconventional storylines and political viewpoints, and this series includes a good selection of studio Westerns that challenge gender roles, looking back to silent and Pre-Code cinema, and ahead to the post-studio era.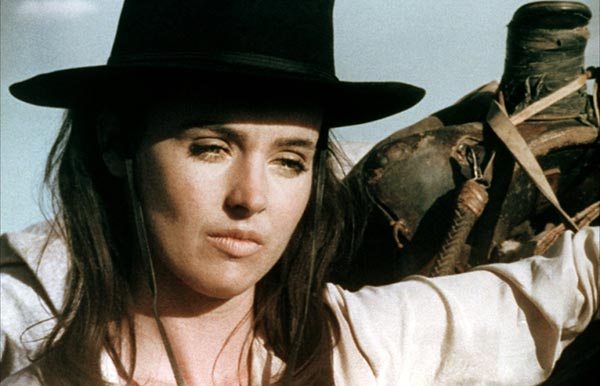 The Shooting (Monte Hellman, 1966)
And that is where Monte Hellman's The Shooting (1966) steps in. Executive produced by Roger Corman, the film was made on a miniscule budget, shot in all-natural lighting on location in Kanab, Utah. Written by Carole Eastman (who also penned the 70s classic Five Easy Pieces), The Shooting has a startling austerity and mystery that in some ways anticipates Hellman's better known Two-Lane Blacktop (1971), though where Hellman's road movie drags a girl along with two nameless male drifters, in The Shooting it is a nameless woman who leads the way. On the opposite spectrum from Johnny Guitar, The Shooting is a laconic Western that focuses on the hostile, isolating landscape and its effect on the psychology of the characters. Under the blazing sun each of them is brought to the brink, and there is no clear delineation between good and bad, and certainly no morality embodied by them.
The Shooting resonates with Kelly Reichardt's minimalist Meek's Cutoff (2010), a contemporary Western based on the true accounts of pioneers on the Oregon Trail. Shot in a square-frame aspect ratio that recalls the low-budget B Westerns that preceded CinemaScope, the film emphasizes the mundane details of life on the trail, especially the arduous work of the women whose ceaseless washing, cooking, and mending is no mere vanity; their labor is vital to the survival of their party. Meek's Cutoff indelibly combines gritty intimacy with the monumental scale of all events in the West. The rhythmic creaking of wagon wheels is often the only sound, building to a climactic scene in which the wagons are slowly lowered by rope down a sharp grade and life hangs in the balance.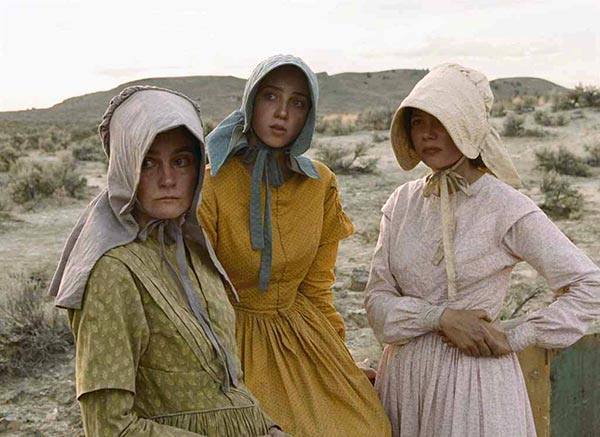 Meek's Cutoff (Kelly Reichardt, 2010)
Clad in a pastel dress and a shading bonnet, Michelle Williams is no cowboy girl, yet her character's strength is set in contrast to the faultiness of the man who has led the pioneers astray. Though her bonnet literally limits her vision, the woman's insight into their situation – especially after they capture a rogue "savage" who she treats kindly and, perhaps, with affiliation – proves far more useful than Meek's guidance.
Other highlights in the series include Holly Fisher's experimental feminist feature, Bullets for Breakfast (1992), using images taken from a print of Ford's My Darling Clementine that she found on a shelf in a hardware store, and a rare Spaghetti Western starring and directed by a woman (Lina Wertmüller and Piero Cristofani's The Belle Starr Story).