Featured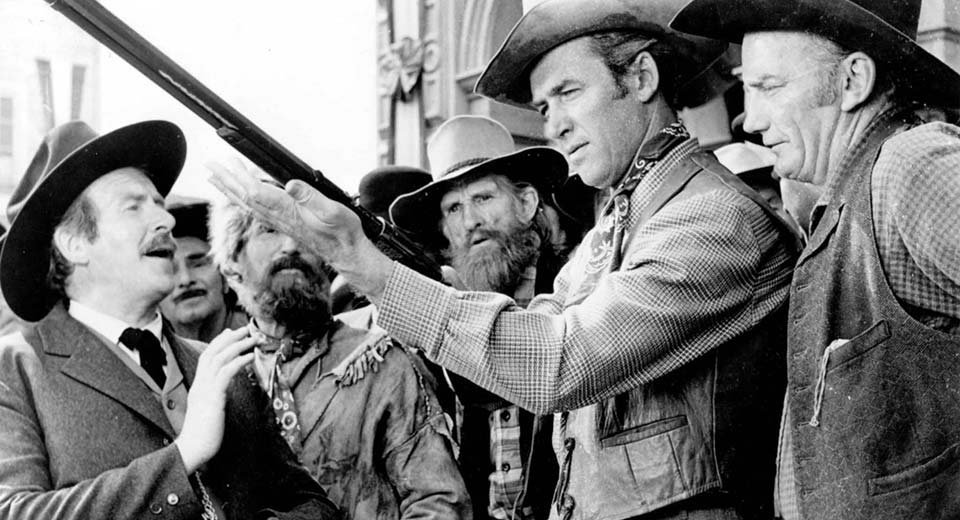 October 30th 2017
If you're going to tell the story of the American frontier, you may as well make your main character a gun. Enter the Winchester Model 1873 repeating rifle, the "gun that won the west," which gets top billing above James Stewart in Winchester '73 , the first of five storied collaborations between the actor and Anthony Mann, and a film that elevates the love of firearms to nearly supernatural heights.
To be fair, Stewart—here as long-on-the-trail ex-Confederate Lin McAdam—is no weekend shooting range warrior. Here's out here trotting the path of Western expansion, which brings him right to Dodge City '76 and enrollment in a shooting contest overseen by none other than Wyatt Earp (Grandpa Walton himself Will Geer). The prize: our namesake gun, a "one in a thousand" edition whose priceless value (and the obsession it inspires) suggests something like divine power—one rifle to rule them all.
Good thing our leading man is the best shot in Dodge—or, at least as good as black-hatted Stephen McNally, who gets squeaked out of the winnings by long time rival Stewart. Vengeance, however, is law, and a rooming house scuffle leads to a La Ronde across the plains as our Winchester makes its way from hand to hand.
Appearing as part of Film Forum's Fonda/Stewart squad series, Hank & Jim , in many ways Winchester '73 is most drive by Mann. From its heavenly yet modest camera work to a heightened attention to living-world detail (see: the grease band around Stewart's hat), this film contains some great examples of what made the perpetually underappreciated Mann one of the finest directors of the classical studio era's back end.
It also contains some lamentable attempts to tackle the fate of this country's native peoples, appearing here most obviously in the cringe-casting of young Rock Hudson as tribal leader "Young Bull." These scenes can feel like a bad MadTV sketch, and nearly send the entire picture to camp—which is unfortunate considering the real feeling Mann can find in the lives of people living on the fringes of American history. Maybe this lack of balance can only further exaggerates the film's problems. In any event, one must make a case for the great Dan Duryea, here in a diabolical last-act supporting role: in a film full of thieves, he nearly gets away with the entire movie. Have gun, will travel?