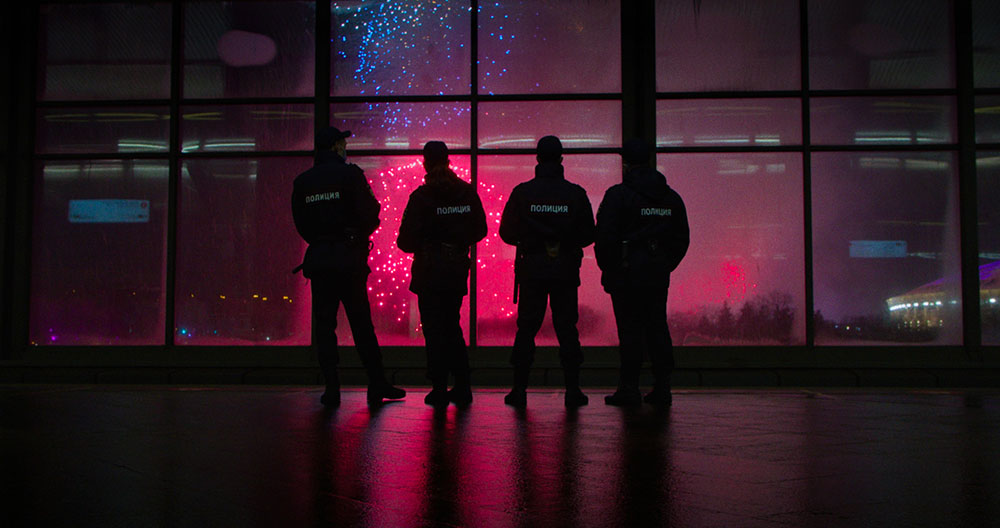 March 8th 2022
The title of Ruslan Fedotow's new documentary Where Are We Headed? (2021) could be a question or a warning. It could refer to stalled progress, political paralysis, a dithering economy. Or, in light of Russia's invasion of Ukraine, it could suggest an alarming vision of the state as world aggressor, waging wasteful and unpopular wars on its neighbors. (Fedotow is Belarusian.)
The film is not a direct comment on these conditions. Its title is above all a joke about public transportation—the topic is Moscow's metro system, studied over the course of a year. But the fact of the future is clearly on Fedotow's mind. The action takes place in opulent Soviet-era metro stations, where stonework and arched ceilings are now adorned with digital video monitors. Vladimir Putin appears on one of them to wish the Russian public "good health, faith, hope, and love" in the New Year, 2021.
Perhaps there is an allusion to Chantal Akerman's D'Est (1993), which depicts the "humble and artless dignity of waiting" (Jonathan Crary's description) after the collapse of the Soviet Union. Fedotow's film opens with a shot of metro riders on an escalator, one deadpan expression following another. But the people are not expecting deliverance. Under capitalism, Moscow has become a center of finance and industry with millions of commuters pouring into the city each morning. They are simply waiting for the next train to work.
Fedotow's film surveys these banalities with great fascination. His camera ambles quietly about, matching the ebb and flow of moving people and examining their behaviors. There are many tender and funny moments. We see young couples carrying children, babushkas looking at iPhones. When a train emerges from the ground, golden sunlight fills its interior. Maybe the future will be alright.
Maybe not. The police are a ubiquitous presence. They appear in riot gear, blocking a station entrance, and in street clothes, issuing a citation to an unlicensed busker. There is a lot of anxious (some would say toxic) masculinity on display. Groups of young men rove through the stations, celebrating New Year's Eve and later cheering for the popular MMA fighter Khabib. There are smaller ensembles too. A business man in collared shirt, drunk after a night out, holds his broken nose with a handkerchief—his face is caked in blood. A good samaritan tries to escort him home.
On Paratrooper's Day, the metro teems with revelers, many donned in campy army regalia. An orthodox priest, clutching a paper coffee cup and begging for alms, lays eyes on a hunky lad in blue beret and telnyashka—the young man smiles but, sorry, hasn't a ruble to spare. Then a moment of drama. A group of Russians accost two gum-chewing American soldiers (guards from the US consulate) and provoke a hostile but awkward and ultimately uneventful encounter. When the GIs leave the train car, the most pugnacious of the Russians looks at his friends and recites the American idiom "those fucking fucks!," then, "NATO SCHMATO."
This scene calls attention to another world aggressor—the US—posing the film's titular question to an American audience. Where are we headed? What will the US be like in ten or twenty years? Already our political institutions look like shells for criminal conspiracy. Inequality worsens every day. Right-wing chauvinism is obviously also rampant. In New York City, the new mayor Eric Adams has taken a cue from Donald Trump, promising to impose "law and order" on the city's ten million citizens. The streets and subways are filled with cops.
Yet it would be a mistake to ignore signs of resistance. Fedotow, for his part, shows a rally in support of Russia's opposition leader Alexei Navalny—then on trial for spurious terrorism charges (Navalny is now in a penal colony.) It was the last wave of anti-Putin mobilization before the eruption of protests last week, when thousands of Russians burst onto the street to decry the invasion of Ukraine. The recent protests assert a simple fact, which is also the most urgent lesson in Fedotow's film: no country's future is set in stone.
Where Are We Headed? screens tonight, March 8, at the Museum of Modern Art as part of "Doc Fortnight 2022."