Featured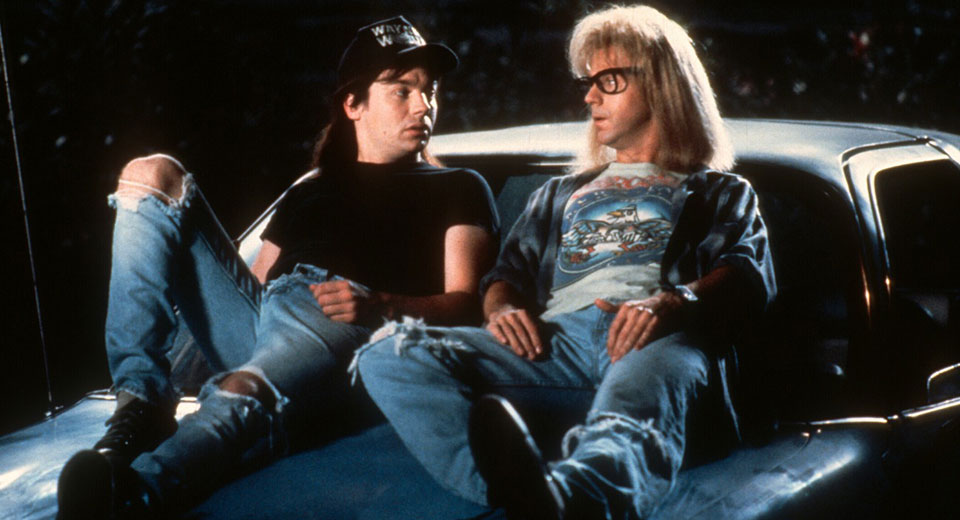 May 20th 2019
Alamo Drafthouse's series Regarding Men: Female Directors / Male Performers comprises four films about male friendship and one about a gynocidal maniac. There's no shortage of male directors' portrayals of friendship between women, from Celine and Julie Go Boating to Ghost World, but it's far less common for the female gaze to rest on brodom. In Kathryn Bigelow's Point Break (1991), 27-year old Keanu Reeves is "Young, dumb, and full of cum," the older and more experienced Patrick Swayze initiating Keanu into his brand of half-baked pantheism. The buddies in Elaine May's Mikey and Nicky (1976) are far leatherier and far grumpier, while Christian Bale in Mary Harron's American Psycho (2000) is a walking Valentino Couture mannequin, an empty husk of a person with no real friends at all.
The cutest of these friendships is found in Penelope Spheeris's Wayne's World (1992), in which one bud unconditionally idolizes the other. If you're over 30 you probably know the story. Wayne (Mike Myers) and Garth (Dana Carvey) are two friends from suburban Aurora, Illinois, whose passion project-cum-life's work is a public access show about babes, partying, and being awesome. A smarmy producer Benjamin (Rob Lowe) decides the show has commercial potential, finds them a corporate sponsor, and tricks them into signing a contract that gives him all creative control. Meanwhile, Wayne goes gaga for Cassandra (Tia Carrere), the foxy frontwoman of glam metal band Crucial Taunt, but Benjamin—with his refined tastes and his fluency in Cassandra's native Cantonese—emerges as a challenger for her affections. Ultimately, everything goes to shit, and everyone lives happily ever after, and Benjamin is unmasked as the scheming groundskeeper (in three alternate endings).
Apart from its portrayal of an adorably loyal bond between two dudes, Wayne's World offers a compendium of 80s and 90s pop culture touchstones: commercials for Chia Pets, Clap-On Clap-Off Lights, and Empire Carpeting (a Chicago thing?), shoutouts to righteous babes from Heather Locklear to Claudia Schiffer, and an indelible backstage encounter with Alice Cooper, who turns out to be an expert on the history of Milwaukee ("Did you know that this is the only US city to have elected three socialist mayors?"). Traces of Spheeris's earlier documentary work, The Decline of Western Civilization Parts I (1981) and II (1988), which followed the LA punk and metal scenes are evident in her portrayal of the fictional Aurora metal scene that Wayne and Garth are minor celebrities in. Their wastoid acolytes might seem like caricatures, but watch Decline of Western Civilization Part II and you'll see that, if anything, Myers and Carvey's performances are understated. The levels of clueless nihilist hedonism and casual misogyny among Spheeris's interview subjects are so elevated that it stops being funny.
Yes, Wayne and Garth and all their hangers-on are buffoons who objectify women, but because they're so goofy and innocuous you find yourself wanting to bro out with them regardless, whether they're singing along to "Bohemian Rhapsody" in Garth's Mirth Mobile (a shitty 1976 AMC Pacer with flame decals) or salivating over a 1964 Fender Stratocaster with triple single coil pickups at the local strip mall's music store.