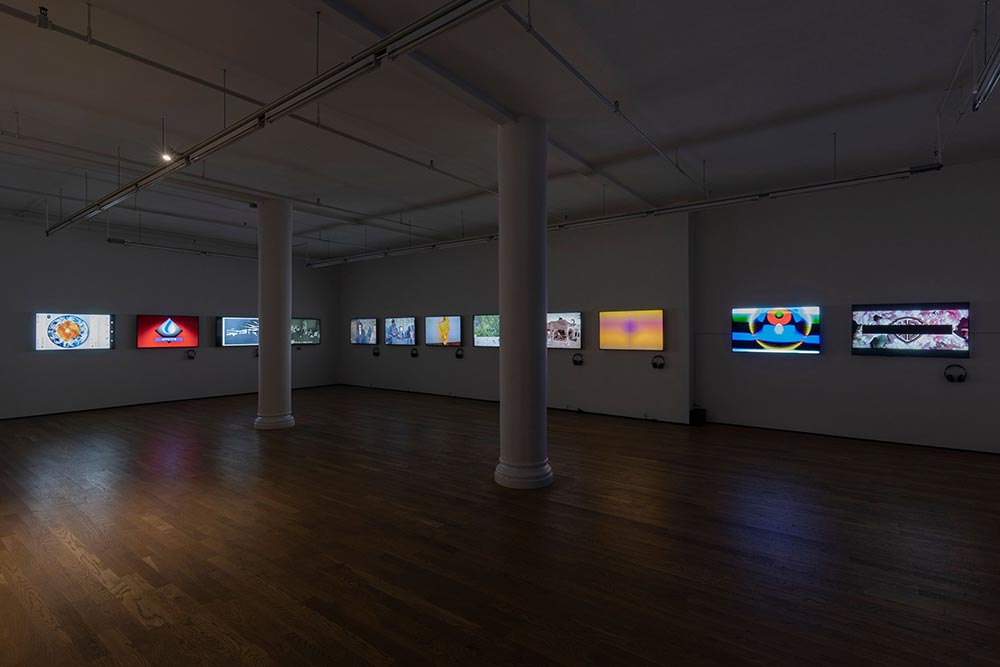 February 22nd 2023
To mark its 20th anniversary, Foxy Production has updated and reinterpreted its inaugural exhibition, Video Store. The show aims to offer an array of videos arranged in an alphabetical, non-hierarchical way that leaves gallery visitors free to drift from video to video and, with vastly different works placed up against one another, to discover the unexpected. Video Store offers a generous selection by artists that Foxy has worked with over the last two decades and includes many of the most inescapable tendencies, ideas, and digital formats in moving-image media during that time.
The first videos in the line of twelve flatscreens that run along the gallery's walls are by Cory Arcangel. ☕ and 2,082 posts 216k followers 267 following (both 2019) are extended screen recordings of a bot Arcangel programmed to scroll through and like every post on Starbucks's and Cracker Barrel's Instagram accounts. Arcangel asks us to see the companies' banal corporate imagery and the now outdated Instagram interface differently by moving them from a smartphone to a television monitor, blowing up the image and conforming it to a horizontal, rather than vertical, orientation. The works update and expand upon his "Surfs" series (2014–15), in which he screen-recorded himself conducting deep dives into the web pages of corporations such as Subway and Dunkin' Donuts and then presented them in cinemas and galleries—creating documentaries of an internet now long gone.
Halfway through the show, one monitor plays a mini-retrospective of Petra Cortright's seminal YouTube-based performance videos. Cortright's early interest in how people present themselves online and her use of aughts-era default effects packages speak to the ubiquitous self-documentation of the present moment while also bearing the aesthetic imprints of obsolescent technologies. A couple monitors before that, Ellen Cantor's Evokation of My Demon Sister (2002) looks deeper into the past by adopting the appropriation and re-editing techniques of artists like Bruce Conner and Dara Birnbaum to re-cut Brian DePalma's Carrie, the results even more nightmarish than the original.
In Steve Reinke's three monologue-based video essays, he makes breezily philosophical inquiries into "all things placental" (The Natural Look, 2014); male companionship (A Boy Needs a Friend, 2015); and what plankton, pop music, Bette Davis, and Hollis Frampton have to do with the legacy of David Wojnarowicz (Welcome to David Wojnarowicz Week, 2016). With their short chapters and sketchbook-like quality, these might be the work of a brilliant YouTube vlogger-collagist. Reinke uses mostly low-res footage pulled from the furthest reaches of the internet to work out his thoughts, obsessions, and insights. The videos are dryly funny, have a good-natured desire to shock, and, like the best essay films, give the sense of a mind you might want to occupy for a little while.
There are many other striking works in the exhibition by Michael Bell-Smith, Rafal Bujnowski, Erin Calla Watson, Olga Chernysheva, JODI, Sterling Ruby, Travess Smalley, and Abbey Williams. A cursory glance around the room reveals everything from low-fi digital aesthetics to more traditional documentaries, from throbbing digital abstractions to internet art that hacks and scrambles commonly used web platforms like Google Street View. Taken together, the pieces in Video Store give a strong sense of the range of digital images, technologies, and means of circulation found in art and in life in recent history.
Video Store is on view at Foxy Production through March 19.