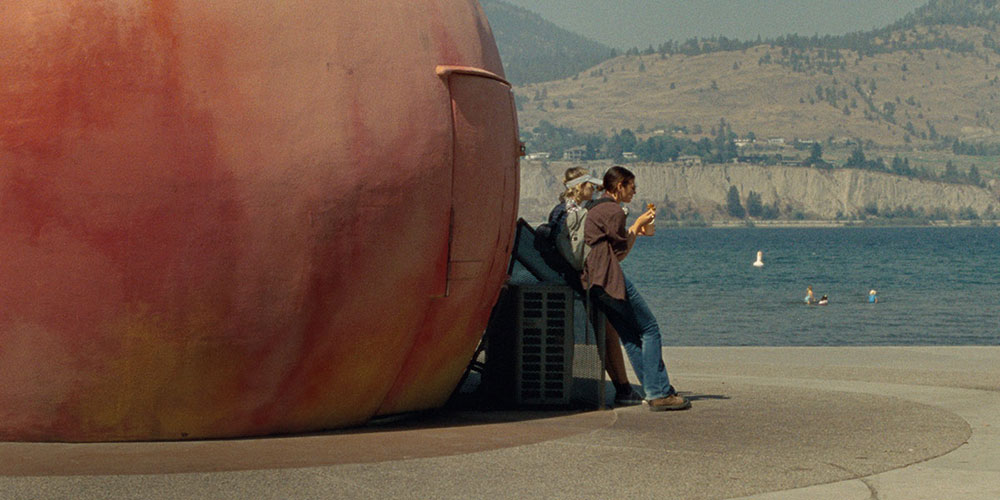 September 16th 2022
It is not until the final moments of Until Branches Bend (2022) that anyone takes a bite out of a peach, though a great many have passed through the film. In the first shots, they come bobbing down the conveyor belt of the packing house where Robin (Grace Glowicki) works as a grader, inspecting for irregularities. Indeed, it seems hard to get away from the fruit in this part of British Columbia's Okanagan region: even an off-day's ice cream treat is sold out of a giant one on the shores of the lake.
After discovering a strange bug inside of a peach, Robin brings the situation to her manager (Lochlyn Munro, with perfectly patronizing eyes). He passes it along to his own boss, and the men swiftly determine to do nothing. The memory of devastation wrought in the region by the invasive burrow moth is still raw, but it's peak season on a bumper crop, and a reckless optimism prevails. Robin decides to escalate the matter, and is told again that she did "the right thing."
Sophie Jarvis's feature directorial debut proceeds to unspool a whistleblower-pariah plot, adding to the ticking clock of the insect's gestation period an unwanted pregnancy and a younger sister (Alexandra Roberts) set on leaving the home she and Robin have shared since the death of their father. As the community turns ruthlessly against the girl who cried bug, she begins to doubt her own mind, and the appearance of even the common housefly is embellished by ominous buzzing.
In the credits , the same names keep appearing next to various production roles. Kieran Jarvis is both boom operator and the composer of the film's unnerving flute, voice, and strings score. Kane Stewart is script supervisor and editor with a penchant for sharp scene-cutting; he also takes a bit role as a roadside costumed mascot. A sense of all-hands-on-deck camaraderie runs through the film, which impresses with the scope of its vision and the specificity of its observations, even among some uneven acting and a slight propensity for over-exposition at times.
Glowicki is utterly convincing, playing her body at grotesque angles, hunched and gangling. Her expression morphs from sour to shattered to stubbornly tenacious in the space of seconds. Her voice becomes small and child-like in the presence of authority but reveals its venomed barbs in other moments. She and Quelemia Sparrow share a brilliant scene through a screen door ending in an uneasy recognition, cross-complicated by various allegiances and betrayals. Jarvis's script makes time for each member of the supporting cast to emerge fully realized, crowing their own calls of desperation into the agrarian-industrial expanse. That the film's release coincides with the non-fiction panic over the spotted lanternfly invasion of North America further elevates its drama to the realm of parable.
Until Branches Bend screened this week at the Toronto International Film Festival.