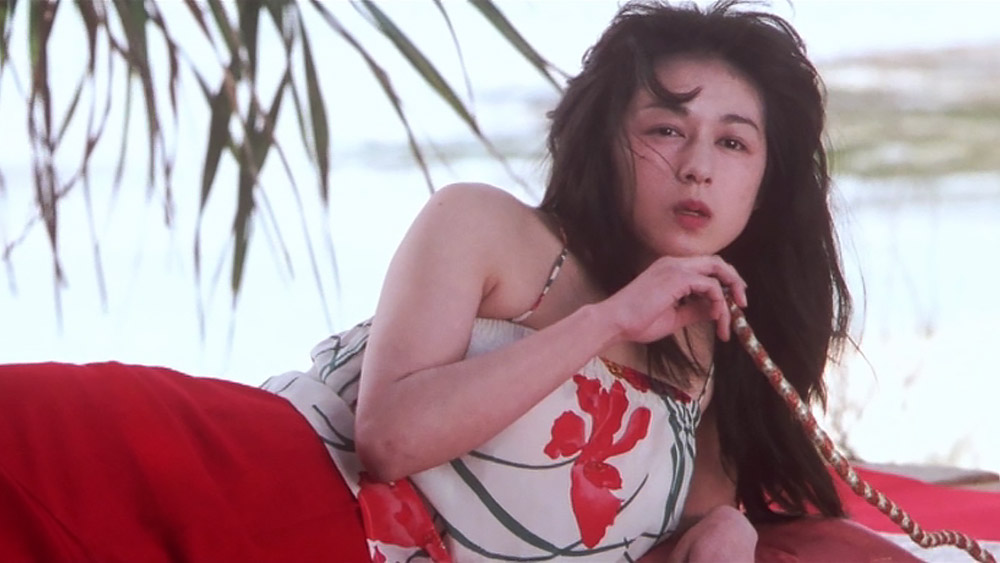 April 10th 2021
The Okinawan director Go Takamine made one of his first films, the experimental docufiction Okinawan chirudai (1978), using an abandoned military film camera. Chirudai can translate as an Okinawan expression encompassing a languid sense of "island time," which the film contrasts with the encroachment of American and Japanese hegemony. In 1971, the United States reverted control of Okinawa to Japan, leaving a legacy of militarism in its wake. Okinawan chirudai pulses with concern for the uncertain future of the Ryukyu islands, and this post-reversion anxiety would become a major fixture of Takamine's films, especially in Untamagiru (1989), his most well-known feature.
Set in Okinawa just before the reversion, Untamagiru practically radiates chirudai while remaining sharply political. Tony Rayns called it agit-prop at its most "spaced-out," and its down-tempo, almost disinterested magical realist plot is both far weirder and more ordinary than any written description can capture. Giru (Kaoru Kobayashi) is an easy-going sugarcane refinery worker who constantly lusts after his boss' daughter, Mare (Chikako Aoyama), a pale woman who smokes weed from a hookah all day. He succeeds in stealing her away to a beach party where they have sex, but later learns that Mare is a shapeshifting pig the boss has been raising as an offering to the God of the Holy Forest. To escape his boss's ire, Giru flees to the Untama Forest where he survives with the aid of a forest spirit who grants him superpowers. He returns to his village as Untama Giru, a Robin Hood-like figure in Okinawan legend. Using his powers, he steals weapons from Kadena Air Force Base for a guerilla independence group, as well as pigs and goats for poor villagers. Thus Giru also makes enemies of the American and Japanese forces, led by the US High Commissioner (John Sayles) who has a kink for regular infusions of animal blood.
Untamagiru offers little explanation for its folkloric strangeness. It is a stridently Okinawan film, in opposition to portrayals of Okinawa in mainstream Japanese cinema as a nationalist battleground or a tropical paradise, and as exoticized, ethnographic fodder for Japanese New Wave directors like Shohei Imamura. It's anything but Japanese, and Giru himself, rallying comrades during a skirmish, puts it best: "My country is not part of America or Japan! I am a child of Ryukyu!" Much of the film's dialogue is delivered in the Okinawan language (Uchinaaguchi), which necessitated Japanese subtitles when it was shown domestically. While impenetrable at times, it invites viewers to take in a Ryukyuan cultural identity rarely expressed in film.
It helps that Untamagiru is stunning to look at and listen to. Veteran cinematographer Masaki Tamura (Lady Snowblood, Tampopo, Eureka) shoots landscapes and the microscopic worlds of insects in equal splendor, and renders the film's many low-light scenes with impressive depth. Composer Koji Ueno (a collaborator of J-pop enfant terrible Jun Togawa, who also stars as Giru's sister) supplies an avant-garde score, but the film's showstopper is the late Rinsuke Teruya, a celebrated storyteller and musician in Ryukyuan classical and popular genres. He acts both inside and outside of the film's diegesis, as a sanshin-wielding barber who leads a motley troupe of musicians. They both participate in and comment on the film's narrative, providing occasional comic relief. At times, they're joined by Togawa, who lends her vocals to the group. Teruya steals the scenes he's in, and it's a treat to witness him in action. If anyone exemplifies the spirit of Untamagiru, it's him, dressed in slippers and a colorful Aloha shirt, singing silly songs of resistance and demilitarized freedom.
Untamagiru can only be streamed online as a YouTube upload. None of Takamine's films have any distribution in the US.