Featured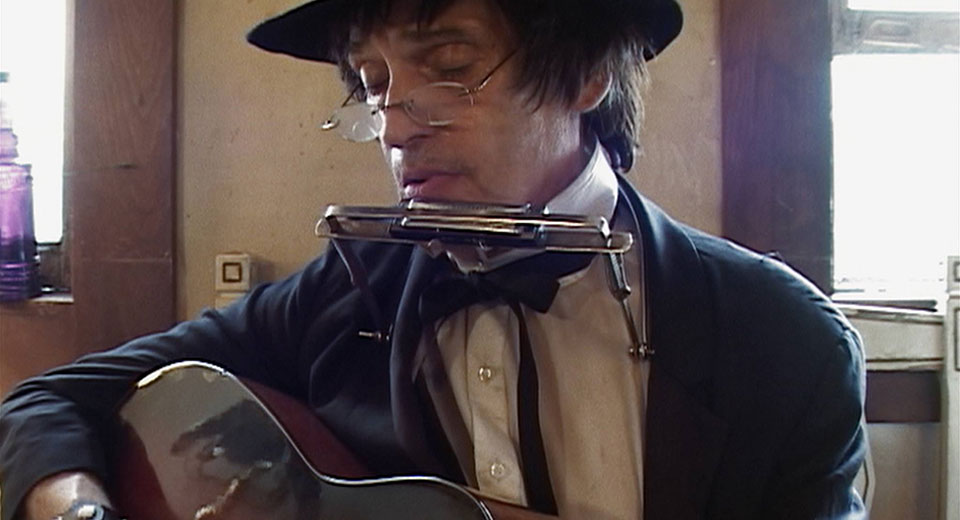 February 10th 2019
The outsider musician documentary has become a genre unto itself, but it's never been approached with the intimacy or sensitivity of Isabelle Dupuis and Tim Geraghty's The Unicorn. There are no breathless record store clerk testimonials or talking head alt rock emissaries here. Simple titles explain that Peter Grudzien's homemade, self-released album The Unicorn (1974) had little commercial success, but is now considered one of the first openly gay country albums. Jello Biafra called The Unicorn "madhouse hillbilly music from The Twilight Zone." (It's also quite beautiful.) But Dupuis and Geraghty aren't trying to sell audiences on a story of unheralded genius, even if some viewers may draw that conclusion independently. Instead, they reveal a moving and frequently harrowing portrait of a family riven by peculiar and obscure traumas — a lo-fi slice of Astoria Gothic.
Dupuis located Grudzien in the mid aughts in his dilapidated family home in Queens living with his nonagenarian father and twin sister, Terry. He's a gaunt, gloomy country dandy who continues to record in an impressive home studio and perform at open mics. He's also deeply paranoid, and over the course of the film he speaks about his commitment to Creedmoor Psychiatric Center and exposure to shock therapy while also making intimations of unwitting participation in other experiments. We also gain insight into Terry, a diagnosed schizophrenic who complains of Peter's "Jekyll and Hyde" personality. And yet both siblings seem to suffer under the watch of their quietly oppressive father. Although initially reticent to speak to the filmmakers, he eventually opens up about a childhood of abuse working in coal mines, which has hardened him toward life — and his own children, of which he says, "For some people, life… it's not worth living."
Over the several years that Dupuis spends visiting Grudzien, a number of extraordinary dramas unfold, and the musician becomes increasingly withdrawn while surrounding himself with surveillance equipment, convinced that there's a conspiracy to remove him from his home. As it happens, he's not incorrect. The Unicorn is a dark tour along the faultlines of so many modern failings of treatment of people with mental and social differences. But Grudzien's crusade to lead an unfettered creative life in defiance of both mainstream and subcultural conventions is transfixing and inspiring.