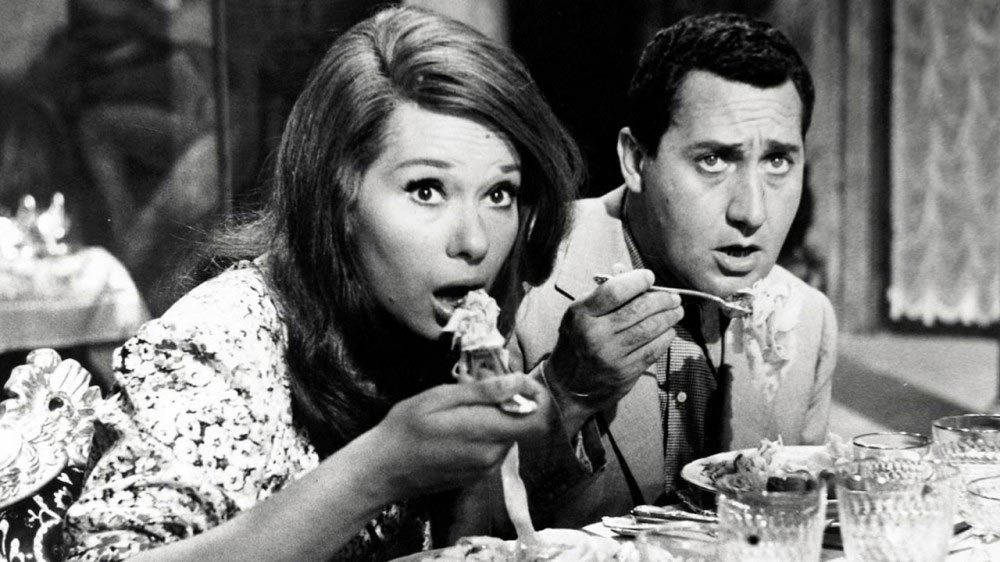 February 21st 2023
How far would you go for your principles? Romantic drama and political ideals clash with unsuspecting force in Dino Risi's cynical examination of Italy during the disorienting aftermath of World War II. The title of Una Vita Difficile (1961), heretofore unreleased in the U.S., broadly announces what's in store for Silvio Magnozzi (Alberto Sordi) a young man trying to find his footing as the country transitions from monarchy to republic. As the rise of industry spawns an increasingly consumerist and individualist society Silvio refuses to compromise, with hilariously disastrous results.
The film begins in 1944, during the occupation, with Silvio as a student turned antifascist resistance fighter, fleeing from the Germans. The new restoration opens with a prefatory rundown of important events (Rome's liberation, the king's abdication, Mussonlini's death, Stalin's death, and more) to clue us into context. He's abruptly saved by a Northern local, Elena (Lea Massari), who handily dispatches a soldier with a clothing iron and shelters Silvio in her grandfather's mill. The two fall in love, the passage of time marked by a disappearing prosciutto leg, but duty beckons and Silvio silently absconds, ending up a journalist in Rome. Over the next decade and half the pair will reunite and separate many more times, getting married and having a child in the process, their love tested by Silvio's various mishaps and hardships (prosecution, imprisonment, poverty) up and down the length of lo stivale. The communist paper that employs him is inevitably underfunded, and his mother-in-law urges him to study and become an architect for a better chance at economic security. He fails the exam, but takes it in glorious stride.
Playing the level-headed sweetheart, Massari is a formidable scene partner to Sordi, but her character is thinly sketched, mostly because Risi avoids leaning too heavily into the usual tensions of domestic conflict (distracted husband, beleaguered wife). Such narrative tropes are tangential to the objectives of a director who thoroughly understood that "political cinema doesn't necessarily mean the protagonists are workers and politicians." Silvio's setbacks and nonsuccess are always predicated on his moral certitude and loyal dedication to the working man, his hopes ultimately decimated at the hands of a society that leaves him behind. The affluence afforded to his fellow citizens during the country's "economic miracle," depicted in Risi's Il Sorpasso (1962) and De Sica's Il Boom (1963), thoroughly eludes him.
Sordi, known for being the South's ebullient and luggish everyman, is central to the film's success as he buoys from clownishness to chilling devastation. Una Vita Difficile is a solid exemplar of commedia all'italiana, movies of 1960s and '70s that engaged with the country's political histories and social mores through mordant humor and wry slapstick. While satires often use laugh-out-loud moments to exaggerate institutional flaws, resulting in contrasting extremes, in Risi's film the moments of levity aren't always so outsized; they're more like flowers in an improbable landscape—bittersweet reminders of occasional contentment, rendered all the more so when they're crushed by political crosscurrents and economic systems that qualify capitalist greed and reinforce materialistic euphoria.
Una Vita Difficile is now playing at Film Forum in a new digital restoration.