Featured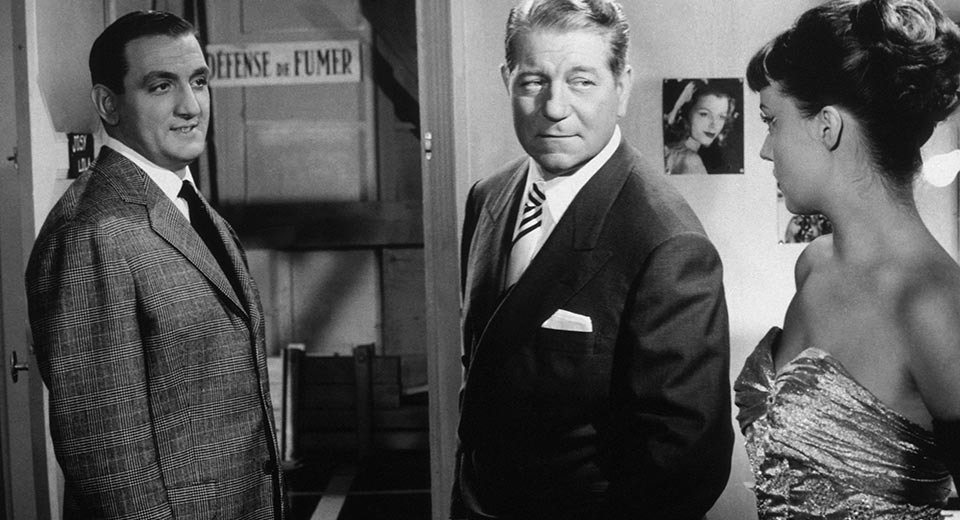 July 31st 2016
Jacques Becker once said that his dream was to make a film "with no beginning, no end, and virtually no story." It sounds like an avant-garde promise, but looking at Becker's filmography, his searching examinations of post-war French masculinity presented in a retrospective at Film Forum, he almost succeeded. Touchez pas au grisbi, playing in a new restoration, is Becker's anti-heist movie, a film about what happens after the loot is snatched.
Becker understands that in the most interesting heists, the theft itself is only half the story, and not always the more interesting one. Though it could easily turn into a routine procedural, Becker keeps all the action underground, pitting Max (a world-weary Jean Gabin) and his ne'er-do-well best friend Riton (René Dary) against younger gangsters, sharks who are just waiting for a moment of weakness to gain the upper hand. The "plot," as it were, materializes in the final stretch of the film: Max and Riton have successfully stolen gold bars from an airport (a crime that has completely baffled the police, a total nonentity here) and, unfortunately, some of Max and Riton's friends are very interested in getting their hands on it.
Most of the movie is a portrait of the aging Max, a refreshing hero who would rather go home and sleep than party and canoodle with showgirls (even when one of those showgirls is a very young Jeanne Moreau, a femme fatale disguised as a cute, artless dancer). After rushing Riton to his secret apartment to tell him some important news, Max takes the time to prepare the two men a drink and a snack before getting down to business; what is life, after all, without its simplest pleasures?
A slow burn until the final violent scenes, Touchez pas au grisbi is a film noir without all the pesky questions of who or why, since we already have those answers. Becker keeps the audience on the edge of their seats with the most simple question: What now?