Featured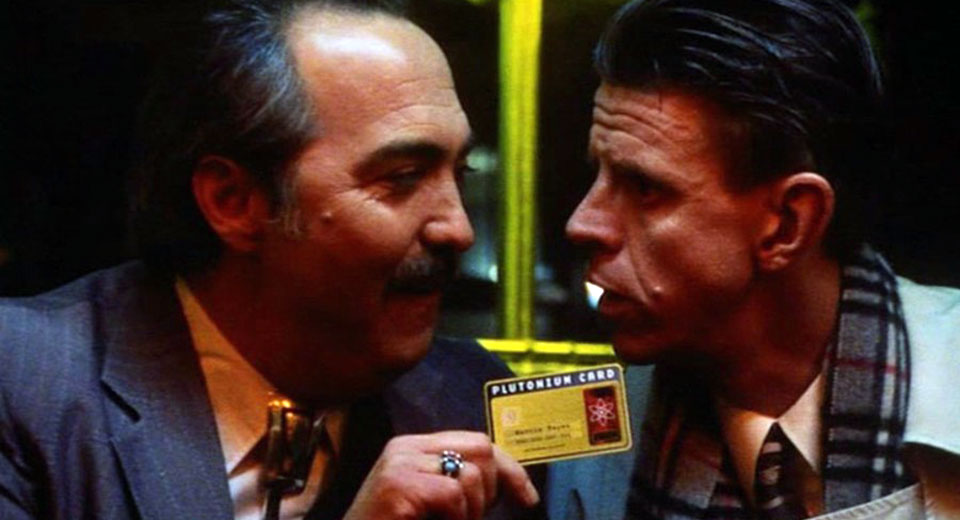 October 23rd 2017
This month Spectacle runs three Alex Cox films to mark the New York premiere of his latest, Tombstone Rashomon, which has its final screening at 10:00 pm tonight. It's preceded at 7:30 pm by Three Businessmen, which, although not nearly as well-known as his Criterion-canonized works Repo Man, Sid & Nancy, and Walker, is generally regarded by the director's most ardent fans as one of his best.
With its debt to Buñuel branded upon the opening credits—it's the first film by Exterminating Angel Productions, a company formed by Cox and producer/writer (and spouse) Tod Davies—Three Businessmen is a minimal yet increasingly surreal dialog-driven piece starring Cox in one of the title roles alongside Miguel Sandoval. They play a pair of art dealers in search of a meal after meeting in their Liverpool hotel's curiously abandoned restaurant. While roaming the city engaged in a discursive exchange touching upon everything from The Beatles to Carl Jung to cell phones and Leninism, they decide to take the subway—and, in the span of a cut that eludes both characters' comments and likely the viewer's notice, are suddenly on the sidewalks of Rotterdam. So proceeds an offbeat trek that takes the pair around the globe in the span of an evening, and eventually into the graces of its final title character.
In some respects, Three Businessmen is like a flowing, feature-length extension of the conversations that take place behind the wheel in Repo Men: philosophical, absurd, deeply felt, occasionally crass, and frequently irreverent. It's complemented by meandering camerawork consisting of long, serpentine takes that contribute to a liminal atmosphere, with the lack of fanfare given to geographic transitions leaving the audience similarly displaced and adrift. Yet the feeling is not alienating so much as comically cosmic—like the proverbial evening spent navigating New York's broken-ass transit system with a pair of strangers en route to a party may never materialize, but far more sublime.