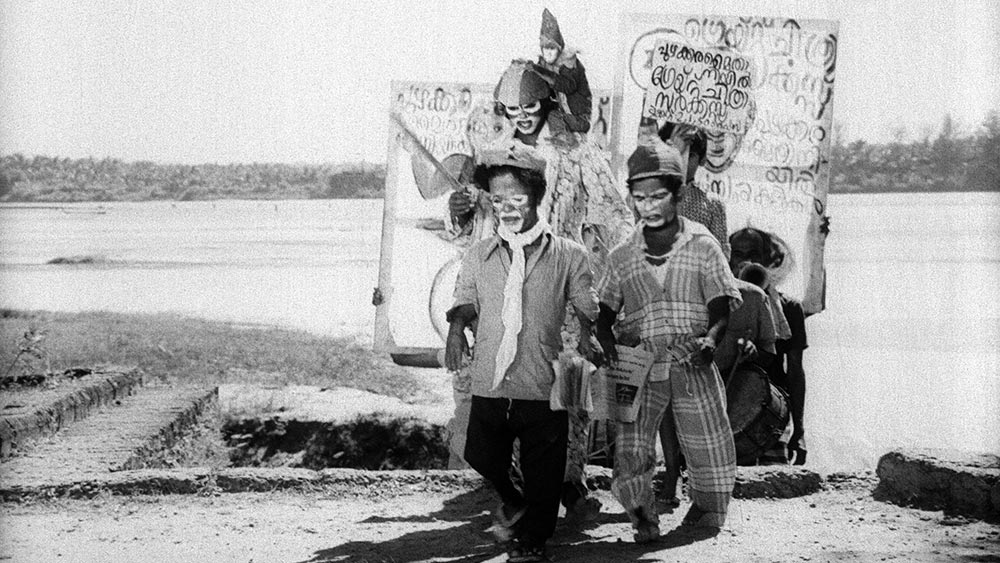 January 16th 2023
Until a couple of years ago, Aravindan Govindan (1935–1991) was one of the best-kept secrets of Indian cinema. Unlike his Malayalam-language contemporary, Adoor Gopalakrishnan, the international spotlight eluded the poetic filmmaker from the South Indian state of Kerala. Fellow director Shivendra Singh Dungarpur (Celluloid Man, 2012), an admirer of Aravindan's work, took it upon himself to correct this anomaly. Dungarpur's Film Heritage Foundation partnered with Martin Scorsese's World Cinema Project to restore Aravindan's Kummatty (1979) and Thamp [The Circus Tent] (1978) at Cineteca di Bologna's laboratory, L'Immagine Ritrovata. While the restored version of Kummatty premiered in 2021 at the II Cinema Ritrovato Festival in Bologna, the restoration of Thamp commenced its festival journey last year at Cannes.
Having been an eminent cartoonist before turning to filmmaking, Aravindan conceived his films as an assortment of striking imagery, letting the visuals take precedence over narrative prose. He maneuvered his way around skeletal plots with sparing use of dialogues. Thamp, his third feature, was built as a location film, and the script developed as the shooting progressed. The maverick auteur brought a roving troupe of circus artists to a hamlet in the Malabar region of Kerala; they set up their tent and entertained the locals, many of whom had never witnessed a circus. Aravindan and his team filmed both the performances and the quotidian rhythms of the hamlet with the nonchalance of a passing visitor. Later, these fragments were edited and interwoven with a thin plot: the circus faces competition from the local temple's festival, and interest among the locals wanes. Vignettes of the hamlet's burdened working class combine with those of the privileged lifestyle of the bourgeois, the plight of the circus performers, and the carefree spirit of children. The resulting melange is an acute ethnographic portrait of Kerala's socio-cultural heterogeneity.
Throughout his filmography, Aravindan endeavored to immortalize fleeting moments of lyricism through ethereal imagery, leaving us with reminders of the transient nature of existence. In one such remarkable sequence of Thamp, Aravindan intercuts between the circus performances and the audience, who are viewing such bewitching and dangerous stunts for the first time in their lives. The juxtaposition of the rapt viewers with the stoic veteran performers creates moments of sublime potency. But the fulcrum of Thamp is Aravindan's preoccupation with ephemerality. Through piercing close-ups of anguished, aging performers, the film reflects on the brutal indifference of the material world, which artists navigate with graceful resilience.
Thamp screens tonight, January 16, and on January 31, at the Museum of Modern Art in a new digital restoration. It is part of the series "To Save and Project: The 19th MoMA International Festival of Film Preservation."