Featured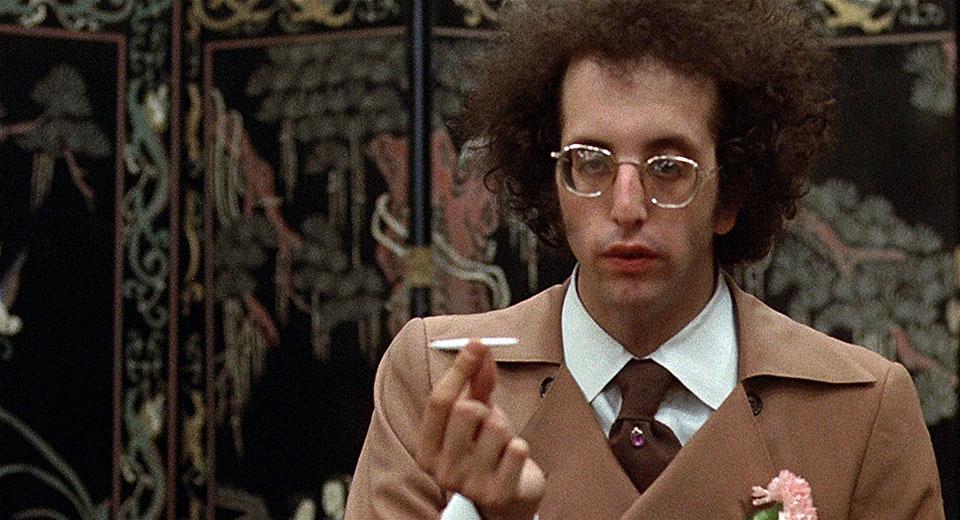 January 23rd 2017
In 1967, Czech director Miloš Forman began ill-fated discussion with Paramount's Bob Evans to produce his first American feature. Among the pitches were an adaptation of Kafka's Amerika and a film based on the murder of Linda Fitzpatrick. Forman's hyperactive temperament and his inability to produce a coherent screenplay frustrated Evans, who quickly dropped the project and slapped Forman with a $140,000 bill for wasting Paramount's time. By then the political situation had made returning to Czechoslovakia less than attractive, and Forman took residence in the West Village with director Ivan Passer to conduct what Passer called "amateur sociological research"—hanging out at the Fillmore East, taking in runaway teens, and interviewing suburban parents in Scarsdale and Queens.
The result of these hapless years is the impecable Taking Off, a deft satire of the American counter-culture appropriately produced by Universal in the wake of Easy Rider. Forman consulted with playwright John Guare and Jean-Claude Carrière (co-writer of the very good, very similar late Buñuel films), although actor Buck Henry claims that none of the actors ever saw any pages of the script. On face value, Taking Off is a familiar take on the "generation gap." As a teen runs away from home to participate in a East Village casting call, her parents join a support group called the Society for Parents with Fugitive Children. In a brilliant bit of casting, Lynn Carlin and Henry play mother and father, fresh from their own respective zeitgeist films, Faces and The Graduate. Forman upends the self-seriousness that social panic movies of the time typically trade in. The hippie culture, the repression of the suburbs, the toking, the charade of "escape" — it's all a deeply American farce, taking an outsider to fully appreciate how funny and aimless it all is.
Taking Off is a road map for Forman's vision of the U.S., a country of contradiction which he would spend most of his subsequent career exploring. It's an asylum run by the inmates (One Flew Over the Cuckoo's Nest), where culture war is a song-and-dance number (Hair, Ragtime), and absurdity is heroism (Larry Flynt vs. The People, Man in the Moon). Like the comic work of Elaine May, it stands in an incredible tonal contrast to the other films of so-called New Hollywood, leading one to believe it wasn't quite understood at its time of release. Its genius is in the subtlety of its sleights, its ability to slip under the cracks. The farther the '60s recede into the rear-view mirror, the funnier it gets.