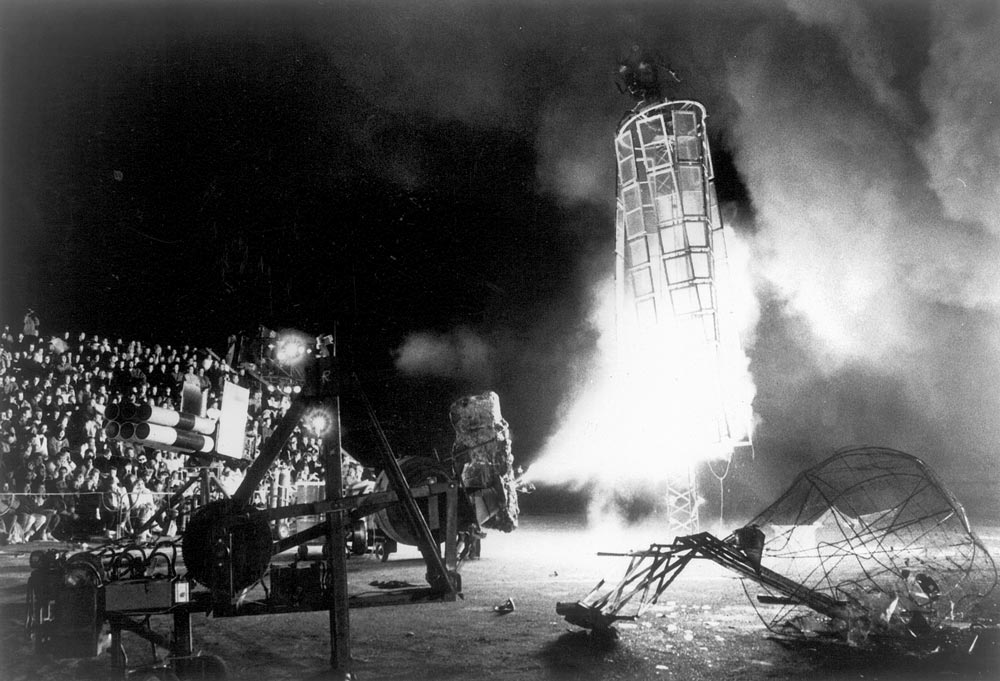 January 23rd 2023
Back when Boston Dynamics was a mere twinkle in venture capital's eye, artist Mark Pauline founded Survival Research Laboratories with the aim of making automatons truly conceived in man's image: destructive, stupid, sad, absurd, and chaotic. With a team of ingenious artist-engineers and occasionally purloined raw materials, Pauline created an iron bestiary of massive fire-spewing, bullet-spraying, carcass-lacerating robots with names like Flame Whistle and Hand-O-God that assaulted paying, waiver-signing audiences during cataclysmic performances held in middle-school athletic fields and abandoned warehouses. Now in its fourth decade, SRL remains a Jungian shadow of Disney's Imagineers, who were tasked in the early 1950s with realizing Uncle Walt's fascistic dream of robotic theme-park entertainers who would never demand a lunch break. The machines of Survival Research Labs refuse the very idea of mechanical efficiency and dismiss our sci-fi fantasies of contented robot slaves.
Filmmaker Jonathan Reiss captured the group's late '80s incarnation in two documentaries screening at Spectacle this evening. The Will to Provoke (1988) documents a European tour during which the group pontificates on the complacency of Dutch culture before treating an audience in Amsterdam to the assaults of a shock wave cannon directed right at them while its humanoid cousin flails before a flamethrower. As crucial as the smells and tactile impact of the performances were to Pauline's vision, Reiss's films package the carnage into Lynchian nightmares transplanted from the open-air parking lots and fairgrounds to unreal space at once infinite and claustrophobic. His films synthesize footage from multiple primitive video cameras, depriving the film audience of the live attendees' ability to scan the chaos from a distance. They replace the vividness of real experience with a low-resolution image that enhances the oneiric quality of the whole enterprise.
Reiss collaborated with the group more directly on the 16mm non-performance short, A Bitter Message of Hopeless Grief (1988), also showing this evening. More sedate by virtue of its loose narrative and smaller cast of savage gadgets, the film nonetheless antagonizes the amygdala with two biomechanical protagonists pursuing one another through a subterranean world of weird goo and arcane structures. Outlasting sanitary descendants like Battle Bots as well as countless Silicon Valley startups, SRL's work is the painting tucked away in Dorian Gray's attic; Roombas keep getting cheaper and sleeker while the "Hand-O-God" cries out in agony at having to exist at all.
"Survival Research Laboratories: Selected Video Works" screens tonight, January 23, at Spectacle Theater as part of the series "Best of Spectacle."