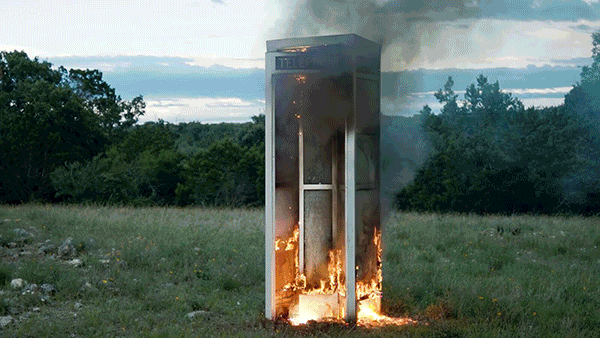 May 14th 2020
After nearly a decade helping New Yorkers navigate their city's eclectic film and video scene, and two months of re-calibrating in response to widespread venue closures, Screen Slate launched the online screening series Stream Slate on May 21.
Each Thursday Stream Slate partners with different artists, filmmakers, organizations, and archives to present a program of work, often highlighting films and videos that are newly completed or otherwise unavailable online. In most cases the artists will be present for the chatroom-friendly screenings followed by live video Q&As. Archived versions of past programs are available to Screen Slate Patreon members.
The updated line-up includes:
Cecelia Condit, May 21, co-presented with Electronic Arts Intermix, showing early and recent works, 1981-2020. Live artist Q&A.
Ken Jacobs, May 28, co-presented with Anthology Film Archives, unveiling a new work designed for online viewing, "Movie That Invites Pausing," and recent "Eternalism" GIFS. Live artist Q&A.
The Spook Who Sat by the Door , June 18, co-presented by Doc Films. (This is not archived on our Vimeo.)
Ellie Ga, June 25, co-presented with Bureau. Pre-recorded Q&A with the artist and Nellie Killian.
Frank Heath, July 9, co-presented with Simone Subal Gallery, screening that cycle between traditional documentary forms, surreal prank phone calls, and offbeat landscape portraiture with incisive humor. Live artist Q&A. (Rescheduled from June 11.)
Simon Liu, July 16, co-presented with Speculative Place, Hong Kong, sharing work encompassing alternative documentary forms and abstract diary films. Pre-recorded artist discussion with Tiffany Sia. (Rescheduled from June 4.)
LEC Laboratorio Experimental de Cine, July 30. A screening, tour, and talk by the Mexico City-based experimental film laboratory and archive.
Cory Arcangel, August 6, co-presented with Rhizome. A screening of desktop capture video Freshbuzz (www.subway.com), followed by artist in live conversation with Ed Halter.
As the program continues this summer, we look forward to introducing our readership to ambitious and innovative artists and venues around the world.
View Stream Slate each Thursday evening at 8pm EST at twitch.tv/screenslate. No account is required, but users can sign up to chat with each other and the artists during the screenings (or alternatively turn chat off and just enjoy the show).
For those who can't make the screenings, we'll maintain an online archive of each complete screening/Q&A, exclusive for Screen Slate members who support us starting at $3/mo.This crucial support allows us to cover screening fees, pay writers, and redevelop our website.
Co-programmed by Jon Dieringer & Nellie Killian.