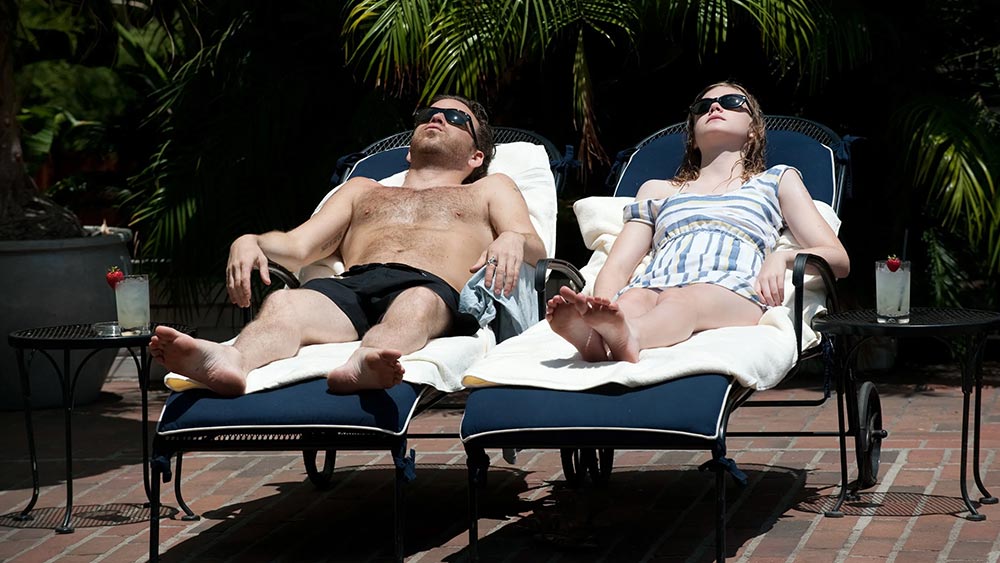 August 11th 2023
A black Ferrari whips around the track with a lonely, oscillating roar. Anywhere, California. Johnny Marco (Stephen Dorff) parks and steps out onto the gravel in jeans and sunglasses and a perfect slouch.The cut to black for the opening credits of Sofia Coppola's Somewhere (2010) cues music by the filmmaker's husband Thomas Mars of the band Phoenix, nailing an early aughts electro pop zeitgeist that still hits.
The next scene, movie star Johnny drunkenly falls down the stairs at the Chateau Marmont, thrown off course of his playboy life into a brief convalescence. He does his own stunts and knows his charms. Angry text messages from blocked numbers reveal him to be withdrawn and indifferent, distracted from and unfulfilled by his Hollywood idyll. He's barely able to focus on the twin pole dancers performing a bedside musical number. This scene is among many that remind us how influential Coppola's style has been on indie aesthetics for the past 20 years, artfully capturing bourgeois comforts and melancholy among other textures, providing a playbook for the kind of A24 cool that has become dominant in the industry.
When Johnny's eleven-year-old daughter Cleo (Elle Fanning) comes to live with him, the sexual tenor in the film shifts into a more tender mode, childhood innocence and play alternating with prowling adult sexuality. Another stunning and banal pole routine scene is followed by Johnny's view of Cleo's elegant ice skating to Gwen Stefani, which he pays slightly more attention to. Whereas in Lost in Translation (2003) and Marie Antoinette (2006) a younger woman and an older man relate in an international hotel of celebrity, Somewhere is inspired by Coppola's childhood in a dynastic Hollywood family and takes place under the languorous California sun.
The process of figuring out how to be father and daughter, friends and collaborators is sweet and also bitter, grounded by paranoia, confusion, and neglect. Johnny's primary assignment is getting Cleo to camp, and he sheds tears in the helicopter after dropping her off, breaking down in her absence and then reforming. Parent and child each generate new direction for the other in this sumptuous summer film that is also a mirror of privilege, Tom Ford billboards, and open roads.
Somewhere screens tonight on 35mm at the Museum of Modern Art's "A View from the Vault 2023: Films in 16 and 35mm" series.