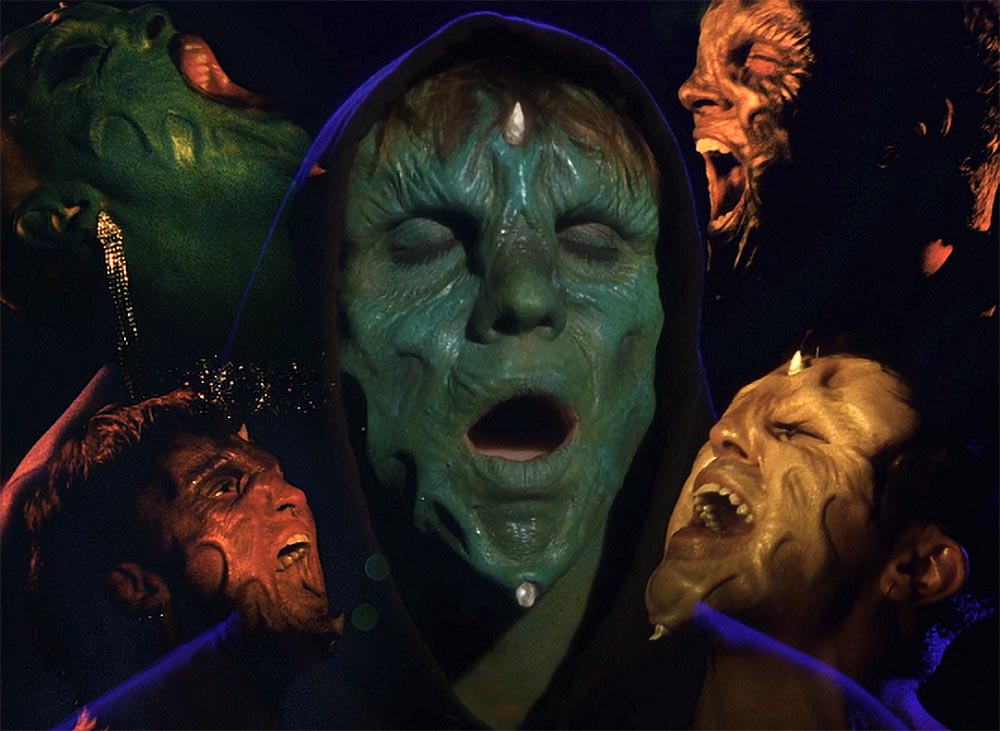 October 15th 2022
What's it giving? Mental illness. HIV. Shame. Suicide. It kills.
The six queer horror shorts screening this afternoon are organized under the sign of slay—or "Slayed." The present and past tenses are accounted for. Not so much the future, though sci-fi elements like aliens and time travel do appear in the program. Science-fiction is more about distorting the present than imagining the future, anyhow.
Half of the films are titled in second-person voice, with several including a "You" that linguistically gesticulates outward with ambiguous imperative. In Jared Januschka's They See You (2022), a mysterious call disrupts a burgeoning queer partnership, unleashing grisly violence and unsettling notions of "them" and "you" as well as the ability to discern between reality and hallucination. Other films in the program focus more on methods of survival than causes of death. Alex Leombruno's I Love You Don't Leave Me (2021) tenderly imagines coming to terms with the ghillie-suited specter of an eating disorder. Rioghnach Ní Ghrioghair's Don't Go Where I Can't Find You (2021) muses on the possibility of using music composition and field recordings of haunted architecture to encounter the spirit of a deceased lover, noting that "in this world there are doorways that only music can open."
Morgan Ruaidhrí O'Sullivan and James Kautz's The Bottom (2021) has the best title in the group, and manages to avoid the generic pitfalls such a title might imply. There's no sex, but there is an oblique form of killing. As naked men are backed into a lake at gunpoint, death and negation entangle with wanting to know something that can't be seen. A thrilling late shot reveals a queue of shuffling men waiting in the woods for their turn—to get naked, to get off, to die, to know.
In all of the shorts, information is carefully withheld such that suspense and horror bubble up and crackle amid tonal shifts supported by careful sound design and pacing. Silence still equals death, but these films are loud, too. Music and dance infuse otherwise quiet sections with hypnotic sequences that radiate.
"Hideous" is the name of a 2022 pop song by Oliver Sim and Jimmy Somerville, and it is also the name of Yann Gonzalez's experimental music video / horror short starring Sim and featuring his music. In the song, Sim shares for the first time that he has been living with HIV since he was 17. The film spirals out from a talk-show interview in which Sim vaguely reports feeling "surrounded by shadows" into a campy and reflexive performance in which song becomes a medium for safely transmitting the parts of himself that were too difficult to speak plainly. Most poignantly, the camera and television set at one point become portals for Sim to speak directly to himself as a young boy. He wields this queer simultaneity to demonstrate dance moves and sing encouragement for biting the mythic fruit, not an ingestion of poisonous stigma but an "ordinary thing."
A roaring instrumental song by Panther Hollow bursts in the emotional center of Sam Max's Chaperone (2021), which bravely and succinctly examines the linkage between queerness and death. The song, "Soothe," scores sexy dancing by the young male lead (credited as Client) as his older companion (credited as Chaperone) looks on from the couch. The terms of engagement between the two become clearer as the film moves along and radically reimagines the role of chaperone. Rather than run from death or attempt to outwit it, the film embraces it, not in a group dynamic or over the phone but amid the intimacies of a one-on-one encounter. Unfolding over the course of one summer day, in a rural house where humidity hangs thick with sweet pot smoke, Chaperone tightly winds and then unwinds the dynamics that emerge when we solicit something from someone else. Who is helping whom? What ghosts do we hold onto after death? And who survives? Perhaps none of us survive, and that's what makes us queer: forging lives after deaths, trading promises of hell eternal for a radical vitality. We look back and do not turn to stone or pillars of salt. We endure, we smile, we wink, we cruise. We slay.
"Slayed: LGBTQ+ Horror Shorts" screens this afternoon, October 15, at Williamsburg Cinema. The program is part of Brooklyn Horror Festival.