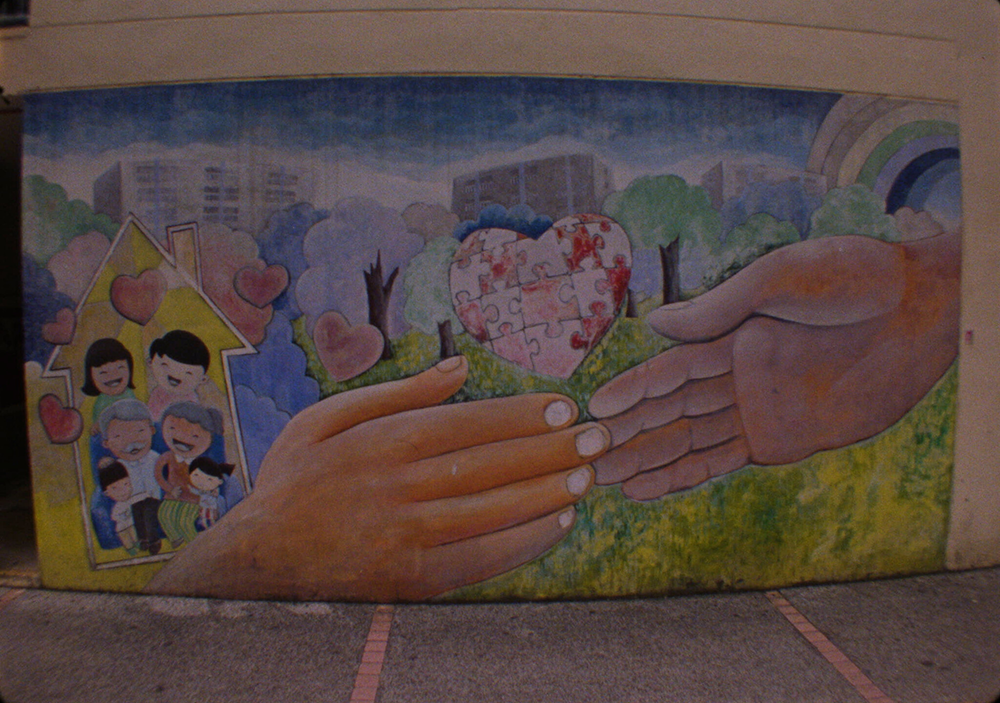 September 3rd 2023
There are two projectors in Simon Liu's installation Let's Talk, both playing Liu's short film of the same name. One projects onto a freestanding screen, while the other is aimed at an array of mirrors behind the screen that reflect and resize Let's Talk into a vortex on the adjacent wall. From the entrance to the gallery, beyond sight of the mirrors, the film appears to be erupting sideways like a solar flare of interscalar images. Stretched and woven, with bits lost in the seams of mirrors, a human face becomes that of a cyclops, and the view of a creek becomes a baroque waterfall tumbling in all directions. Liu's stereo mix is mighty accompaniment, viscerally groaning and grooving along.
Liu shot Let's Talk on 16mm in his native Hong Kong and edited it in New York, where he now lives. The 11-minute film opens with rotating views of the sky framed by the atrium of a residential complex and quickly shifts into more frenzied documentation. Special attention is paid to public transportation, signage, and a blinking animatronic dinosaur. Apart from the slowed-down dino eye—the only digital manipulation in the film—quotidian residues gel into a compelling form of abstraction that says much without speaking. We see layers of life and activity sediment in the blur of the cosmopolis. An expansive mural commissioned by civic entities after the 2019–2020 unrest depicts emergency response to a water-main break and a kindly cartoon detective with "Let's Talk" typed out on a phone screen.
The final shots of Liu's film reveal billowing red set dressing for the arrival of mainland officials to Hong Kong to commemorate the 25th anniversary of the city's handover from Great Britain to China. (The celebrations were postponed due to a typhoon.) Liu elaborates on the fugitive dynamics of sounds and images, focusing on liquid cycles in Hong Kong—rain, sea, the outflow from a street-cleaning vehicle—and achieving stunning results even beyond the aqueous film itself. 
The day after editing wrapped on Let's Talk, which will play this month in the Wavelengths section of the Toronto International Film Festival, Liu received an invitation from KAJE to host a film screening at their gallery in Brooklyn. This evolved into the installation presentation of Let's Talk. As with his earlier work, Liu is here a maximalist mastermind of superimposition, allowing chance operations and overlapping audio and video tracks to produce value beyond the sum of their parts. With two projectors, one screen, and nine mirrors, he sculpts the flows and spillover of imagery into an elaborate, confounding chimera.
Let's Talk is on view through September 17 at KAJE. Tonight, September 3, there will be a group screening in the gallery. On September 16, Liu will present a live projector performance followed by a collaborative noise set with Joshua Gen Solondz.