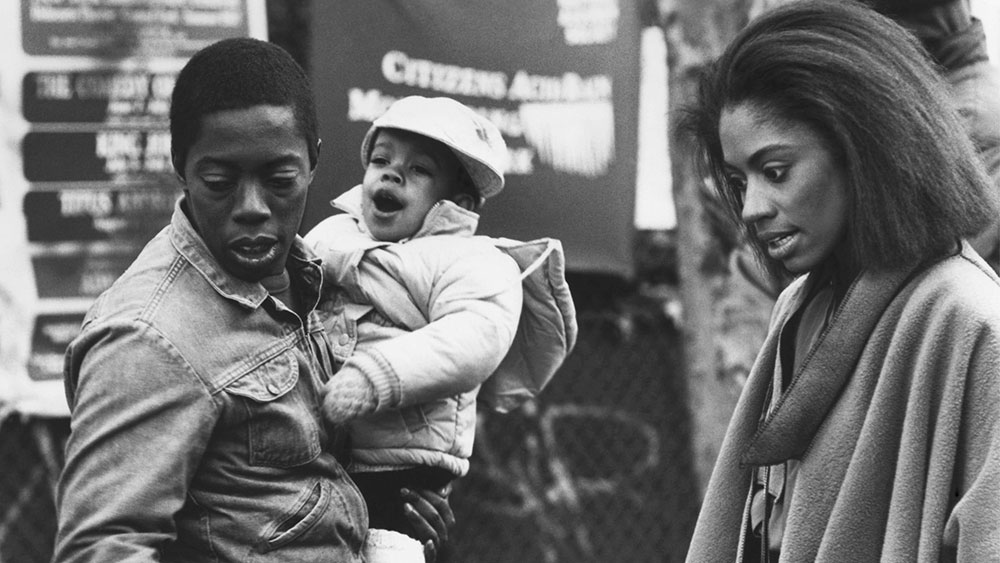 August 19th 2022
New York is a city of excess: there is too much rancor, too much collision, too much filth—too much to breathe, too much to swallow. Concrete screeches, buildings sigh, people scoff. Some days, the sun cackles rather than warms, and the moon glimmers so sedately that it nicks the soul. The days and nights become indiscriminate. You begin to wonder if the city knows mercy.
You learn, eventually, that excess is the way New York City loves its creatures—and excess, even if deranged, begins from tenderness. Charles Lane's Sidewalk Stories (1989) is about the tendencies of New York City, to be brash, and to be aggressive, but to sometimes be kind. Lane, born and raised in the Bronx himself, has the fortitude to wade through the boisterous theater of this city long enough to dash our bewilderment and see New York City for what it has always had: heart.
Sidewalk Stories achieves this without dialogue or color. The film is a nod to Charlie Chaplin's The Kid (1921); Lane created a silent film out of "protest to myself," knowing the challenge would make him a stronger filmmaker. The resulting film is the feature-length version of A Place in Time (1977), a short film Lane made as an undergraduate at SUNY Purchase. As in his student film, Lane plays an unnamed artist, one of an odd gaggle of buskers and street performers camped across from the Waverly Theater in Greenwich Village. He is lucky if he draws a few portraits a day. He spends the rest of his time sitting on his crate, looking glum. At night, he sleeps in the cellar of a derelict building, fashioned into comfort through blankets and cinder blocks.
The torpor of his life is punctured by a small child (a two year-old Nicole Alysia, Lane's own daughter). She, unlike everyone else in the film, is unperturbed by the harsh tempo of the city around her. Her mother loses her in the bustle of the evening crowd; her father (Darnell Williams) is murdered in an alley for some loose cash. Witnessing all this, the artist decides to take care of the little girl.
Sidewalk Stories was created from the scrappiest of wills. The film was shot mainly between 4th and 6th Avenues over just two weeks on a budget of $150,000. I couldn't always tell who in the film were extras and who were actual passerbys, and I began to wonder—in a city in which everything bleeds together—if any differences were really so crucial. The wonderful score, which etches peaks of delight in Sidewalk Stories's one hour and 37-minute run time, was composed by Marc Marder, a college friend of Lane's. A Place in Time was Marder's first film score, ever; Sidewalk Stories, triple the length of the short film, is Marder's first feature-length score. His score is breezy, sometimes goofy, and pure. The same could be said of the physicality of the actors in Sidewalk Stories, who try their best to affect exaggerated, swaggering Chaplin-esque motions. It doesn't always work, but the intention is honest and genuine. Happiness in this film can look too sugary. That, though, may not be a bad thing.
Where Sidewalk Stories stuns is its goodness. When I say "goodness," I mean of will. Politically, in one vein: the film is a plea to help the unhoused, and ends resolutely with that conviction. But in a different sense, too. It must be impossible to see this pairing—this weathered man and this resiliently gleeful child—and not smile. The greatest moments in Sidewalk Stories, as in the city, are not of hysteria, but of togetherness. The artist and the child stretch and dance in the mornings; they draw outside the basketball courts in the day; by evening, they eat sandwich halves and drink paper cups of milk on the park bench. Someone might be pissing on the street around the corner, but that's besides the point. The point is sincerity: that the moments that mean anything in this city of noise are those sparse moments of quietude—often through the company of another. The artist and the child, who must eventually part, do not need to speak in order to have felt each other. He has taught her how to fight kids in the sand pit, sit calmly at a dinner table, and—nearly—how to wink. She has taught him something like softness.
Sidewalk Stories screens tonight, August 19, and on August 21, at Metrograph as part of the series "The Process: A Tribute to Robert and Irwin Young."