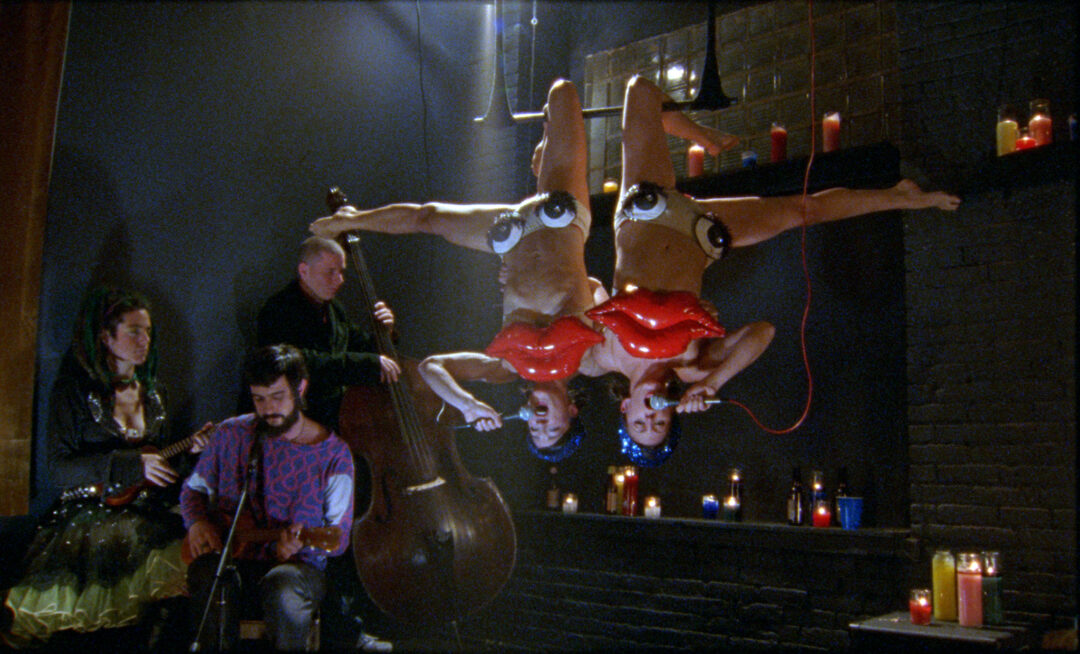 January 27th 2022
"It's just like the '60s, only with less hope." So quips performer Justin Vivian Bond, observing an orgiastic scene of polymorphously perverse group sex halfway into John Cameron Mitchell's Shortbus (2006). Bond, playing the mistress of ceremonies of the film's eponymous art-salon-cum-sex-party, reclines on a floral couch to deliver this appraisal to Sofia (Sook-Yin Lee), a couples counselor who has never had an orgasm. Mitchell's exploration of sexual hangups, decaying relationships, and queer social life in Brooklyn was made at a particularly nihilistic moment in recent US history, five years into Dubya's post-9/11 reactionary reign. The characters explore—often successfully—the liberatory embrace of what was once termed Free Love, but a sense of deep ennui pervades even the most hedonistic scenes.
Among the party regulars picking their way through Mitchell's mid-aughts landscape are Sofia's clients James (Paul Dawson) and Jamie (PJ DeBoy), and a career dominatrix who goes by the name Severin (Lindsay Beamish). James, a melancholic former hustler who Jamie met and whisked off the streets while researching a film role, faces a perennial dilemma—he is eager to open their relationship, while Jamie is unsure. During their first session together, a brief, explosive conflict leads Sofia to reveal her "preorgasmic" status to the couple. They point her in the direction of Shortbus, a "salon for the gifted and challenged," as Bond describes it, where eccentrics of all genders and sexualities fuck openly.
This sex—along with all the other encounters that take place in the film—is unsimulated, an unorthodox choice that raised eyebrows at CBC Radio, where Lee was employed as a broadcaster. But far from pure titillation, the purpose of the explicit scenes is to demystify aspects of the participants' emotional worlds that otherwise remain hidden. "When you can show more realistic sex," Mitchell explains in a DVD feature, "the sex itself can be a metaphor for other parts of the character's lives."
What these scenes often betray is a mixture of love and frustration. James facilitates a threesome with Jamie and boyish ex-model Ceth (Jay Brannan) in the hopes of directing Jamie's overpowering affection toward someone else. When Sofia's ineffectual husband hires Severin to restrain and whip him, the strikes of her flogger exorcize the grievances she's accumulated over the course of the film. The latter encounter coincides with one of Sofia's many unsuccessful attempts to get off, and both scenes end as a blackout suddenly shuts down the city. In Shortbus, pleasure is as powerful as its absence is dangerous.
Shortbus screens tonight, January 27, through February 1 at IFC Center in a new digital restoration. Director John Cameron Mitchell, and cast members Paul Dawson, Peter Stickles, and Lindsay Beamish. will be in attendance for Thursday's 7pm screening. Mitchell and others will be in attendance for other Q&As throughout the weekend.