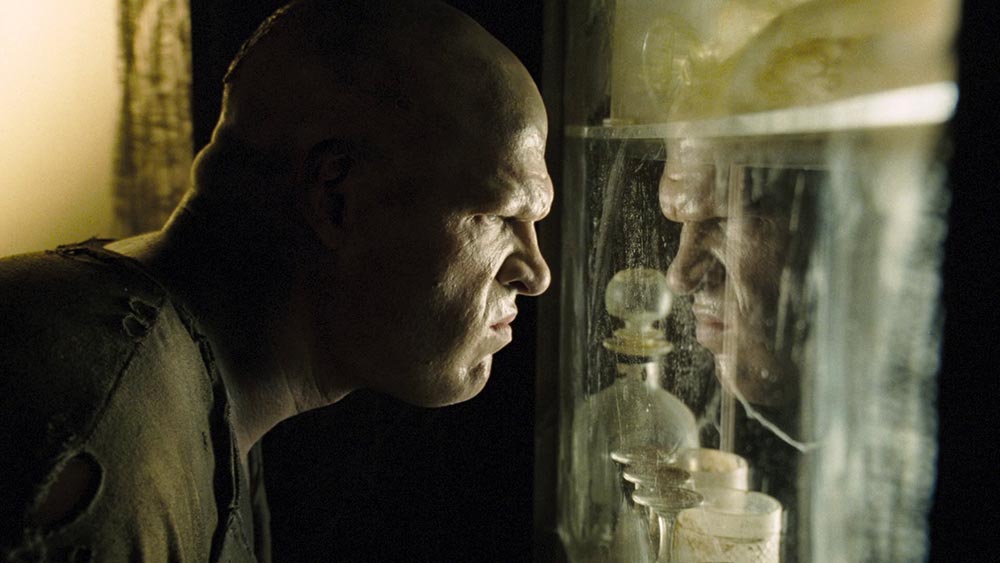 February 6th 2021
A production company that's ranged from star-driven thrillers (The Call) to animated brand crossovers (Scooby Doo! Wrestlemania Mystery), WWE Films got off to a not totally auspicious start with the 2006 slasher flick See No Evil. Like a direct-to-video movie that somehow escaped to theatres (and released the same day as summer blockbusters The Da Vinci Code and Over the Hedge nonetheless), it's both remarkably unpleasant and admirable as a lean 'n mean gore machine, plus gains some interest when viewed through the spectrum of a failed star vehicle.
The star in question is Glenn Jacobs, otherwise known by his WWE moniker of Kane. Spending many of his matches wearing a horror-movie-like mask, the burly wrestler was perhaps the perfect figure from the WWE roster to play a new Jason Voorhees for the torture-porn era. This wannabe slasher icon goes by Jacob Goodnight, and his big move is ripping out eyeballs and tossing a meathook at his victims, all due to the childhood trauma of a religious fundamentalist mother.
The trouble starts when a group of young, blandly photogenic delinquents are sent to a decrepit hotel filled with cockroaches and flies for community service. As they are picked off one-by-one by the lumbering Jacob in increasingly gruesome fashions, the movie plays like an amalgamation of Saw, Jeepers Creepers and the 2003 Texas Chainsaw Massacre remake — the kind of thing where you expect a remix of Nine Inch Nails' "Closer" to start blaring at any moment.
As a performer, Kane unfortunately doesn't get much chance to shine beyond simply exhibiting his imposing frame. Perhaps the movies weren't the true calling for his "star power," as he soon followed in the footsteps of wrestler-turned-actor-turned-politician Jesse Ventura. Running as a Republican on a Libertarian platform endorsed by Ron Paul, Jacobs was elected Mayor of Knox County, Tennessee in August 2018.
It's hard to tell whether a run for higher office on Jacobs' part, or a special edition Blu-Ray from Scream Factory would be what it would take for See No Evil to have a renewed appreciation in the culture. Perhaps Jacobs will tip the hat when a future campaign video sees him throwing a meathook at his Democratic rival.
See No Evil is streaming on HBO Max.